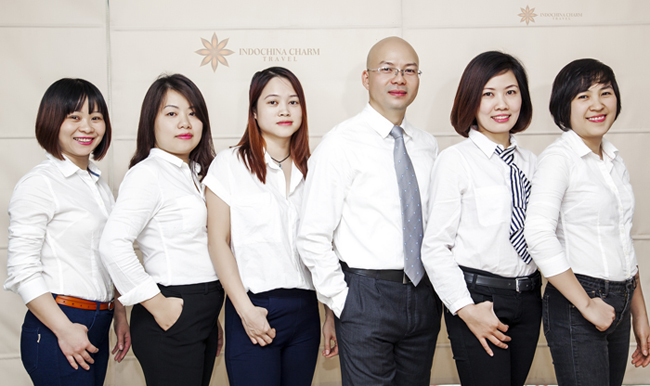 Vietnam Honeymoon Travel Agency is operating under the creative management of Indochina Charm Travel. As the first and only travel agency dedicated to serving couples and honeymooners all over the world, we run the fantastic Vietnam Honeymoon Tour Packages as well as Vietnam Luxury Travel.
As marriages without honeymoon and anniversaries sound quite boring and less exciting, many couples do come to us and ask for the professional travel services. With more than 10-year experiences in honeymoon travel, we are confident and happy to please all families and pairs. Within honeymoon travel, we establish a specialized company which plans and runs the sweet trips, specially made for the new bride and groom. With all the fantastic services, things to do, and what to do included in the honeymoon tour packages, we can build trust and satisfaction in our customers who appreciate our full dedication, creativity, and expertise.
We make full use of every piece of knowledge and experience we have to create the ideal couple tour itineraries including the best honeymoon destinations in Vietnam, the candlelit mealtime, the hand-in-hand activities, etc. You just need to book, and we handle the rest for you both to make honeymoon more memorable than ever. For vacationing away from home to memorize the post-wedding time, Vietnam Honeymoon Travel Agency is here to boost your special life milestone to the perfection. We are reliable, professional, and passionate enough to offer you the perfect, romantic, and attractive honeymoon packages throughout Vietnam, from the North through the Center and to the South.
What's more, you can customize the travel based on your own preferences and budget. Designing your own honeymoon provides the big opportunities to discuss with the life mate about the best things to include in your sweet vacation. Tell us your distinctive and romantic ideas and we will advise you and then carry them out accordingly and fascinatingly. We keep our promises to only work with the most reliable partners that are committed to saving your money, time, and delight. Nothing but the perfect honeymoon travel will keep the love fire burning in your relationship until the old age. Let us know and we will fulfill your wishes for the best honeymoon ever.
CUSTOMER SATISFACTION IS OUR PRIORITY AND COMMITMENT
Vietnam Honeymoon Travel Agency – Why Us?
Our strengths are the professional honeymoon and anniversary tour packages, with more than 10-year experiences.
Our aims are to secure your satisfaction and comfort during Vietnam Honeymoon Travel, boost your spark of love, and bring you the perfectly memorable vacation in Vietnam.
Our focus is placed on only the honeymoon tour packages, ensuring that we are the experts in this field. We know what most couples want and desire for their once-in-a-lifetime honeymoon.
Our partners are all reliable and best selected that guarantee you the ultimately successful vacation in every destination namely Sapa, Mai Chau, Halong Bay, Ninh Binh, Quang Binh, Hue, Da Nang, Hoi An, Quy Nhon, Nha Trang, Da Lat, Phan Thiet – Mui Ne, Phu Quoc, and Con Dao.
Our customized tours surely fit and move beyond your expectation. Just let us know your ideas and requirements, and we will do everything best to satisfy you both.
Our promises are to give you the matchless travel so that you enjoy the excitement of honeymoon, love, and romance.
Our Vietnam Honeymoon Tours
Vietnam Honeymoon Classic – The Most Popular Product
Our most popular product is Vietnam Honeymoon Classic which covers the classical tour itineraries in the most captivating destinations. It is the rewarding honeymoon trip to Halong Bay, Sapa, Hoi An, Hue, Da Lat, Nha Trang, Mui Ne, or Phu Quoc, with us. As always, we value the balance between R&R in the top resorts and various activities to know the local history, people, culture, and Nature in the places you see. Many couples love this product and make it the most frequently booked package. Created with no sigh of boredom, the classical honeymoon ideas let you be immersed in the charming Vietnam while holding the life partner's hands tightly.
Vietnam Honeymoon Adventure
Our thrilling product is Vietnam Honeymoon Adventure which offers the fantastic opportunities to see beautiful Vietnam in a different and exhilarating way. If you are the thrill-seeking couples, the tour itineraries in this category will become the memorable adventure that you and your life mate experience altogether. As a result, love grows to the everlasting phase. Away from the touristy cities or the crowded parks, the Adventure Packages will take you to the gorgeous, off-the-beaten-track, and untouched places of highland, sea, or mountain such as Fansipan Mountain – Sapa, Nha Trang, Da Lat, etc. It's time to get rid of the city bustle by beginning the Adventure Honeymoon Tours which soar your time and make the new phase of life special indeed.
Vietnam Honeymoon Luxury
Our premium product is Vietnam Honeymoon Luxury that pleases you both with the upscale resorts, deluxe services, exquisite sightseeing, and delicate food. The partnered accommodation should be Six Senses Group, Park Hyatt, Sheraton, Accor, and Intercontinental. If you and the sweetheart value the sense of luxury and comfort when vacationing, just book the high-class packages in this category. Make this kind of travel the forever talk of memory about Con Dao Island, Halong Bay, Nha Trang, Phu Quoc Island, etc. Your choice can boost your happiness to the highest notch.
Vietnam Beach Resort Package
Our inspiring product is Vietnam Beach Resort Package that inspires the honeymooners to relax in the glamorous beach resorts and forget about work or any other life issue; all to do are to enjoy the sweet time side by side. The relaxation at Con Dao Island, Phu Quoc Island, or Mui Ne – Phan Thiet covers heaps of joy and laughter by doing various exciting water games and sightseeing the lovely spectacle. The first time you step into the fantastic beach resorts and enjoy the all-inclusive packages, you know that this kind of travel is rightly made for you.
Call us right now to start your honeymoon of distinction and pleasure in Vietnam!