Introduction to Da Nang – The city has changed rapidly with a terrifying development speed, which is the comment of most people when they return to this beach city. Da Nang is located in the Central Part of Vietnam, so it is very convenient for people from the North or the South to move to. With a great location and a combination of sightseeing with Hoi An and Hue, Da Nang attracts millions of domestic and international tourists every year.
In this Da Nang introduction article, we will share all about this place to help people better understand the city that is like a miniature Singapore. People will understand better why people often call Da Nang the most livable city in Vietnam.
Da Nang has a total area of ​​more than 1,000 kilometers square including 6 large districts: Hai Chau, Thanh Khe, Cam Le, Son Tra, Ngu Hanh Son and Lien Chieu districts. These are the 6 largest districts of Da Nang city and in the suburbs are 2 districts of Hoa Vang and Hoang Sa district. Currently, Da Nang has expanded 2 more districts, Hoa Xuan and Hoa Quy, thus increasing the total area in Da Nang greatly.
+ Hai Chau District: Nowadays, Hai Chau district is still the number 1 of Da Nang and the most economically developed place. Hai Chau district is the center of Da Nang city in terms of trade and business development.
+ Son Tra and Ngu Hanh Son districts: These are the two districts that attract tourists to Da Nang the most because of their location close to My Khe beach in Da Nang. It is home to more than 1,000 large and small hotels and is the largest tourist center in Da Nang.
+ Cam Le and Lien Chieu districts: Compared to the above 3 districts, these 2 districts are much less developed, mainly for people living and doing traditional business in Da Nang.
+ Hoa Vang district: This is a suburb far from the center of Da Nang city, mainly engaged in agriculture. About the city of Da Nang with a total of 6 districts, people also understand more about this place. Compared to Hanoi and Saigon, Da Nang has a much smaller area but is gradually developing on a par and is also a city directly under the Central Government.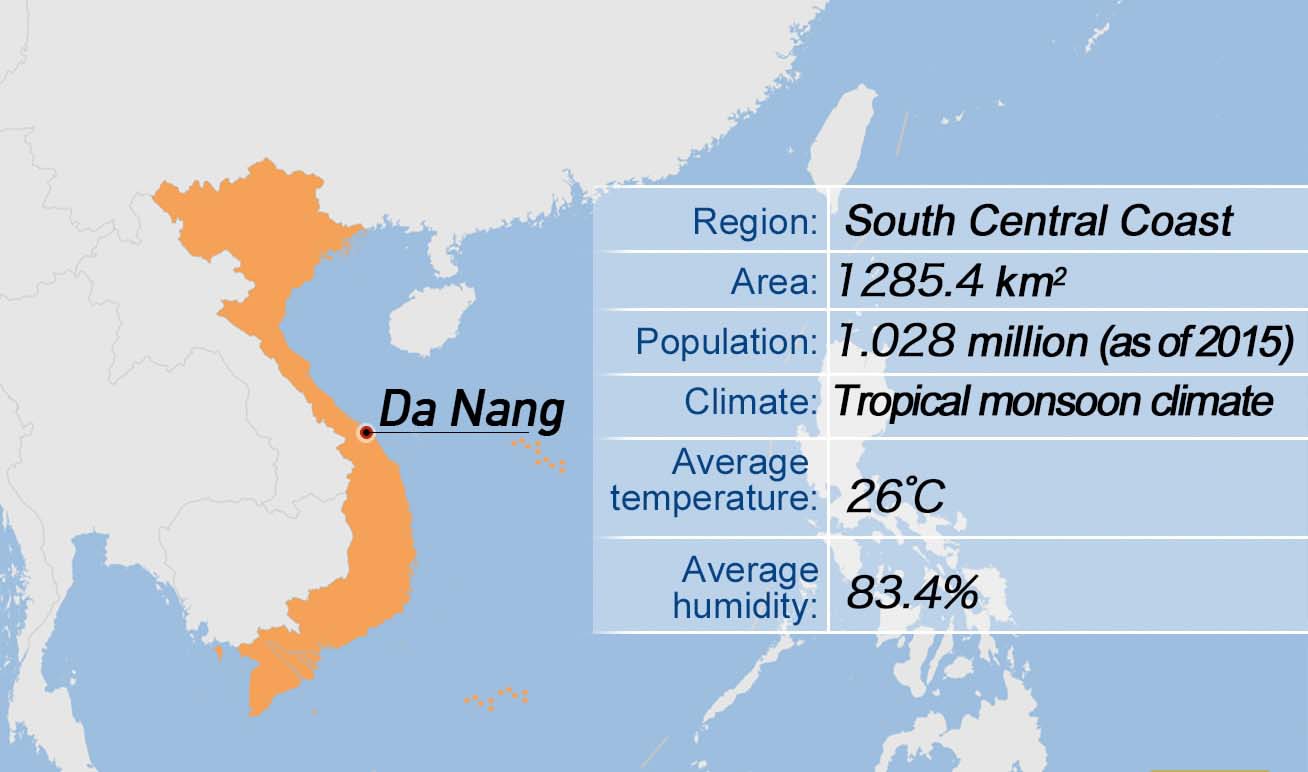 Da Nang city is located in the central part of the country, on the North – South traffic axis in terms of road, railway, sea and air. It borders Thua Thien Hue to the North, Quang Nam to the West, and the East Sea to the East. This city is considered the center of Central Vietnam, located about 964 km south of bustling Ho Chi Minh City and about 764 km north of the thousand-year-old cultural capital Hanoi.
In addition, Da Nang is also the place to connect 3 UNESCO world cultural heritages which are Hoi An Ancient Town, Hue Ancient Capital and My Son Sanctuary. A little further is the world natural heritage Phong Nha – Ke Bang National Park and Paradise Cave. With a total area of ​​1,256.53 square kilometers, Da Nang is fortunate to have all high mountains, deep rivers, steep hills, midlands, and beautiful coastal plains.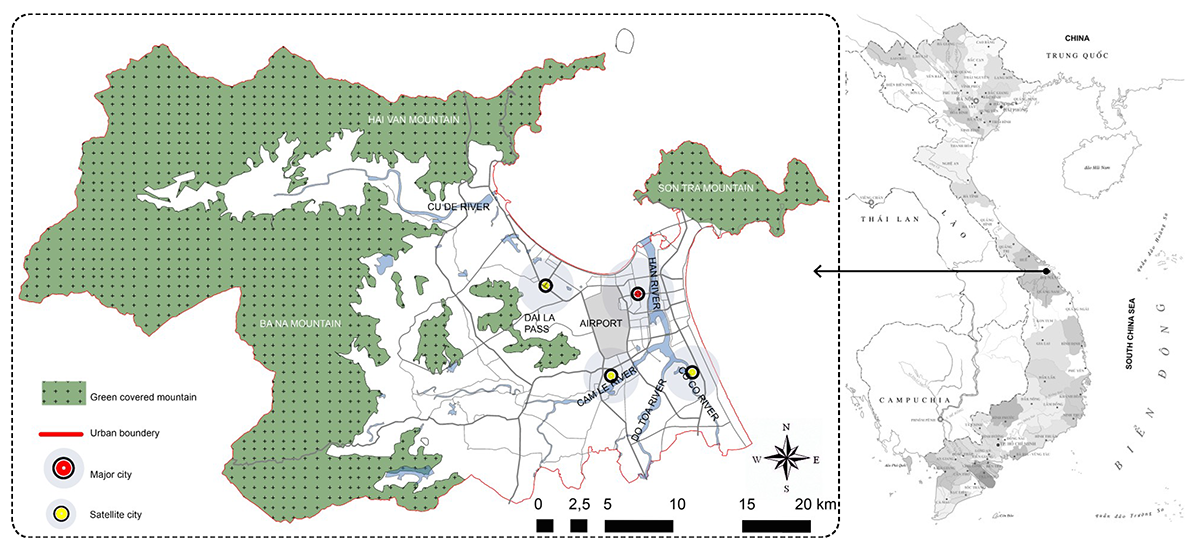 With the advantage of geographical location and natural conditions, Da Nang is fortunate to own many beautiful beaches with gentle stretches and endless white sand. Da Nang Beach was voted by Forbes Magazine (USA) as one of the 6 most attractive beaches on the planet. If you are a lover of the sea, you will surely be satisfied when diving in the clear water, playing with the waves or experiencing water sports such as windsurfing, banana boating, jetsky, etc.
Not only famous for its beaches, Da Nang also has other attractive landscapes including Son Tra island reaching out to the sea, Hai Van pass – "the first heroic world" with spectacular scenery. And it is impossible not to mention that it is the Marble Mountains, especially Ba Na Hills – the name that makes up the brand for Da Nang tourism and many other places.
Climate and Weather Characteristics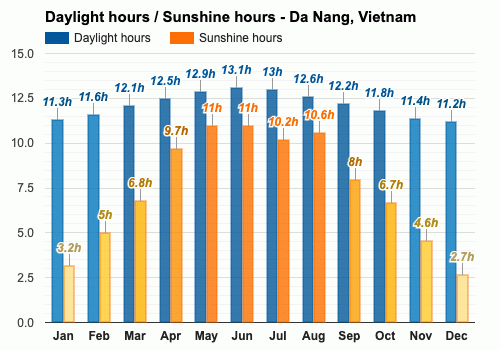 Da Nang is located in the tropical monsoon climate area, with high temperature and little fluctuation. Due to its favorable location, the climate here has a transition, alternating between Northern and Southern climates. However, it is not divided into 4 distinct seasons like the North, but only 2 main seasons are the rainy season and the dry season. The rainy season starts from the last month of August to December and the dry season from January to July. The year-round temperature ranges from 25 to 26 degrees Celsius, there is not much difference between the months.
In the dry season, the average temperature is 25.7 degrees Celsius, sometimes there is a cold wave but it quickly ends. Low humidity, little rainfall and slightly hot weather due to the influence of Lao wind. In contrast, in the rainy season, the rainfall is more, but the temperature is still not too low, averaging 25.5 degrees Celsius. However, there is a possibility of thunderstorms and storms. If you want to travel to Da Nang, consider choosing the right time.
Introduction to Da Nang History and Development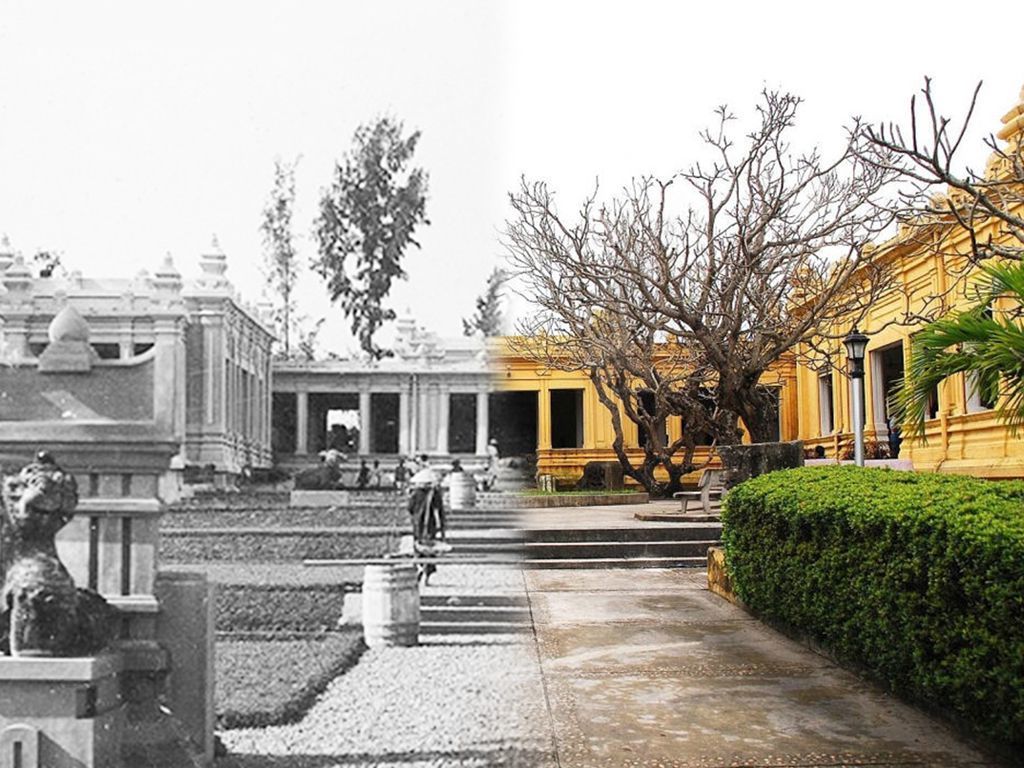 In the sixteenth century, when the trading port of Hoi An was the busiest trading place in Southeast Asia, Da Nang was also a place for transshipment of goods and also the largest shipbuilding place in the country. After a few years with strong development, Da Nang is replacing Hoi An to become the number 1 trading port to trade with countries around the world. In the year 1835 to the reign of King Minh Mang, he ordered all foreign merchant ships to be anchored only at Han River Port and other seaports not to trade. Since then, Da Nang has officially become the largest and most developed commercial port in the Central region of Vietnam.
Previously, Quang Nam and Da Nang were one province and then split into two separate provinces. When separated, Da Nang has grown tremendously to attract huge domestic and foreign investors before transforming into the largest city in the Central region under the Central Government today. It was the French colonialists, when they invaded Vietnam in 1889, separated Da Nang from Quang Nam and the Indochina government directly ruled.
Under the coloniasation, French people also invested a lot in Da Nang such as constructing the bridge across the Han River is still retained as "Nguyen Van Troi Bridge" and now its becomes a pedestrian bridge for tourists. And the current airport in Da Nang was also built by the French to serve the war and minerals transportation.
France officially returned Da Nang to the government of King Bao Dai in 1950. Then in 1965 when the US invaded the country, it also landed in Da Nang. The war devastated Da Nang a lot until 1975 when the peaceful city of Da Nang began to recover from the heavy consequences of the war.
In 1996, with remarkable achievements in development, Da Nang was officially recognized as the leading city directly under the Central Government in central Vietnam.
Introduction to Da Nang People's Life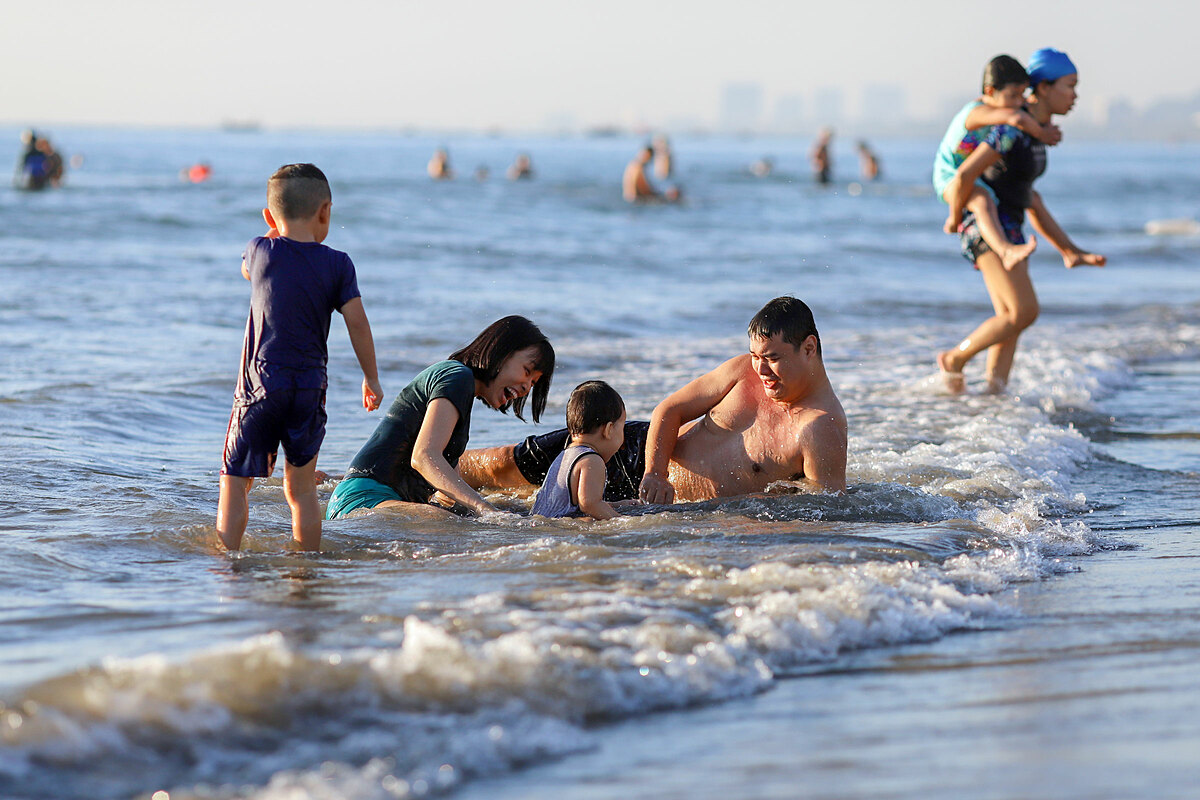 Peace of mind, hospitality and enthusiasm are the trademark of Da Nang people.
+ Peace of mind: Da Nang people have a calm and slow life. Regardless of the hustle and bustle of life outside, in Da Nang, people are still calm, hard-working and quiet. People do the things they love and rest on time, not being too greedy and not working to earn a lot of money. Unlike many places, when you come to Da Nang to eat, drink and shop, you rarely encounter a situation of guillotine. The cultural identity of the people of Da Nang remains intact until now and when people come to Danang, they must say "Why" life here is so peaceful.
+ Hospitality: With a gentle and honest nature is the identity as well as the typical brand of Da Nang people. Tourists coming to Da Nang are always warmly welcomed and there is no distinction of being "visitors" like other tourist development cities across the country. Not only the big 4-5 star luxury hotels but even the smaller hotels show hospitality professionalism. The waiters are always important, the friendly smile, the gestures of obedience, the way of addressing uncles and aunts … also soften everyone's heart when coming here. Therefore, coming to Da Nang makes us feel strange and unforgettable closeness and intimacy.
+ Enthusiasm: Come to Da Nang, you will feel that the local people are so enthusiastic, they forget even their own benefits and sometimes go out and are easily disadvantaged. Traveling around Da Nang, you don't need Google Maps because you're never afraid of being "lost". The people of Da Nang are so enthusiastic that when you ask for directions but you just don't understand, they will lead you to the place without receiving any remuneration.
And now Da Nang tourism has been very developed, the people here are so used to welcoming millions of tourists every year. And support world-class events such as the International Fireworks Festival in Danang and other outstanding events of the year. This is Danang's human culture, a love with a well-defined emotion called Da Nang.
Introduction to Da Nang's Traffic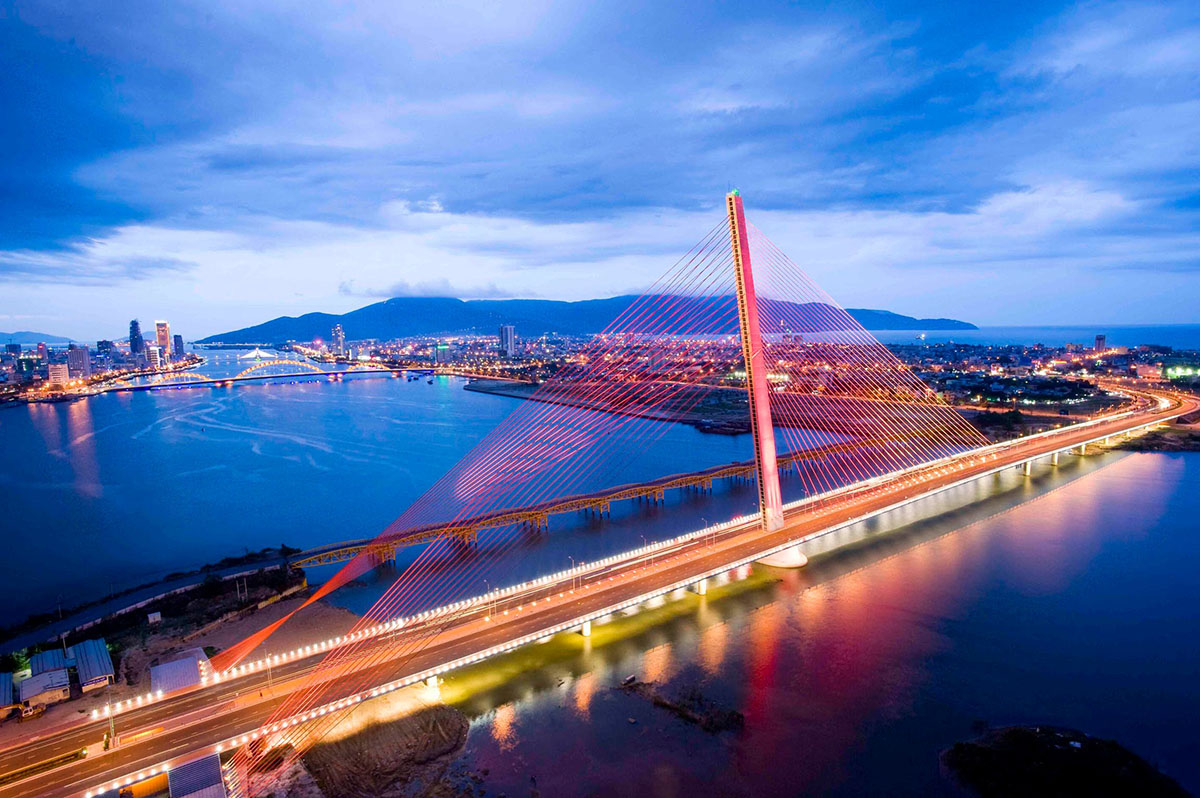 If the traffic jam is miserable when you are in Saigon or Hanoi, the traffic in Da Nang is extremely clear. Everyone in traffic is very lawful and obeys traffic laws very seriously. Rarely do you see someone on the street without a helmet, speeding recklessly and running a red light.
Da Nang streets are also in the top 1 in Vietnam in terms of traffic signals. You go to every intersection, you will see a red light and have to say why are there so many red and green lights. But everyone still obeys the respectable law that no one rushes to run a red light to endanger others. Da Nang streets, intersections, intersections, and intersections all have cold penalty cameras when people violate traffic will have a paper sent home. Therefore, quickly, you will be fined if you violate it. Do not be foolish when moving in Da Nang without obeying traffic laws.
Introduction to Da Nang's Weather and Climate
+ About the weather in Da Nang, it is extremely cool because the city is surrounded by the Sea. Da Nang is located in the tropical monsoon climate every year with high temperature and little fluctuation.
+ In terms of climate in Da Nang, there are two distinct seasons: Sunny season and Rainy season, because it is located in the middle of the country, it is clearly influenced by the Northern and Southern provinces.
Sunny season: Lasts from April to September, this time it rains less and the temperature rises, suitable for sea tourism and sightseeing.
Rainy season: Usually from October to February, this time the weather is rainy and sometimes it rains whole week without stopping. But that's not why it doesn't attract tourists, Da Nang is a year-round tourist city. The weather and climate in Da Nang is not too extreme. The dry season is not too hot and the rainy season is not too cold. Therefore, Da Nang becomes the tourist paradise of Vietnam.
Introduction to the Reasons why Da Nang is Called the Worth Living City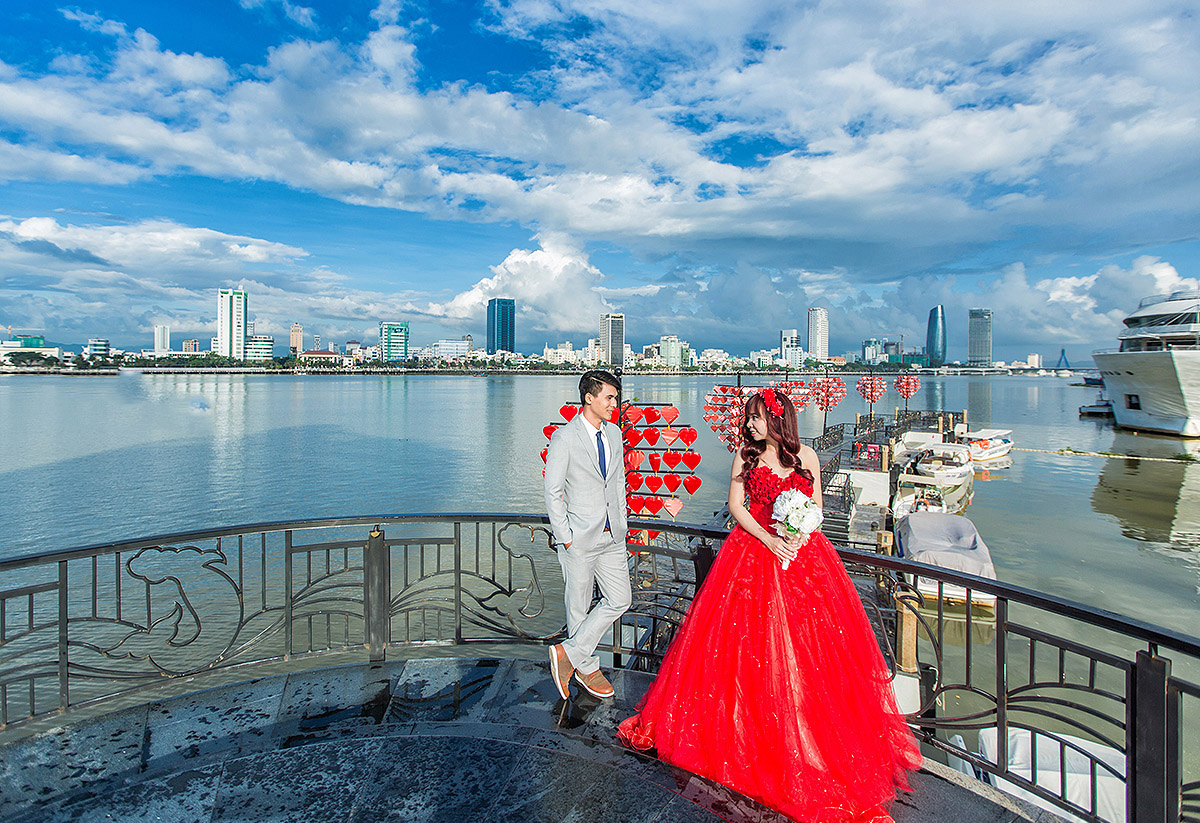 Why is Da Nang known as the "worth living" city in the country? Here is a summary of the reasons for that.
Every year, Da Nang always sprouts new and creative projects
Where there are famous bridges crossing the Han River (Especially there is the Swing Bridge and the Dragon Bridge that breathes fire)
The place where tourism development is never cut off
The place with free Wifi system throughout the city
The place where My Khe Beach is in the top 6 most beautiful and charming beaches on the planet
The place with the largest free toilet system in the country
Where people are gentle, friendly and hospitable
Where there is a cancer hospital for free treatment for Da Nang people
Where there are many specialties, delicious and cheap cuisine
Where there are rarely thieves, robbers and beggars…
The place has a security camera system covering the whole city that makes you feel very safe.
Where there are many of the most famous tourist attractions in Vietnam
These are just some of the reasons why people consider Da Nang to be the most livable city in Vietnam. There are still many things that make up the brand of Da Nang today, come and find out for yourself, to see that Da Nang has never let you down. And also from those impressions, anyone who has ever visited the coastal city wants to come back again.
Introduction to Da Nang's Means of Transportation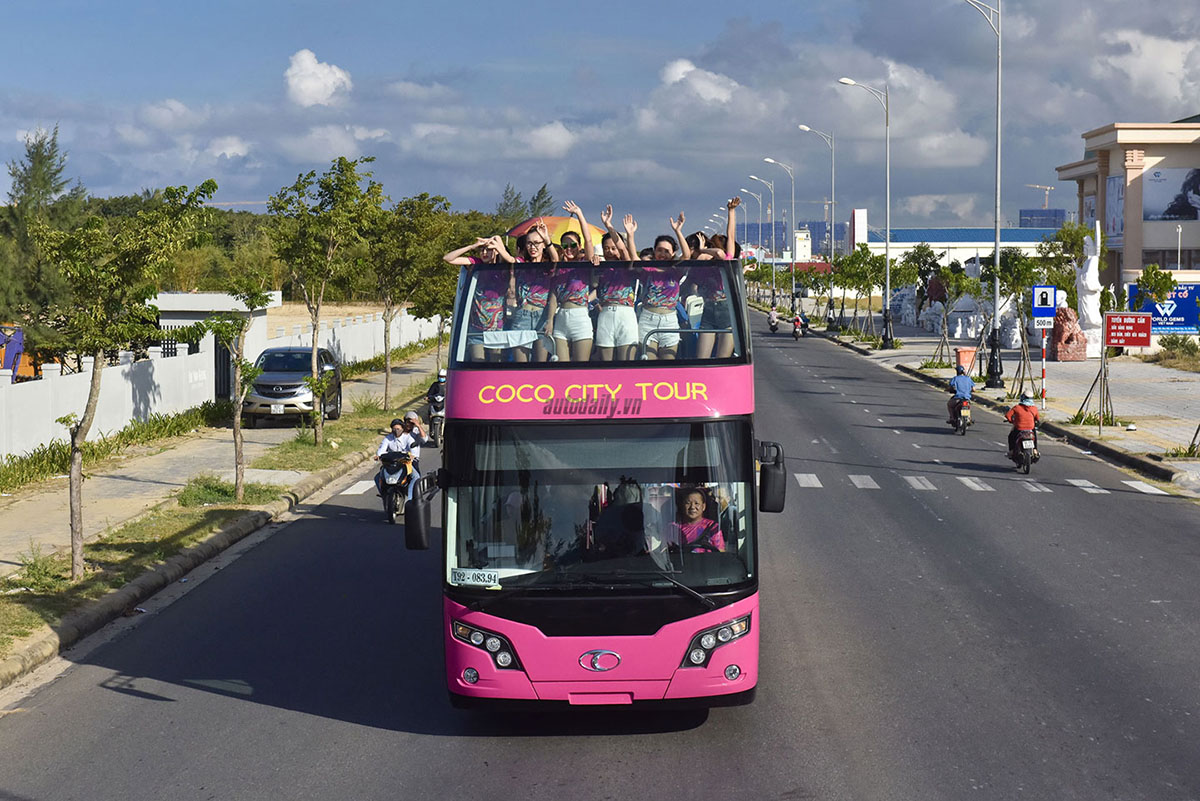 From major cities across the country such as Hanoi, Quang Ninh, HCM City, Can Tho; there are flights to the beautiful city of Da Nang. Depending on the budget as well as the flight time, you can choose one of the airlines Vietnam Airlines, Vietjet Air, Bamboo Airways all have flights to Da Nang every day. In particular, Vietjet regularly launches promotions, typically 0VND tickets. Airfares can range from 600k-2,500k/depending on airline, travel time is about 1 hour 30 minutes.
As for transportation in Da Nang, there are many choices and booking a car is also very easy. You can book a Grab Bike/ Grap Car or book a shuttle if you need to travel in the city, to attractions in the suburbs such as Ba Na Hills, Nui Than Tai, Hue or Hoi An.
Introduction to Da Nang Tourist Attractions
Da Nang is always known as the most livable city in the country and has beautiful landscapes that attract tourists from all over the world. There are long beautiful beaches with clear and smooth blue water, famous tourist destinations with famous names in the world making Da Nang the number 1 destination of everyone.
Below I will introduce the most famous tourist destinations in Da Nang that people are extremely interested in and interested in.
Ba Na Hill Paradise in Da Nang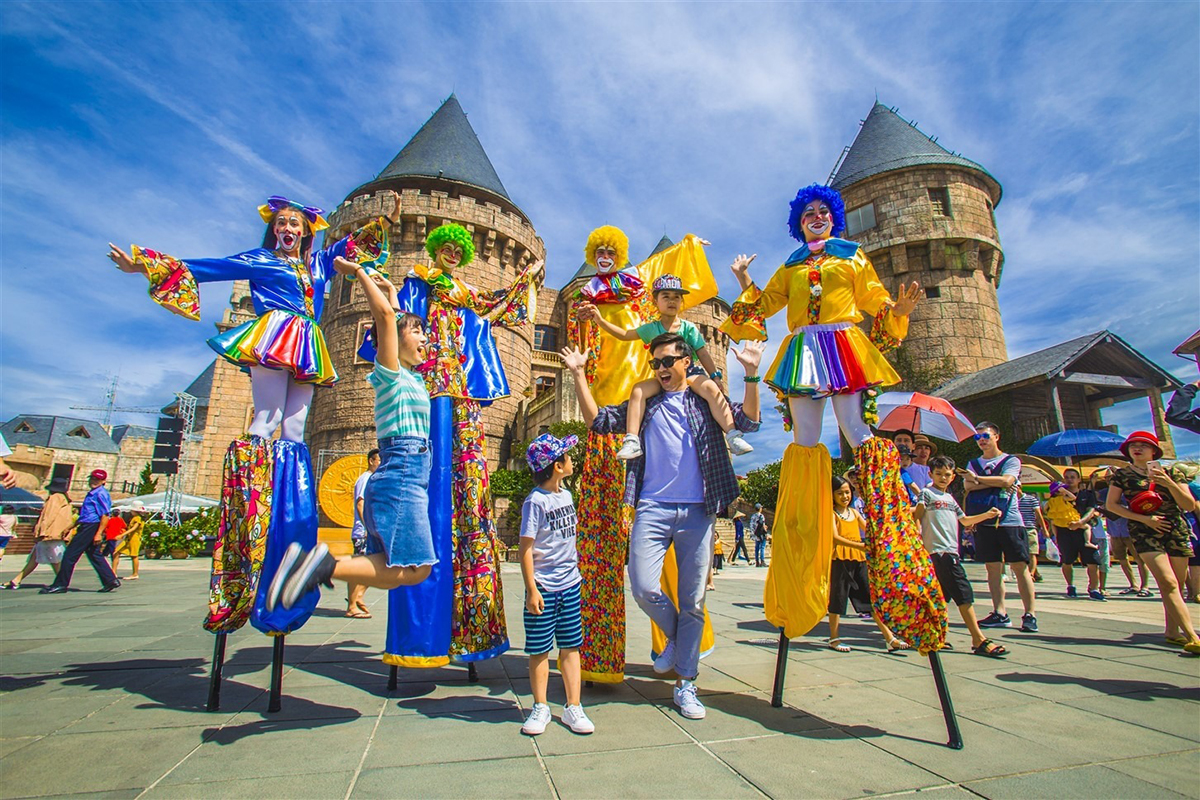 Ba Na Hill Paradise is located on Chua mountain, at an altitude of 1,489m above sea level, about 25 km from the city center, in the territory of Hoa Ninh commune, Hoa Vang Da Nang. Previously, Ba Na Hill was too famous for everyone, but since the inauguration of the Golden Bridge, the popularity of Ba Na Hilsl spread to the whole world. The online community is really shaken and sucked up by this Golden Hand Bridge and some people have gone to it twice and still have to go a third time to Ba Na Hill to witness this great work.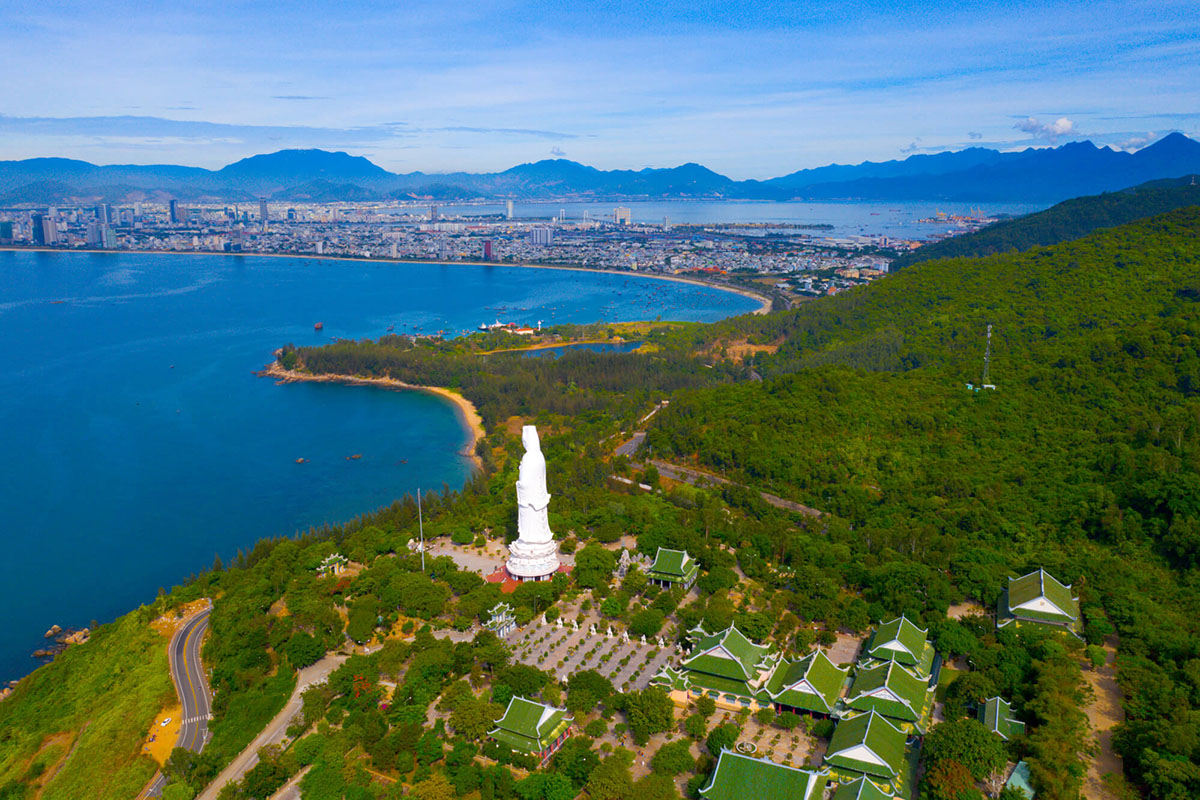 Son Tra Peninsula is a mountain range jutting out into the sea and this is considered the "green lung" of Da Nang city. Son Tra peninsula is very beautiful with diverse natural landscapes, has the famous Linh Ung pagoda, has diverse marine and coral ecosystems. The road leading to Son Tra from the city center curves around the coast, embracing the edge of this peninsula.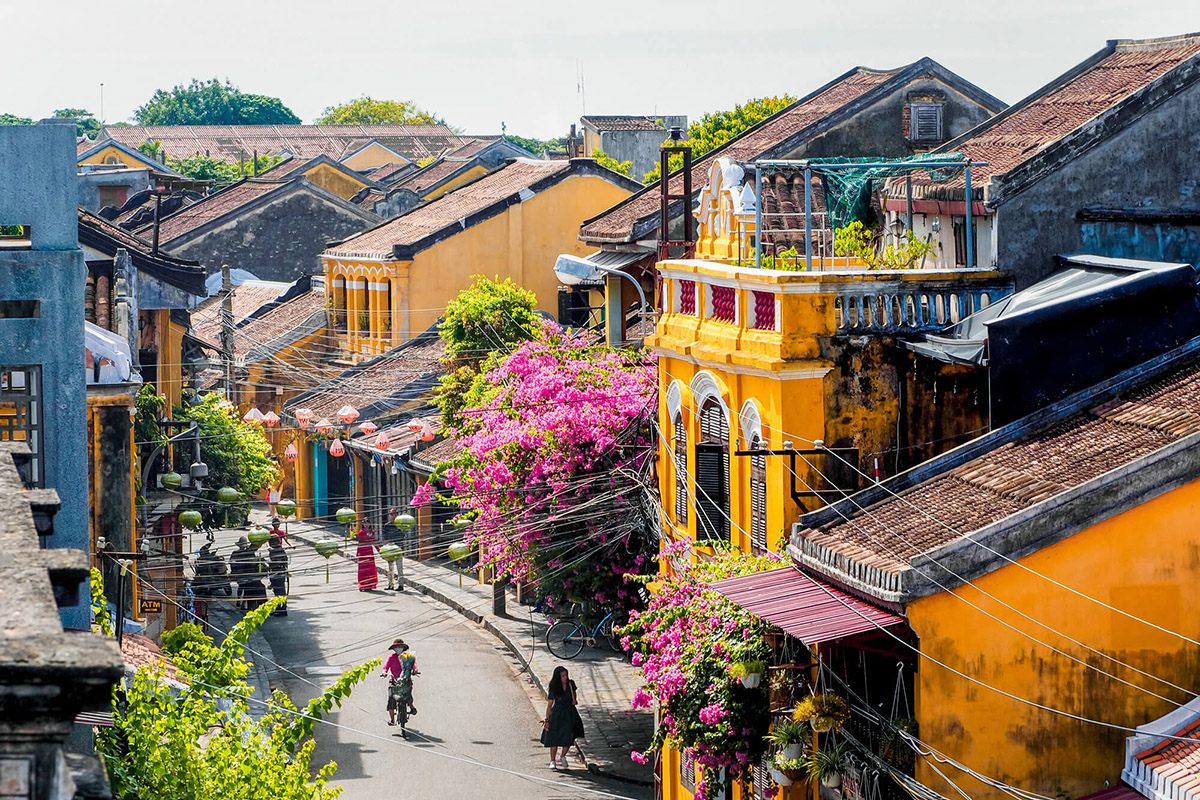 Hoi An Ancient Town is recognized as the most charming city in the world in 2009. That's why Hoi An tourism is very developed every year, attracting tens of thousands of international tourists to visit. Being preserved the long-standing traditional culture and the ancient city of Hoi An recognized by UNESCO as a world cultural heritage. The old town is still preserved quite intact, which makes it attractive to visitors. The houses have been built for hundreds of years with yellow painted walls, narrow streets will bring you lost in a nostalgic space, away from the noisy city.
Nui Than Tai Hot Spring Park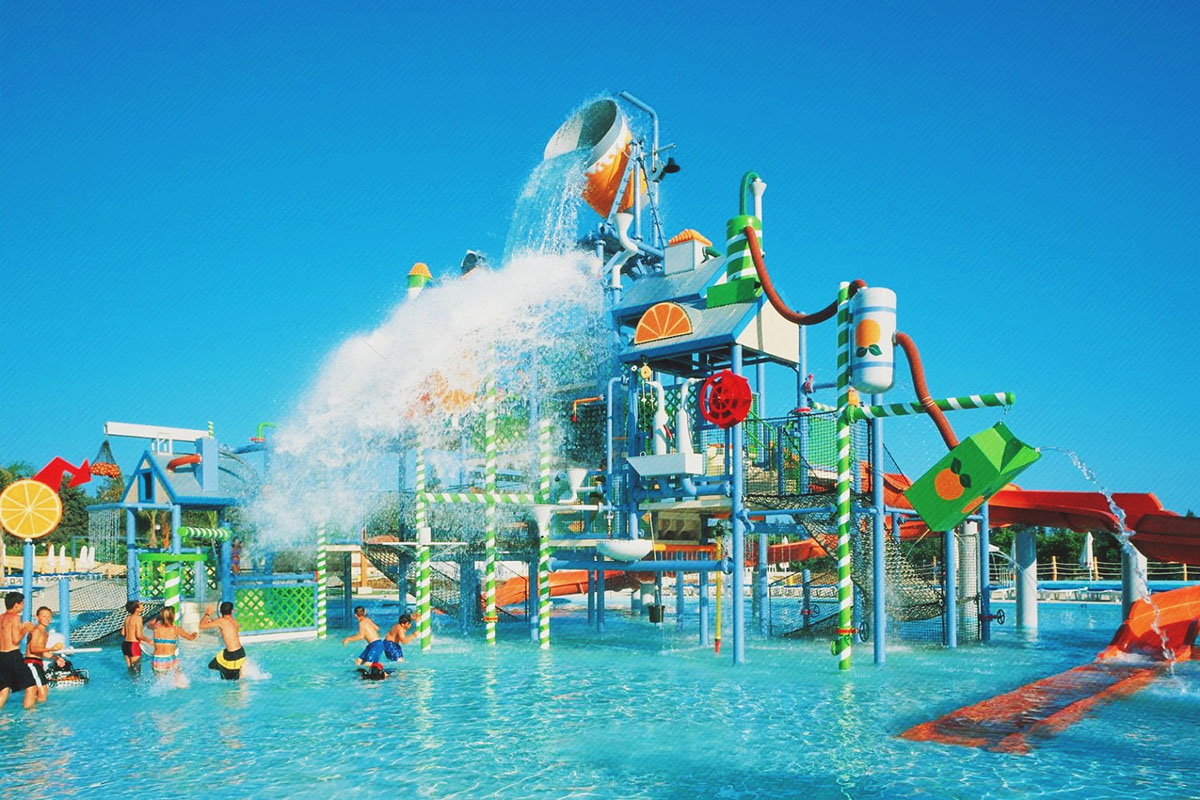 Currently, Nui Than Tai has become the most attractive tourist destination in Da Nang. With the sweltering heat in the summer, Than Tai Mountain Tourism will be the hottest destination today. This place not only has beautiful natural scenery, but also has a natural hot mineral spring flowing from Ba Na – Nui Chua peak with the highest amount of minerals in the country. Coming to Than Tai Mountain, you will be able to participate in bathing in streams, playing in water parks and visiting many of the above scenic places.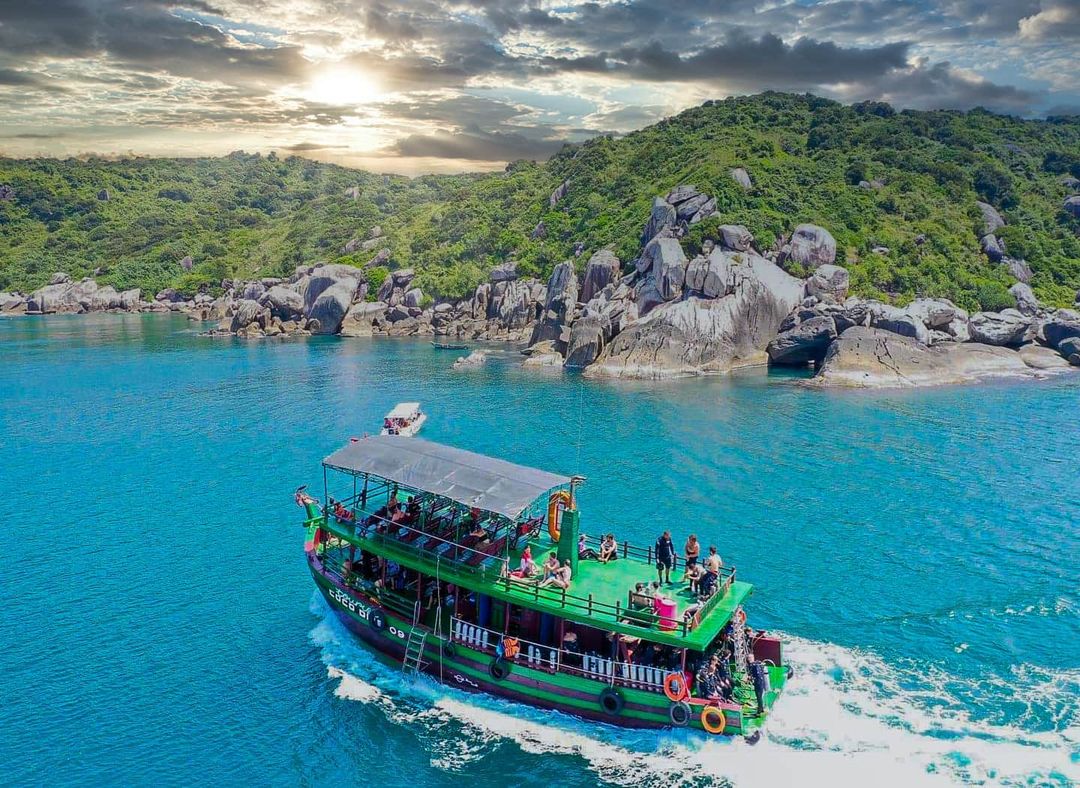 Cu Lao Cham Island is dubbed the Precious Gem of Hoi An – Quang Nam. When you travel to Cu Lao Cham, you will be able to escape from the hustle and bustle of city life and immerse yourself in nature in the midst of the sea and sky. Experience the feeling of diving to see the coral and visit famous places around the island. Cu Lao Cham island is also a place to preserve intact nearly 950 marine species, this place is very clean without plastic bags.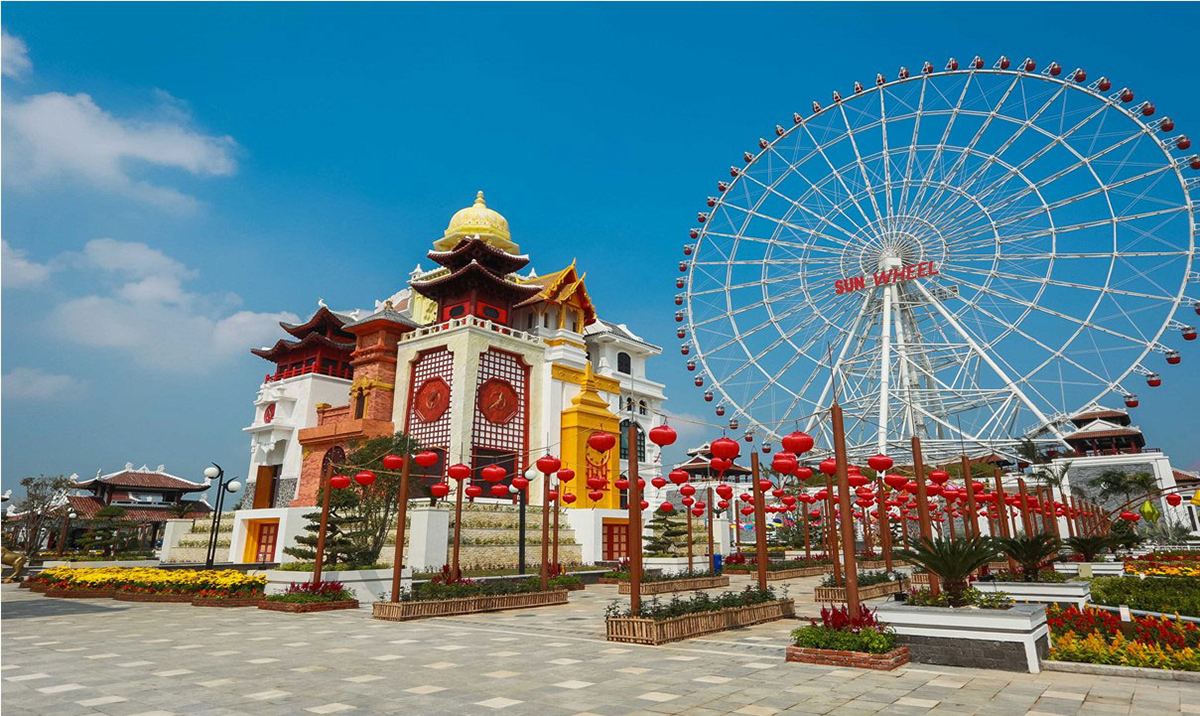 Asia Park Da Nang is an entertainment complex in the center of Da Nang city with many games that bring the feeling from ordinary to hair-raising. The Park has the largest sun wheel in Southeast Asia. Sitting here, you can see the whole of Da Nang in the evening, very shimmering and beautiful.
In addition to Da Nang tourist attractions mentioned above, there are still many other sites that attract tourists. To find out the most, please refer to the Da Nang travel experience, I have also summarized very fully and in detail about Da Nang city with extremely honest sharing due to my own experience when coming here.
Introduction to Da Nang Hotels and Accommodation Facilities
Da Nang hotels and resorts have been built continuously to meet the increasing demand for accommodation of tourists coming to Da Nang in recent years.. Hereunder the recommended accommodation ranks from 3-star to 5-star for travelers to choose.
Da Nang homestays and cheap hotels for couples
Da Nang homestays and cheap hotels for couples
Le House Boutique Hotel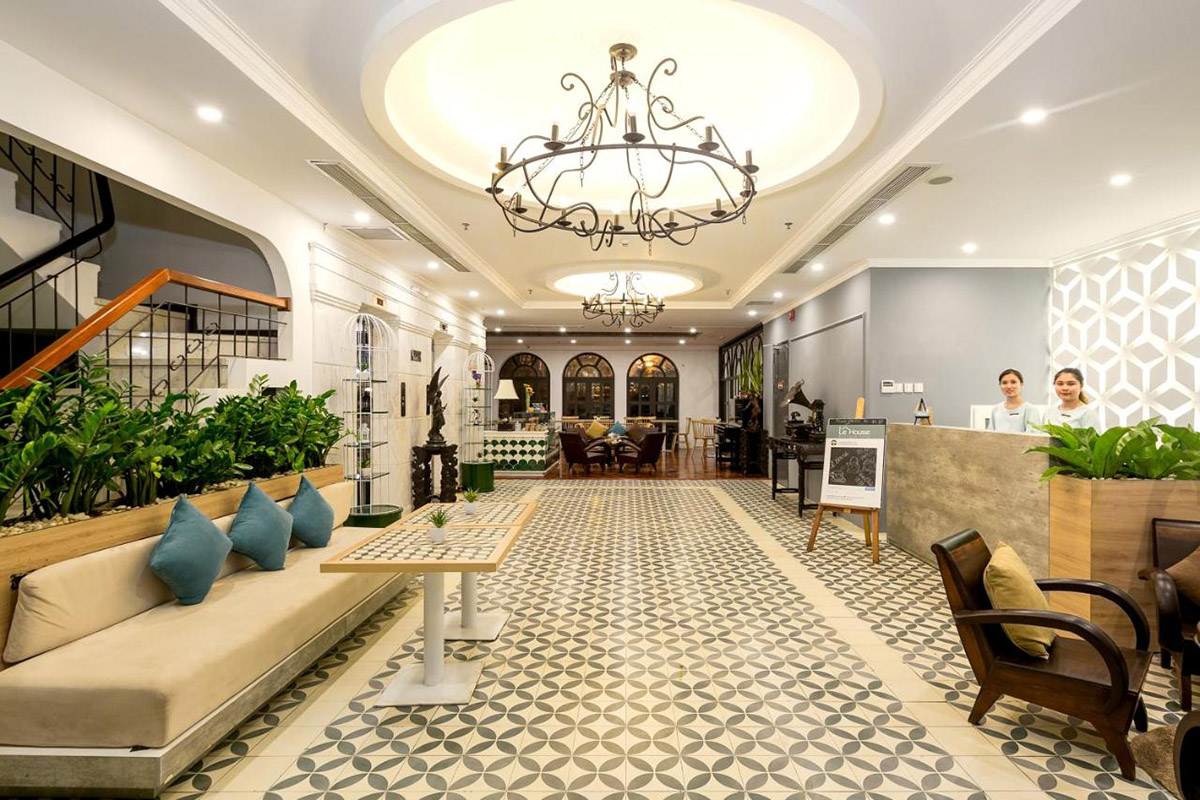 Topping the list of hotels in Da Nang that Vietnam Honeymoon would like to recommend to you is Le House Boutique Hotel. With a location near My Khe beach, less than 2km from the Han River, Le House Boutique has a modern and youthful style, so it will be the perfect choice for a young couple's trip to Da Nang.
From a distance, Le House Boutique Hotel looks like a white castle, with a classic design that stands out in the middle of Ha Bong street. The hotel rooms here all have windows to catch the sun, allowing you to breathe in the scent of the sea breeze.
The elegant interior and modern equipment are also a big plus, promising to bring the perfect holiday experience for you and your loved one.
Address: 85-87 Ha Bong, Phuoc My, Son Tra, Da Nang
Room rate reference: Only from 720,000 VND/room/night
Da Nang homestays and cheap hotels for couples
Kiwi Hotel & Apartments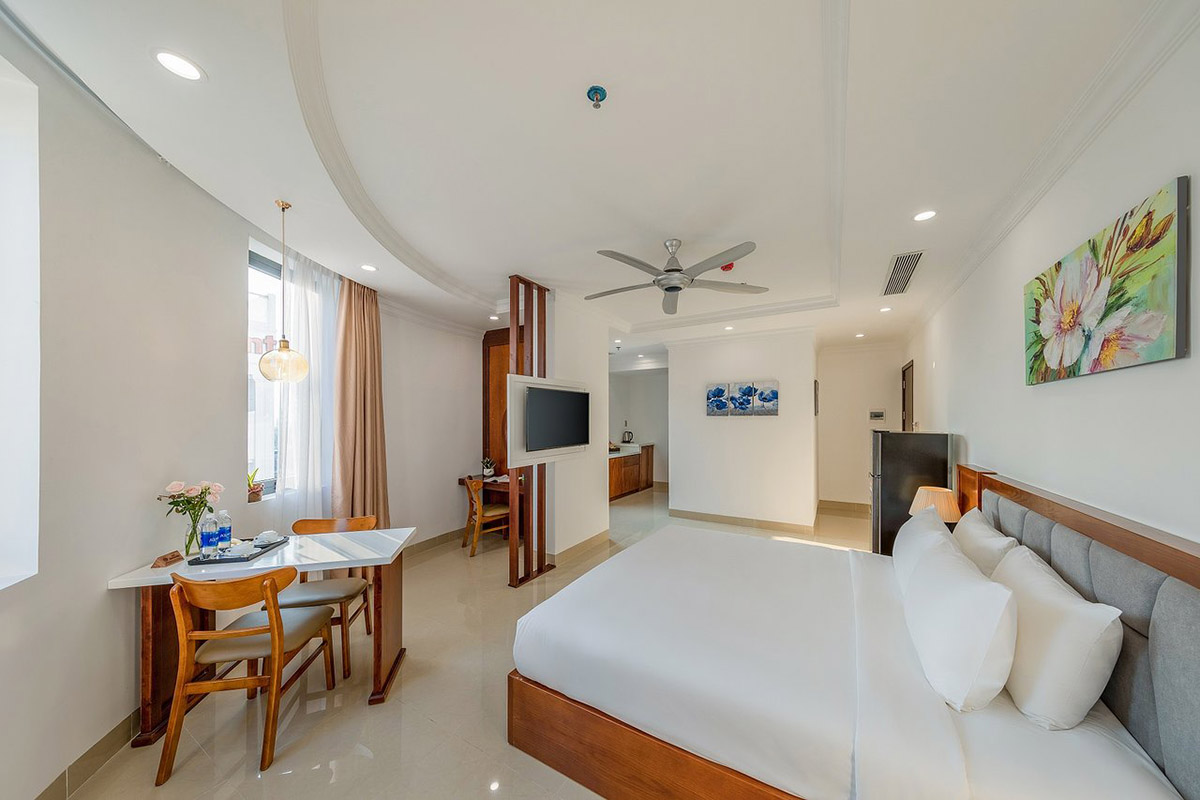 Kiwi Hotel & Apartments is designed according to the model of lovely apartments, fully equipped with amenities, will bring moments of relaxation after a long busy day of fun.
Located right on the busy Phan Tom street, less than 1km from My Khe beach, from Kiwi Hotel & Apartments, you will easily move to visit famous tourist attractions such as Dragon Bridge or Love Bridge. With an affordable price, Kiwi Hotel & Apartments promises to be a suitable destination for couples or groups of young people who want to save money when traveling to Da Nang on their own.
Address: 50A Phan Ton, Bac My Phu, Ngu Hanh Son, Da Nang
Room price reference: 550,000 VND/room/night
Da Nang homestays and cheap hotels for couples
Gold Boutique Hotel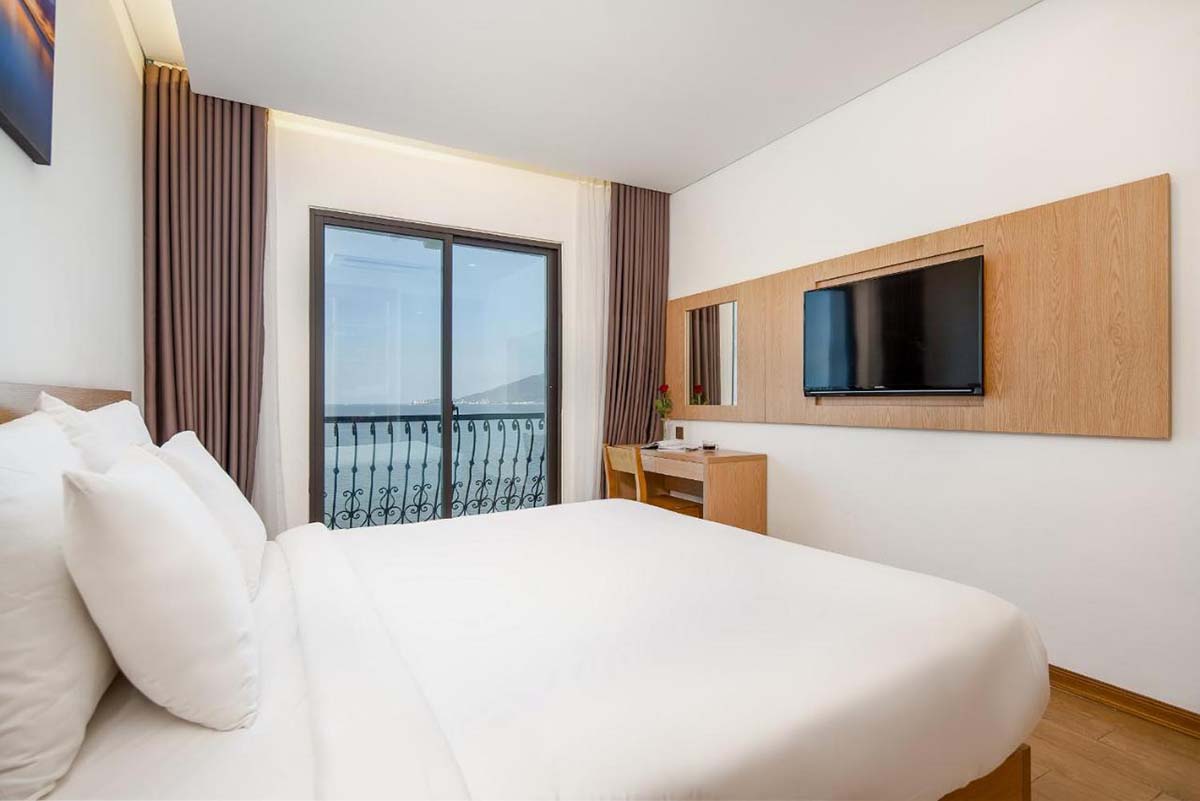 A suggestion for you to add to the list of cheap Da Nang hotels near the sea is Gold Boutique Hotel. This place will be a great place to rest if you want to see the panoramic view of Da Nang Bay every morning.
In addition to the plus point of location and modern design, Gold Boutique Hotel also received a lot of compliments from reputable booking sites because of its dedicated and welcoming service style. This place will definitely give you and your loved one romantic moments together during that upcoming vacation!
Address: 1357 Nguyen Tat Thanh, Thanh Khe, Da Nang
Room price reference: 450,000 VND/room/night
Da Nang homestays and cheap hotels for couples
K-House vs Apartment
K-House vs Apartment is one of the most lovely places to stay if you are a nature lover but don't want to leave the city center. From K-House vs Apartment, it only takes you 1 minute to walk to the clear blue My Khe beach. In addition, this place is also just over 1km from the Dragon Bridge, making it easy for you to move to see the symbol of Da Nang spewing fire and water every weekend evening.
The apartments at K House Danang are fully equipped with modern amenities equivalent to 4-star standards. Along with professional service style, this Da Nang hotel will bring you a cozy and wonderful stay.
Address: 44b E. Lam Hoanh, Phuoc My, Son Tra, Da Nang
Room price reference: 720,000 VND/room/night
Da Nang homestays and cheap hotels for couples
DUNU Homestay Da Nang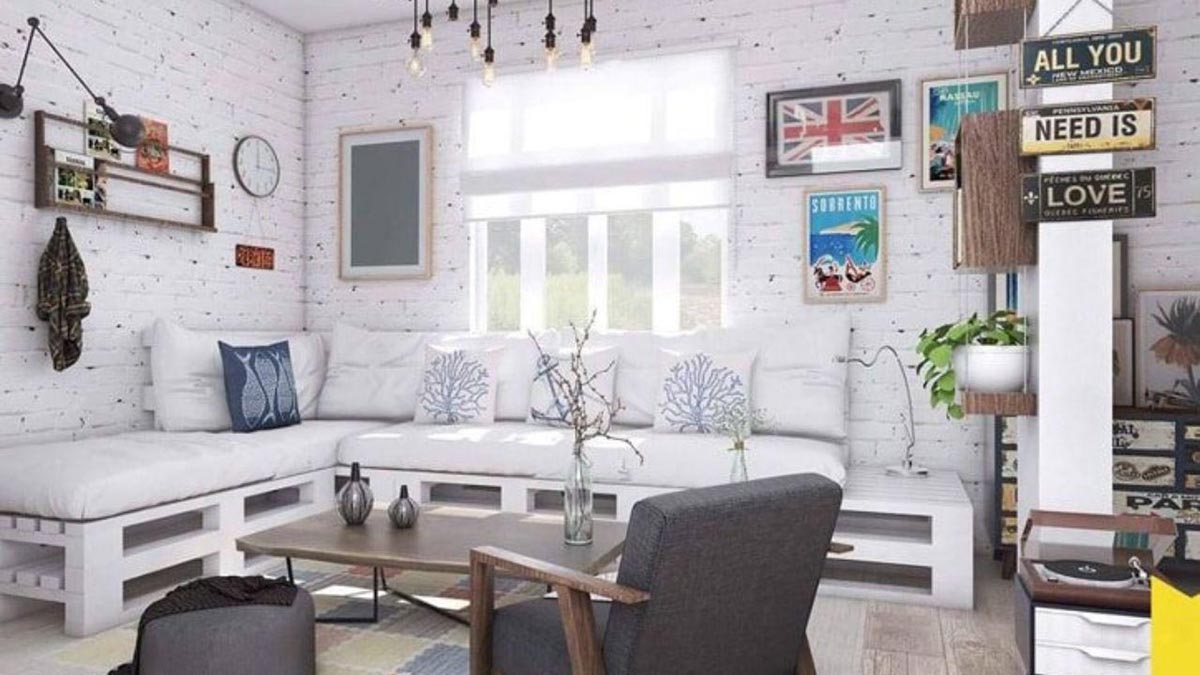 The final destination, Vietnam Travel Agency would like to introduce to couples DUNU Homestay – a homestay full of blue colors of the sea. DUNU Homestay is built in style of homestay combined with hostel. The room design is beautiful and tasteful, cleverly using bright colors, so the space of DUNU Homestay is always full of energy.
DUNU Homestay is also located in the city center area, making it easy for you to move around to visit tourist areas. This location is suitable for young couples who want to save money but still have a private space for their vacation in Da Nang.
Address: K34/20 Le Huu Trac, Son Tra, Da Nang
Room price reference: 350,000 VND/room/night
Da Nang 5-Star Beach Hotels & Resorts
Da Nang 5-Star Beach Hotels & Resorts
InterContinental Danang Sun Peninsula Resort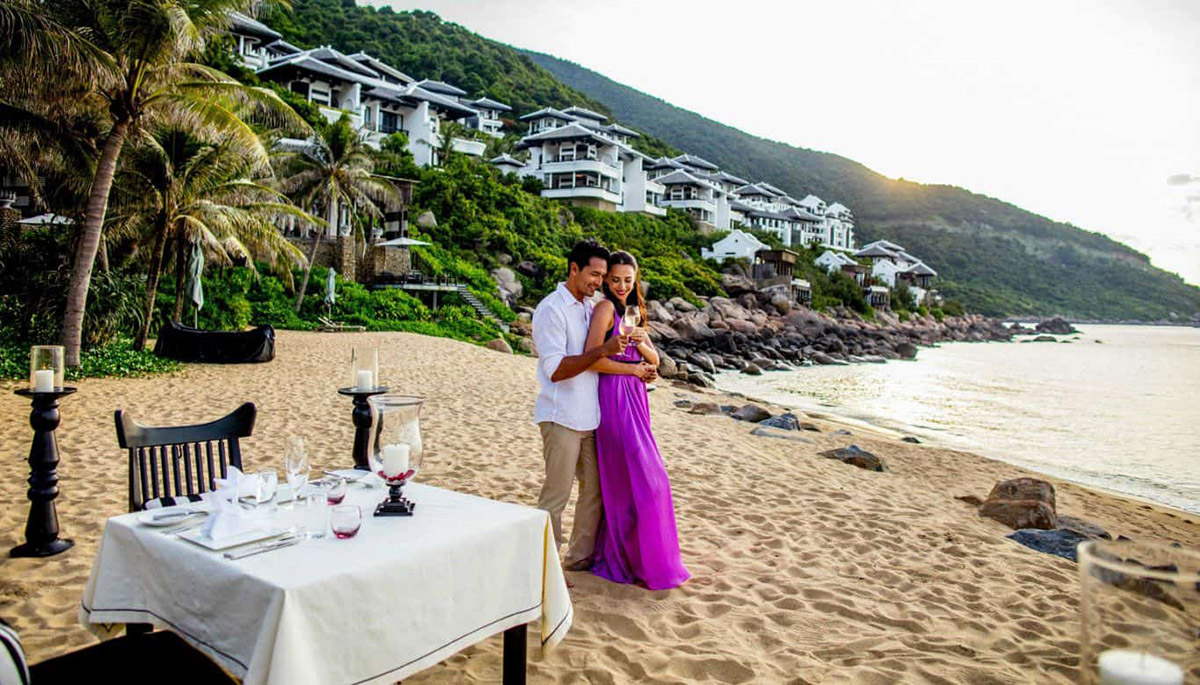 Standing the top of the luxury hotels in Da Nang is none other than the InterContinental Danang Sun Peninsula Resort. Nestled in the middle of Son Tra peninsula with world-class luxury apartments and villas, InterContinental Resort is enough to make any visitor admire.
InterContinental Danang Sun Peninsula Resort is located right on the North beach with its back design on Son Tra peninsula, surrounded by primeval forest and beautiful views of the East Sea. The rooms and villas are equipped with the most modern facilities, but still do not lose the inherent Asian features of the resort. The service here is rated 10/10 by customers because of the professionalism and dedication of the staff, so you will not have to worry when you stop here.
Address: Bai Bac, Son Tra, Da Nang
Reference room price: From 9,400,000 VND/room
Da Nang 5-Star Beach Hotels & Resorts
Danang Golden Bay Hotel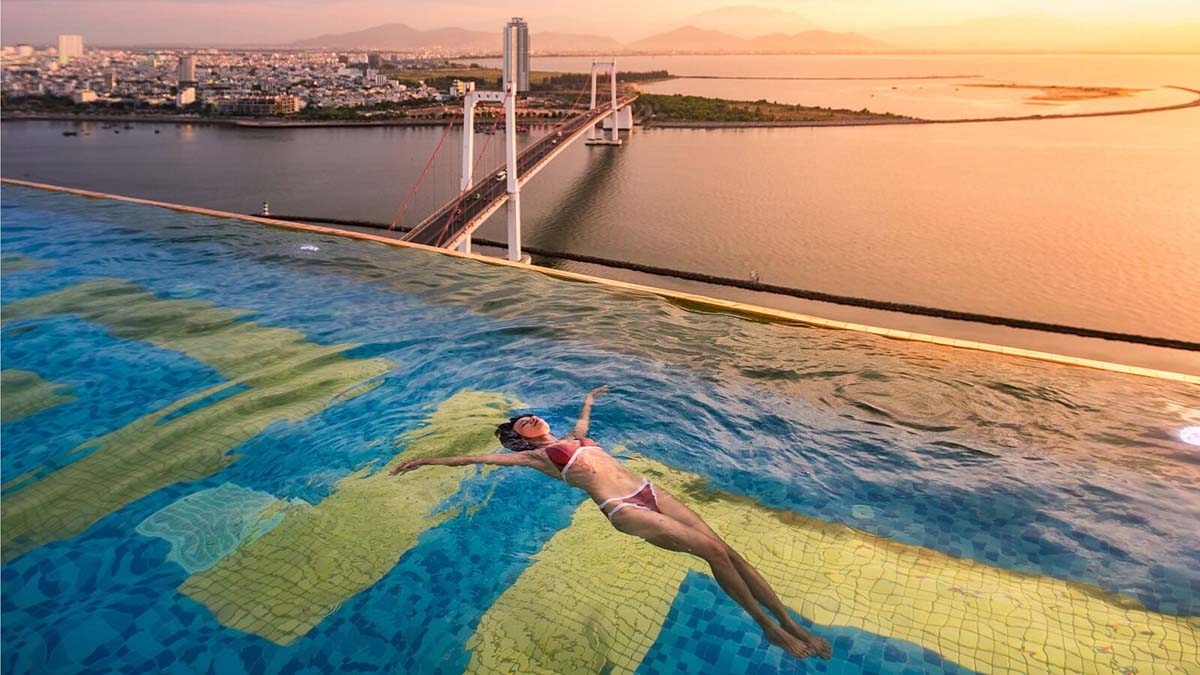 Danang Golden Bay is a famous hotel with an infinity pool overlooking the entire Danang bay and Thuan Phuoc bridge. This is a 5-star Da Nang hotel in modern style.
Besides the system of 949 high-class rooms and gold-plated apartments, the restaurant and bar here also makes people wobble with the million-dollar view that not all hotels have.
Address: Le Van Duyet, Nai Hien Dong, Son Tra, Da Nang
Room price reference: 1,800,000 VND/room/night
Da Nang 5-Star Beach Hotels & Resorts
Naman Retreat Resort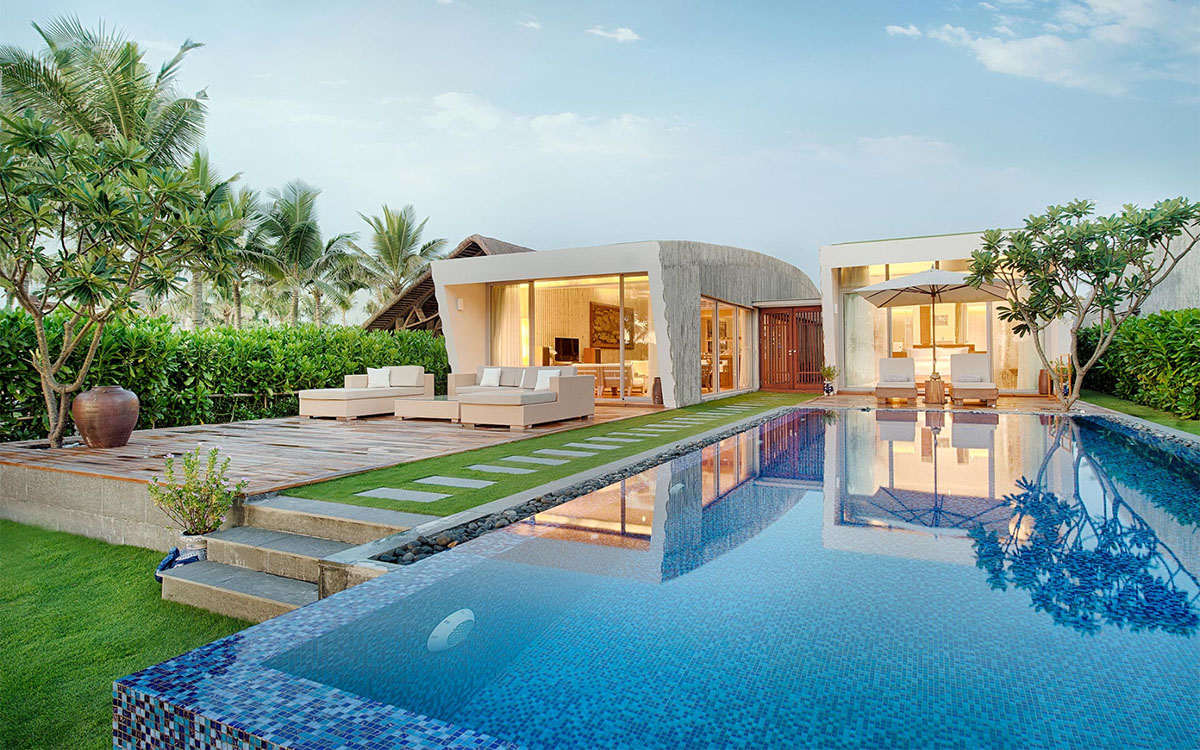 Naman Retreat is located on Truong Sa Street, known as the road of the most luxurious and classy resorts in Da Nang. This place is a harmonious combination between rustic features, pure Vietnamese nature and elegant contemporary architecture.
At Naman Retreat, you can slow down by the private, peaceful beach every morning; Or relax with 5-star resort facilities such as spa, sauna. Naman Retreat is a place for you to pamper your soul.
Address: Truong Sa Street, Hoa Hai, Da Nang
Room price reference: 2,700,000 VND/room
Da Nang 5-Star Beach Hotels & Resorts
Maximilan Danang Beach Hotel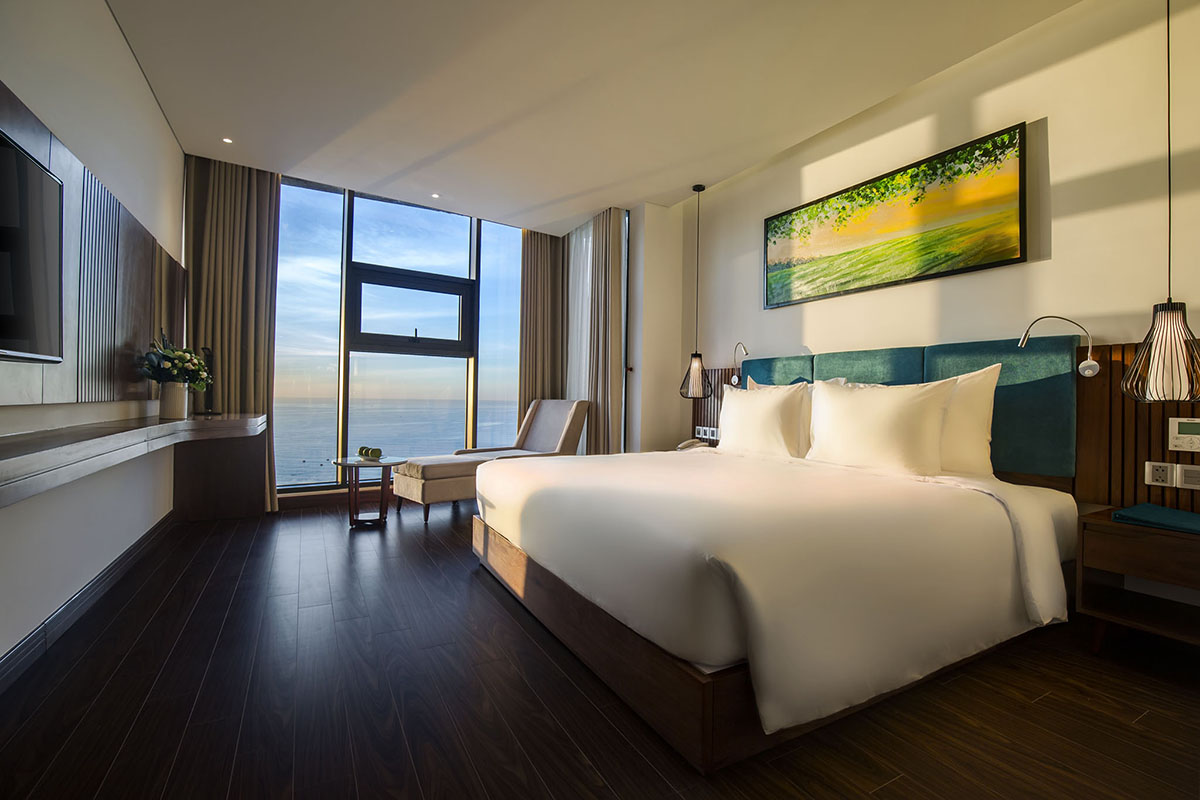 Located on the luxury Vo Nguyen Giap street, Maximilan Da Nang is also a name that attracts domestic and foreign tourists with its modern, luxurious and sophisticated design. Maximilan Danang's room types have sea views, furniture and amenities of 4-star standard. This will definitely be an ideal stop for a vitamin sea tour of young couples or families.
This Danang hotel near My Khe beach owns an infinity pool on the rooftop. Combined with the floating breakfast service, you will get those check-in pictures of thousands of people like that!
Address: 222 Vo Nguyen Giap, Phuoc My, Son Tra, Da Nang
Room price reference: 1,500,000 VND/room/night
Da Nang 5-Star Beach Hotels & Resorts
Fusion Suites Da Nang Beach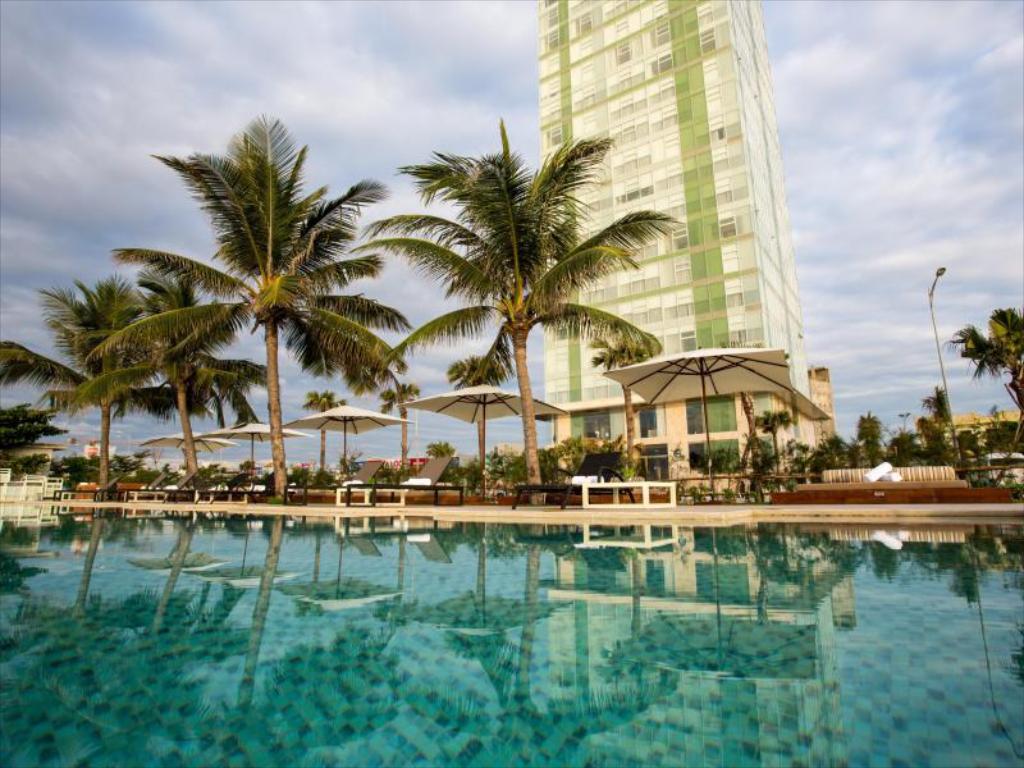 Fusion Suites Da Nang Beach is the only hotel in the city area with a swimming pool and bar located right on Pham Van Dong beach – the central beach of Da Nang. With warm cream-golden brown tones, and a sophisticated minimalist style, Fusion Hotel Danang scores points in the eyes of the most demanding guests on the way to finding "true love" to stay in Da Nang.
Address: Residential Man Thai Ward, Vo Nguyen Giap, An Cu 5, Man Thai, Son Tra, Da Nang
Room price reference: 1,600,000 VND/room/night
Da Nang 5-Star Beach Hotels & Resorts
A La Carte Danang Beach Hotel
If you are a lover of French architecture and fascinated with the sophistication of Western European interiors, then À La Carte Da Nang Beach Hotel is the perfect stop for your vacation.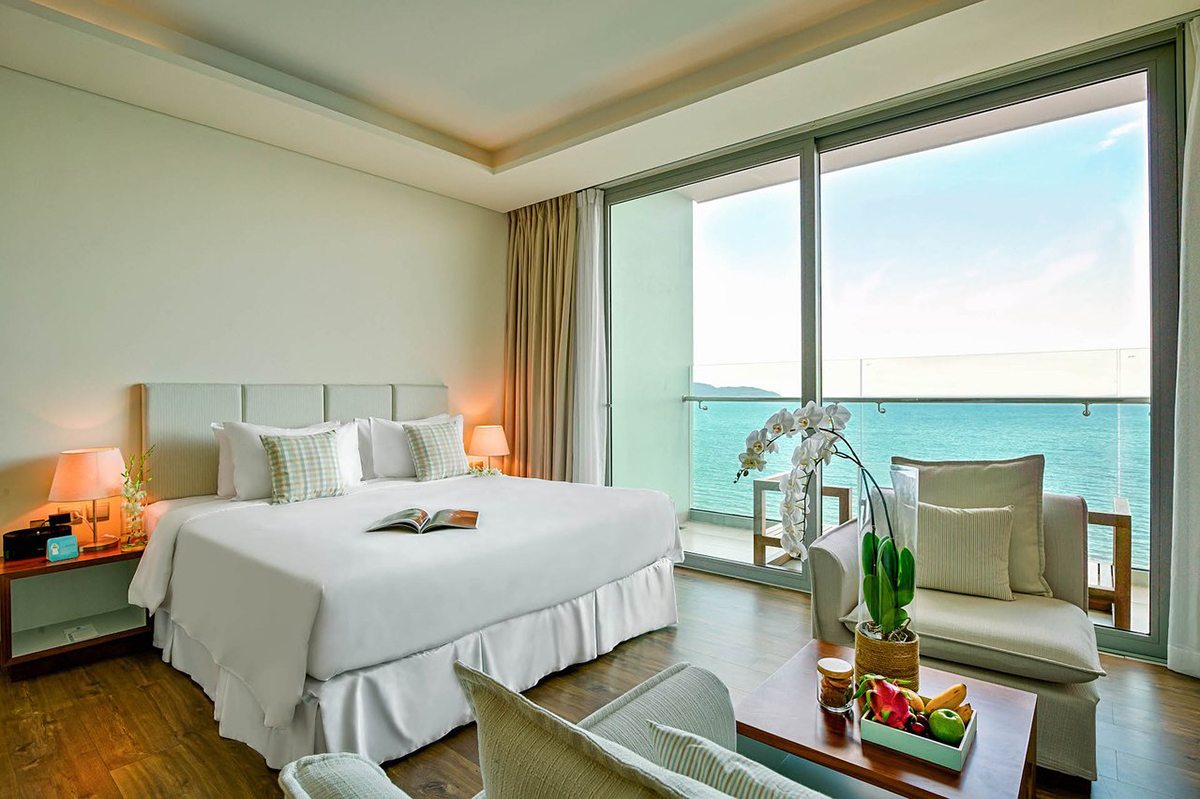 Also located on the prime Vo Nguyen Giap street, the diverse system of rooms at À La Carte Da Nang Hotel will offer an open design and beautiful sea views. This place is also highly rated on reputable hotel booking sites thanks to its friendly and professional staff. You will not have to worry about anything when choosing this hotel as a stopover!
Address: 200 Vo Nguyen Giap, Phuoc My, Son Tra, Da Nang
Room price reference: 1,700,000 VND/room/night
Da Nang 5-Star Beach Hotels & Resorts
Hyatt Regency Danang Resort and Spa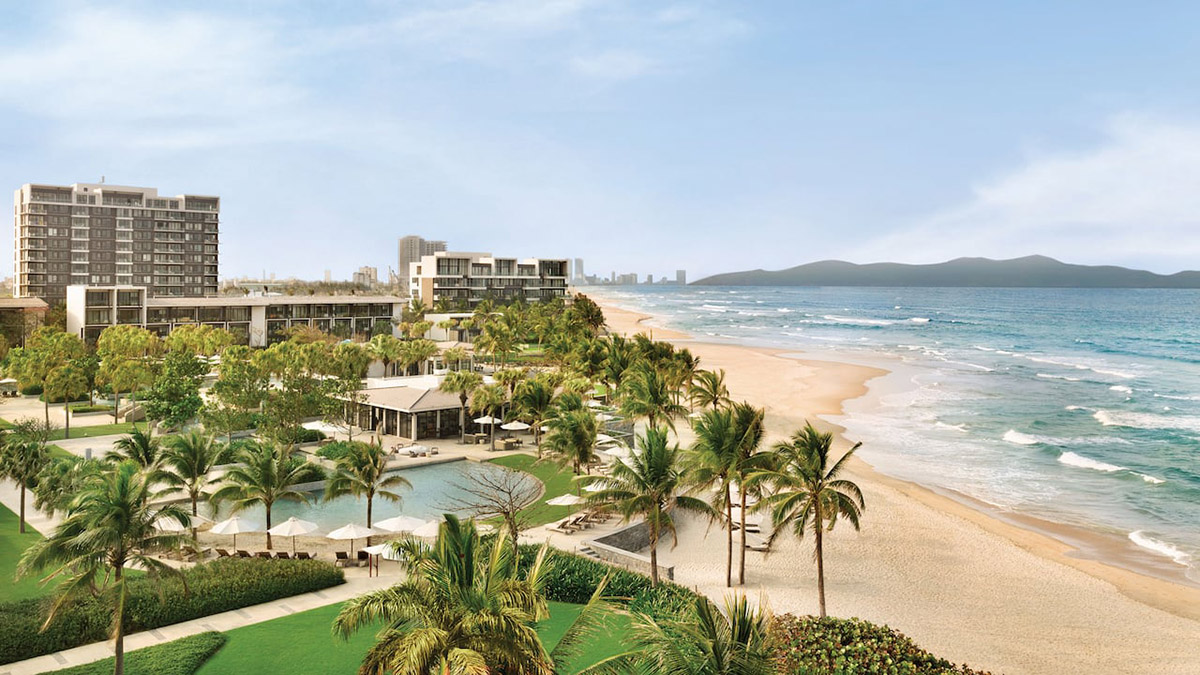 Hyatt Regency Danang Resort and Spa is a 5-star luxury resort located on Truong Sa Street. Embracing this resort is a green space with luxury apartments and a view of the beautiful Non Nuoc beach.
A system of 198 hotel rooms, 160 apartments and 22 3-bedroom villas will help you not hesitate to find a stopover for a large group or family.
With a location near the sea and convenient transportation to visit tourist attractions, Hyatt Regency Danang Resort and Spa will definitely be the most suitable choice for your Danang trip.
Address: 5 Truong Sa, Street, Ngu Hanh Son, Da Nang
Room price reference: 2,600,000 VND/room/night
Da Nang 3-Star Beach Hotels for Groups of Friends or Families
Da Nang 3-Star Beach Hotels
Diamond Sea Hotel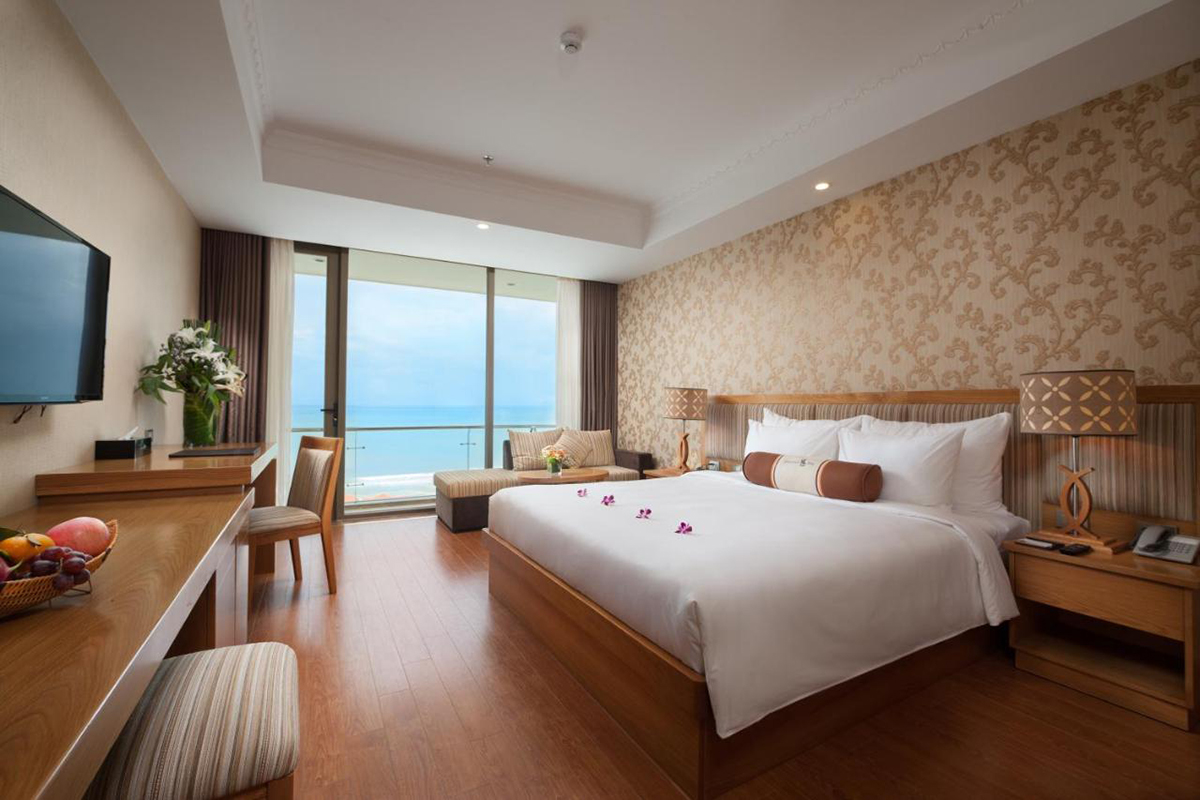 Like a small Hawaii in the heart of Da Nang, Diamond Sea is like a shining pearl in countless hotels in the same segment on Vo Nguyen Giap street. If you are looking for a hotel near Da Nang beach suitable for families or groups of friends with a peaceful feeling, this "oasis" will surely satisfy you.
With a diverse system of rooms and professional staff, Diamond Sea will help you choose the right room for your group during your trip to Da Nang.
Address: 232 Vo Nguyen Giap, Phuoc My, Son Tra, Da Nang
Room price reference: 1,300,000 VND/room/night
Da Nang 3-Star Beach Hotels
Sala Danang Beach Hotel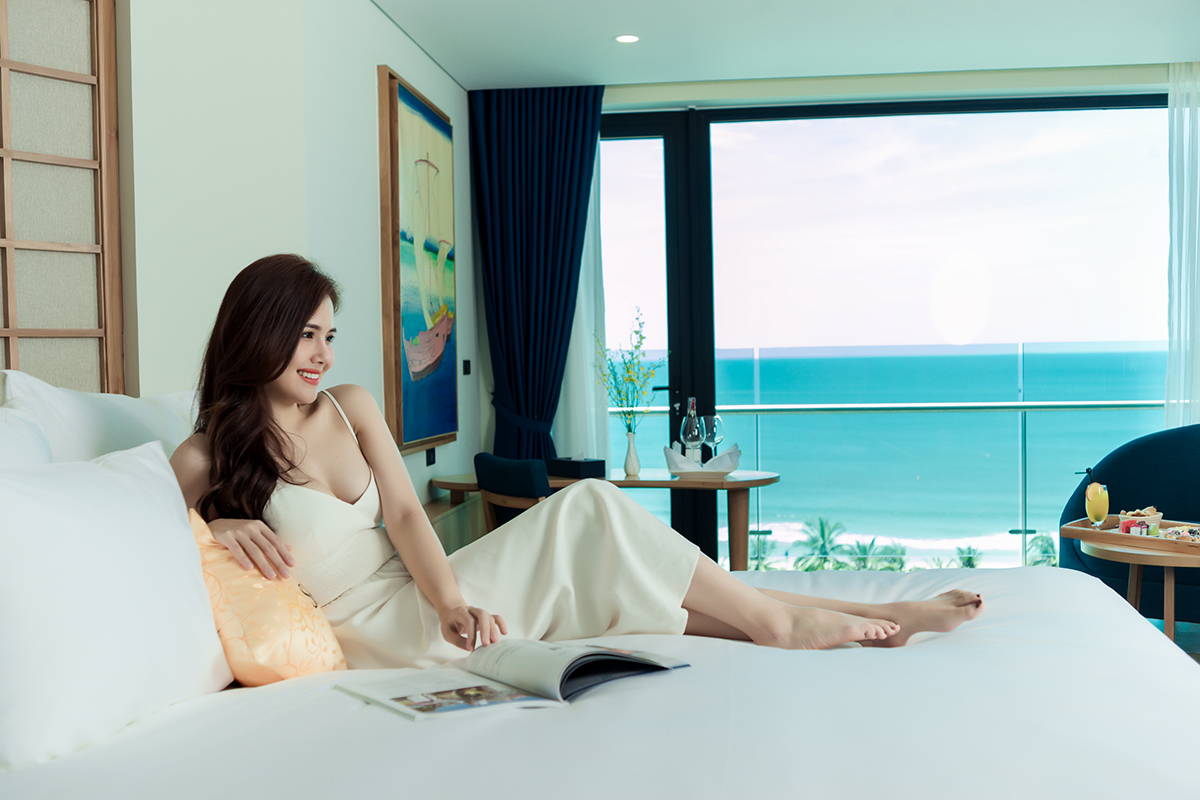 One of the most beautiful rooftop infinity pools in the list of Danang hotels with sea view is Sala Danang Beach Hotel. What's more wonderful than relaxing in the clear blue water, enjoying a cocktail and watching the beautiful sunset from the 25th floor of the hotel, right?
In addition to the swimming pool with a panorama view, all rooms at Sala Danang Hotel are optimally designed to catch the sun and view the beautiful My Khe beach. A little hint, Sala is very suitable for a romantic honeymoon. Because up to 9/10 couples have booked at Vietnam Honeymoon leave winged compliments for this place and hope to have another chance to come back again.
Address: 36-38 Lam Hoanh Street, Phuoc My, Son Tra, Da Nang
Room price reference: 950,000 VND/room/night
Da Nang 3-Star Beach Hotels
HAIAN Beach Hotel & Spa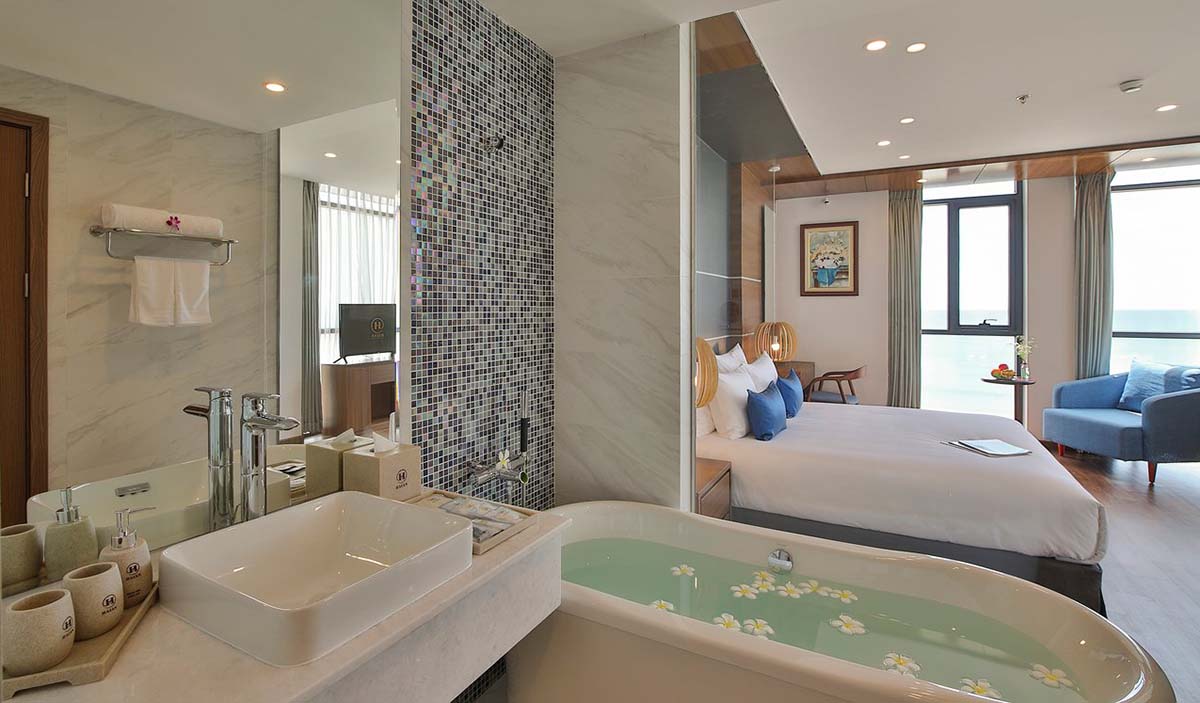 HAIAN Beach Hotel & Spa is one of the most popular Da Nang hotels. Located in a golden position on Vo Nguyen Giap street, with a view overlooking My Khe beach, HAIAN Beach Hotel & Spa promises to bring you a perfect vacation with a cozy and comfortable place to stay. .
Unique services such as English afternoon tea, floating breakfast or in-room breakfast will give you the feeling of being pampered like kings and queens.
Address: 278 Vo Nguyen Giap, Bac My Phu, Ngu Hanh Son, Da Nang
Room price reference: 680,000 VND/room
Introduction to Da Nang Cuisine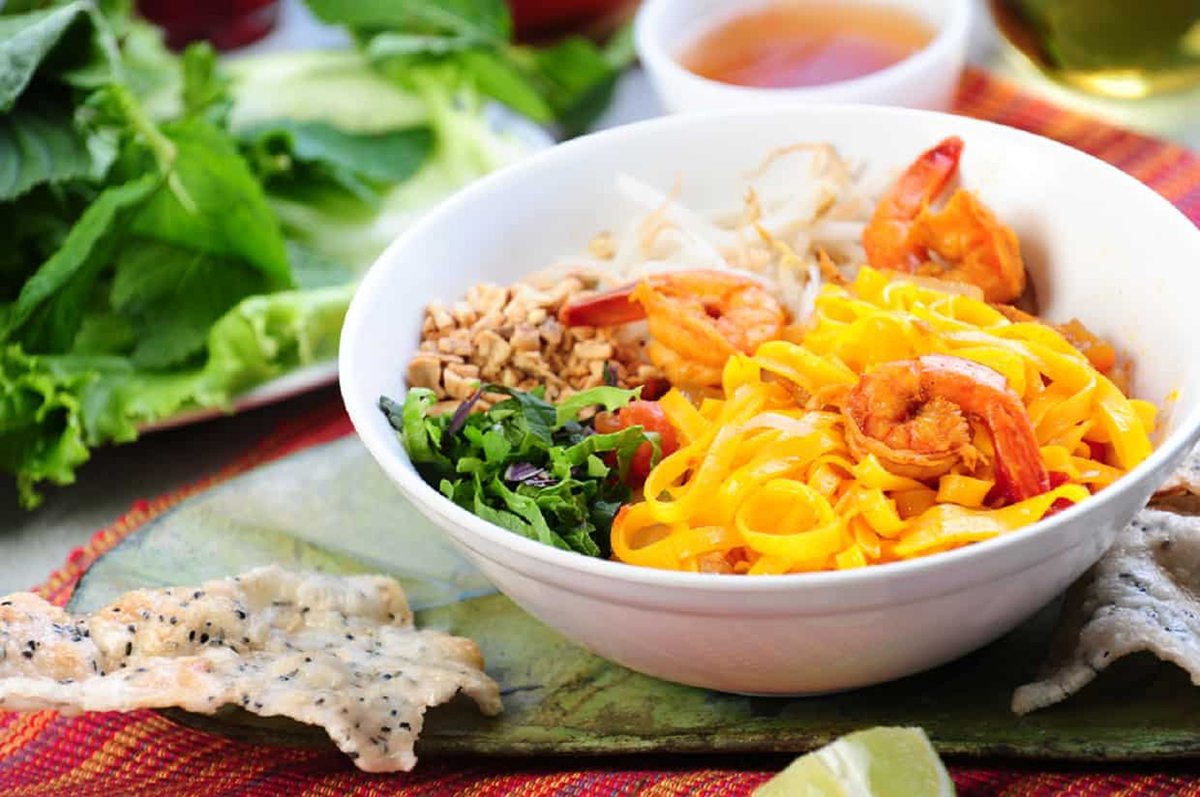 Da Nang's culinary culture has existed for a long time, being continued and handed down through generations. With simple rustic beauty, sincerity inherent in daily life but still not lacking in the unique sophistication brought in each dish, each flavor that Da Nang sends to visitors.
Da Nang cuisine in particular as well as the Vietnamese cuisine of the Central region in general brings outstanding features that cannot be found anywhere else. It can be said that Da Nang is the quintessence of Hue royal cuisine and Quang Nam cuisine. Therefore, if you have the opportunity to visit this beautiful coastal city, it does not take you more than 30 minutes to fully enjoy the flavor of the specialties. Around the city, along My Khe beach or going further towards Hoi An…, you can easily feel the rustic countryside flavor containing humanity in countless delicious specialties of the Central region but still outstanding luxury beauty. Quang Noodles, Cao Lau, Pho Hoi, Bun Mam, Cha Ca in Con market or Seafood, Nem Grill, Goi Fish, Rice Paper Roll with Pork, Banh Xeo … of a series of long-standing names all converge here and hold on to millions of visitors. Hereunther the highlights for you to enjoy the local food.
+ Breakfast: Quang noodles, Cao Lau, Bun Bo Hue, Bun Cha Ca, Banh Canh, Bun Mam…
+ Lunch + Dinner: Chicken Rice, Rice Pot, Mussel Rice, Com Tam, Pork Rolled Rice Paper and most notably Da Nang Seafood.
In addition to delicious restaurants, famous gift-making specialties in Da Nang are also popular with people such as: Da Nang beef jerky, Tre, sun-dried squid, Nam O fish sauce, dried specialties…
Introduction to Da Nang 10 Best Shopping Attractions
There are few cities where shopping is as overwhelming as in Da Nang, if you want to buy specialties, eat and drink, Da Nang is not lacking. Most tourists coming to the city worth living are recommended to shop at Con market, Han market, which are located right in the center of Da Nang, right on the arterial roads. Here, visitors will quickly be caught up in the dining and shopping paradise because any food, specialty or item will be available to you right away.
Here are the top 10 shopping attractions in Da Nang to discover.
Address: 269 Ong Ich Khiem, Hai Chau 2, Hai Chau, Da Nang
Opening hours: 6am – 8pm
Located at the intersection of Ong Ich Khiem and Quang Trung streets, right at the third floor of Hung Vuong commercial center, Con market has long been the first shopping address mentioned to visitors. Park your car right next to Ong Ich Khiem street, you cross the street and you will come to the busiest shopping market in Da Nang. You will be overwhelmed by a vast space of goods from popular to high-class. If you want to find something, ask people here to go to a separate area selling that item. The market sells quite good quality, so it still attracts a lot of customers to buy goods despite the large and monumental shopping centers surrounding it.
Coming to Con market, you should definitely not miss the dining area and the dry food area. Con market dining area is quite famous for its diverse regional Vietnamese dishes. Food stalls sit close together and form a "street food" street right in the middle of the market. You will be fully loaded when you sit down to eat noodle soup at this restaurant, you will be immediately invited by the attractive color of the bowl of Quang noodles right next to the stall. Almost all the snacks in Da Nang are available here, such as ram rolls, noodles, banh chung, Quang noodles, dry beef salad, filter cake, banana tea, pomegranate seed rub,… the food at Con market is quite delicious with reasonable price, about 10-25k VND/ dish, you have experienced an unforgettable Da Nang food tour. Especially with the dry goods area, many people come here to buy specialties such as rim tamarind squid, dried squid to bring back as gifts. The stalls have all prices for visitors to choose.
Address: 119 Tran Phu Street, Hai Chau 1, Hai Chau, Da Nang
Opening hours: 6am – 7pm
With 4 sides adjacent to the main road, 2 main gates located on Bach Dang and Tran Phu streets, Han Market attracts many tourists to visit. If Con market is a rustic popular market for everyone, in the past, Han market was opened to serve mainly people of the upper class. That's why it is also known as "the rich market". Today, with the bustling and popular trade of items, this market attracts all domestic and foreign tourists and Da Nang people to shop. The market also focuses a lot of goods from clothes, souvenirs, fruits, seafood and street food as well.
Tourists, especially foreign tourists, often come to the Han market to make the Vietnam's national dress Ao Dai. At Ao Dai sewing kiosks in Han Market, the saleswoman will advise you on the fabrics for making Ao Dai and measuring the shirt for the customer. Only about 2 hours later, you will have a beautiful and skillfully cut Ao Dai to wear for the rest of your travel days or for other special occasions. The price of a set is also relatively cheap, about 300k – 500k VND/set depending on the material and design. Like Con market, Han market also has a variety of specialty dishes of Da Nang and dry stalls selling specialties for you to walk around and shop. But according to the advice of some people, Con Market is for eating and drinking, on the other hand Han Market is for buying clothes and furnitures.
Address: 25 Nguyen Ba Lan, Bac My An, Ngu Hanh Son, Da Nang
Opening hours: 6am – 7pm
There is hardly any market in Da Nang that can compete with Bac My An on the price of snacks. Because it is located right near the university, the booths are opened to serve students quite a lot and the prices are relatively cheap. From food and beverage items to phone accessories and jewelry, students come to visit and shop. Tourists come here mostly to enjoy famous snacks from vermicelli noodles to snails and butter ice cream. You can start the morning with a bowl of vermicelli or grilled pork vermicelli. Although not as beautifully decorated as in restaurants, the taste here is unique and equally attractive. A full bowl of meat only costs 10-15k VND only.
The two most famous dishes in Bac My An market that you should not miss are snails and butter ice cream. Ms. Co Van's avocado ice cream cup is so famous that it is listed in all articles about Da Nang cuisine. With only 10k VND, you have an extremely attractive big glass of ice cream, the fleshy taste of butter mixed with the fat sweetness of pangolin cream on the tip of the tongue. You should also try the shop's durian tea and ice cream, the taste is also very good. Coming to snail shops, you should definitely try the delicious sucking snail dish. The snails here are cheap, delicious and very absorbent. One plate is only from 7k VND, so you can eat it freely. The spicy taste of chili makes everyone's lips swollen but still smiling with satisfaction with this delicious dish.
Address: No. 910A Ngo Quyen, Son Tra District, Da Nang
Opening hours: 9:30am – 10:00pm
Besides the 3 famous traditional markets above, Da Nang has modern commercial centers that attract young people to shop such as Vincom Da Nang. With a convenient location right at the foot of the Han River Bridge, this place attracts thousands of visitors to shop and have fun every day. The commercial center has 4 floors, the second floor is a Vinmart supermarket so you can enjoy shopping a variety of goods with guaranteed quality. The food court inside the supermarket is also very attractive with traditional Da Nang specialties that are deliciously and hygienically processed. If walking around shopping makes the stomach protest, the world of luxury cuisine with famous restaurants such as Master Beef, Gogi House, Jollibee, Sumo BBQ on the 4th floor will meet quality and delicious meals.
Shopping paradise Vincom Da Nang is a place to attract every discerning fan with VinPro's technology booths or perfumery and cosmetic accessories of giants Adidas, Ecco, Valentino Creations, Giordano, PNJ, etc. .. No need to order from abroad or go far away, just come to Vincom, visitors will experience shopping for high-class products with the best quality and variety of brands for you to choose from. In addition, this is also an attractive entertainment point when you come to Da Nang. Children's play areas, cinemas, and figure skating rinks are always ready to serve visitors.
Non Nuoc Stone Handicraft Village
Address: Hoa Hai ward, Da Nang
On the way to visit Marble Mountains, you should not miss Non Nuoc Stone Handicraft Village to learn the production process of stone products and buy gifts for family and loved ones if you want. At this shopping place, visitors will easily choose souvenirs with high artistic value, which are elaborately and skillfully honed by local talented artisans. Visitors will be completely surprised when seeing with their own eyes the delicate and sharp lines of each sculptural product in the craft village, the smooth gloss of the marble layer only found in Ngu Hanh Son mountain.
At Non Nuoc Stone Village, you will find out the variety of sculpture shapes from ancient to modern, from simple everyday items to mascots in the Four Spirits with elegant colors. You can buy individual hairpins of all different sizes and shapes or small, pretty, transparent bracelets.
Thien Phu Central Region Specialties
Address:
Shop 1: 274 Nguyen Tri Phuong, Da Nang city
Shop 2: 659 Nguyen Tat Thanh, Da Nang city
Shop 3: 200 Ho Nghinh, Da Nang city
Opening hours: 7am – 10pm
Thien Phu Shops provides all kinds of famous specialties of Central Vietnam. From confectionery, confectionery, etc. to famous seafood specialties such as dried beef, dried squid, one-sun squid, one-sun fish are all available.
Beig selected from the best quality sources, all of Thien Phu products have clear labels and origins. Therefore, customers coming to the restaurant are always assured of food quality, hygiene and safety. The price of the store is listed, so you can shop without worrying about the price. Although there are many items that overlap with other supermarkets such as beef rolls, rim squid, … but this is still one of the most prestigious addresses in Da Nang for you to visit and shop. Thien Phu Central Region Specialities shop staffs are professionally trained and open to give you the most specific advice if visitors are still wondering what to buy.
Address: 35 Thai Phien, Hai Chau District, Da Nang
Opening time: 8am – 10pm from Monday to Sunday
Located in the city center, Da Nang Square is considered the most modern and convenient shopping area in Da Nang. Da Nang Square consists of 3 floors with an area of ​​​​nearly 4,000 m2. The center was built according to the model of "Modern Market", integrating the form of a traditional market with a modern shopping space. This place focuses on trading a variety of products, including products not only of Da Nang but also of the whole country. Even local specialties can be found by visitors when entering here. In addition, Da Nang Square also has a system to support consumers in looking up the listed items and product prices. The birth of Da Nang Square has really met the diverse shopping needs of customers.
Address: Vinh Trung Plaza B, 225 – 257 Hung Vuong, Hai Chau District, Da Nang
Opening time: 8am – 10pm from Monday to Sunday
Established in January 2015, Parkson Da Nang has so far affirmed its position on par with popular commercial centers in the country. Parkson Danang has an area of ​​​​up to 10,000 m2, divided into 4 floors with a grandiose scale. The first floor sells cosmetics, perfumery, jewelry, shoes, high-class handbags with a series of famous brands: O'HUI, L'coccitance, The Body Shop, Salvatore Ferragamo, GAP, Elle , Gosto…. The second floor is the area for clothes and fashion accessories. The 3rd floor is for sports enthusiasts, there are also electronic products, furniture, souvenirs, etc. The 4th floor is a separate area for relaxation and entertainment activities, including the humidor. food, diverse food stores,…
Address: 478 Dien Bien Phu, Thanh Khe District, Da Nang
Opening time: 8am – 10pm from Monday to Sunday
Co.opmart was founded by Vietnamese people, that's why this place always upholds the spirit of "Vietnamese people use Vietnamese goods" with the criterion "High quality Vietnamese goods". Co.opmart is located in the VDA Da Nang commercial center, this is a crowded place of office buildings, commercial buildings, …
Co.opmart Da Nang is currently trading more than 30,000 different items, of which 90% are original products in Vietnam. With a modern and civilized retail business, the Co.opmart supermarket system attracts a large number of customers every day. In particular, this is definitely an ideal shopping destination for those who are always pioneers in using Vietnamese goods.
Address: 74 Bach Dang, Hai Chau District, Da Nang
Opening time: 8am – 10pm from Monday to Sunday
Indochina Riverside Mall Danang is located right next to the Han River with a poetic setting. For brand believers, this is definitely the ideal destination because Indochina Riverside is the convergence of many famous brands.
In general, the center is divided into separate areas including: shopping, cafe, entertainment and food. The first floor – also the most attractive floor of the center is a shopping area with 30 stalls of high-end brands from cosmetics: Bourjois, Yves Rocher, .. to fashion – accessories: Bellus, The Shirts Studio, 7 for all men kind, Maxivic, etc. Not only high quality shopping, Indochina Riverside is also famous for its convenient services provided to customers. After shopping, visitors can enjoy a cup of coffee and admire the beautiful Han River before leaving.
Introduction to Da Nang Future Orientation
According to the draft design of the Socio-Economic Development Strategy of Da Nang City to 2030, with a vision to 2045, Da Nang is positioned to become part of the global supply chain network by 2030; an entrance gate of the East-West Economic Corridor; belonging to the ASEAN smart city network; global lifestyle destination; shipping center in Central Vietnam; service, administrative and cultural center of Central Vietnam; ASEAN marine tourism service center and marine economic center; dream home of all Vietnamese citizens.
Danang's economy is also positioned to integrate into the global supply chain network and is an important lifestyle hub in Vietnam. Regarding the development vision, Da Nang becomes a big city; smart, creative; identity and sustainability with the goals of building the city. Da Nang has become one of the major socio-economic centers of the country and Southeast Asia, a center for entrepreneurship, innovation, tourism, commerce, finance, logistics, and high-tech industry; a seaport city, an international coastal city with the position as the nucleus of the urban chain and the growth pole of the key economic region of the Central – Central Highlands.
In terms of urban characteristics, Da Nang is a grade I city directly under the Central Government, a major national economic center in tourism, industry, commerce, financial and banking services, and plays an important role in the region. national urban development strategy…
On the basis of positioning, vision and development goals, socio-economic forecast of Ho Chi Minh City. In the period of 2021 – 2030, in Da Nang, GRDP (2010 constant price) needs to achieve an average growth rate of 10 – 10.5%/year (in some years, the breakthrough growth rate is over 12%/year). The ratio of investment capital/GRDP is about 30 – 32%. The ratio of non-state investment capital and foreign direct investment (FDI) to total investment capital of the whole society reached over 80%. Population forecast by 2030 is about 1.79 million people. In 2030, GRDP per capita (at current prices) will reach over $8,500. Proportion of gross domestic product in the city. Da Nang is about 2-3% of the total GDP of the country.
Da Nang is oriented to build into a leading tourist and service destination in the region; development of seaports and airports associated with logistics services towards the formation of a logistics service supply chain in the central region, in which, Da Nang is a logistics center with a seaport system (Tien Sa, Lien Chieu) and Da Nang International Airport is the gateway for delivery and transportation with localities and countries in the ASEAN region and internationally. The city forms a synchronous and interconnected infrastructure system, conveniently connecting the highway system, national highway with the ring road, the city's main traffic axis to the seaport (Tien Sa, Lien Chieu). and Da Nang International Airport. The industrial-construction sector focuses on planning for industrial development, avoiding conflicts between the goals of industrial development and the service sector. Forecast of land use demand by 2030 is: urban construction land is about 32,227 ha, of which civil land is about 15,183 ha.
On the introduction to Da Nang education orientation in the future, the city is planed to become one of the leading centers of education, training, and scientific research in the central region and the whole country. Da Nang is oriented to become  into one of the four specialized medical centers of Vietnam with the development of both expertise and facilities, approaching the international level. In addition, Da Nang will focus on exploiting the potential of developing medical tourism, healthcare…