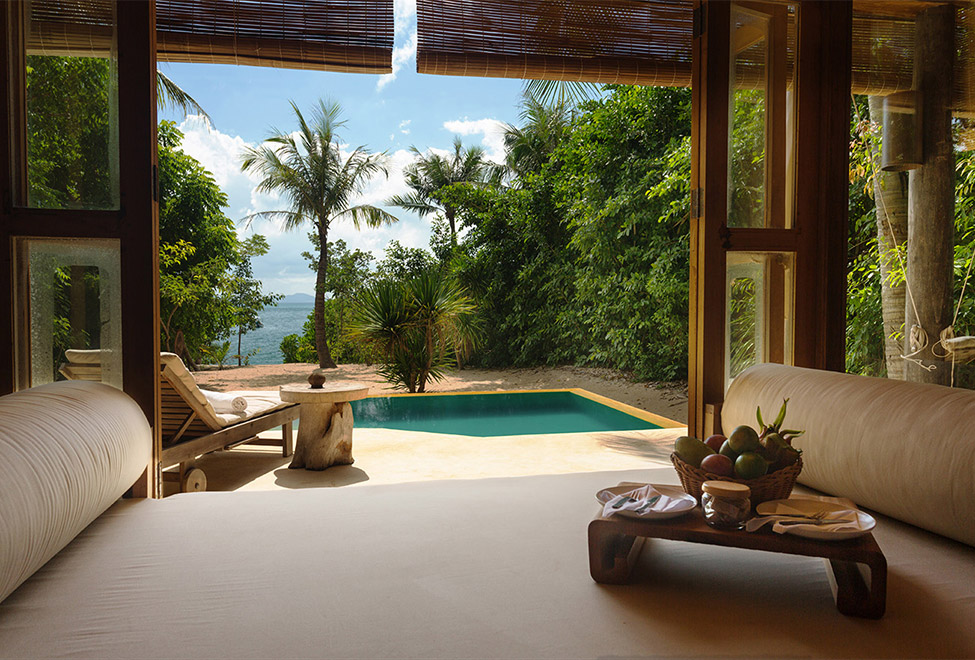 Six Senses Ninh Van Bay For The Best-Ever Honeymoon In Nha Trang
Being one of the most luxurious resorts on Vietnam's Southern Coast, Six Senses Ninh Van Bay is truly a perfect paradise for tourists to exploring the charming beauty of Nha Trang. The resort will offer a wide range of options in elegant and spacious villas, private swimming pools, the system of modern spa, 4 restaurants which takes only 20 minutes from the city and 5 hrs from Ho Chi Minh City. If you are worry about the best accommodation for your honeymoon in Nha Trang, Six Senses Ninh Van Bay will be an excellent choice for both of you to experience unforgettable memories once in a lifetime.
The heavenly palace for traveler couples
Six Senses Ninh Van Bay has everything that tourists need for a wonderful stay in their vacation. Situated on the pristine coastline of Country's Central, the resort is impressive t tourists with many luxurious pool villas which is specially designed for blending with natural environment. The resort is definitely giving unexpected luxury in the untouched picturesque of Vietnamese traditional ornamentation into the charming surroundings which promises to be an romantic destination for honeymoon in Six Senses Ninh Van Bay With its attention to small details, the architecture of Six Senses Ninh Van Bay is well-planned with rustic wood and high grade fabrics for providing the breathtaking views of Nha Trang such as setting on the long sand beach, over the emerald clear water or into the magnificent scenery of rock formations…To make the most comfortable place for customers, the guestrooms of resort is specialized in each requirements of tourists, for example Hill Top Pool Villas for majestic sights of East Sea, Beachfront Pool Villas for private green garden views/ separate living and bedroom area, Rock Pool Villas for exotic beauty of the Bay and Water Pool Villas for serenity sunset and sunrise on the sea. Six Senses Ninh Van Bay is surely a magical heaven on earth for bring the best relaxation and indulgence for tourists in their sweet honeymoon at Nha Trang.
The cuisine experience in sumptuous restaurants will bring a lot of memorable feelings for tourists with serving both international favorites and local favors plus East and West specialties. Moreover, they provide the cozy atmosphere for lounge area with cool drinks from top wine, nutrient fresh juices and wonderful cocktails from evening bar. Your honeymoon in Six Senses Ninh Van Bay will be greater with the venue options for meals such as dining at the poolside with Vietnamese and Western menu, dining by the rocks for uninterrupted of 360 degree in Ninh Van Bay, dinner in the wine cave with ambient lights of candles and unique settings or cooking class for learning about recipes and method for a marvelous meals…
The luxurious resort also offer the high quality service from the fantastic Six Senses spa with professional therapists for creating relaxed journeys with the holistic wellness, pampering massages and beauty treatments. For the more activities, there is a various choices of water sports from scuba diving, water skiing, kayaking, bicycling to fishing as well as beach volleyball or tennis… The exquisite convenience and comfort certainly contributes Six Senses Ninh Van Bay as the perfect options for luxury honeymoon in Nha Trang.
Funny activities for occasion in Ninh Van Bay
The resort not only offers an ideal situation for relaxation, but also brings its proximity of Nha Trang from many exciting programs and attractive excursions here. If tourists want to join challenging excursion, Six Senses Ninh Van Bay will strive to ensure for one of authentic special and unforgettable. There are some activities that you and your beloved should-not-miss such as recreational actions of sauna, exercises of fitness centre or water sports. Tourists can have a peaceful time when walking along mountain slope, hiking or kayaking to discover the place of Bai Nho or joining Pranayama Yoga or Tai Chi class…In addition, some activities for under water are so great with island hopping for visiting Marine Park, scuba diving for understanding the marine life or boat charters…
The best romantic honeymoon in Nha Trang
The exclusive and luxurious resort is a great destination for tourists with its very high quality services, food and beverage menu and fantastic itineraries for admiring the stunning beauty of Nha Trang. With Six Senses Ninh Van Bay, tourists will experience the legendary jewel of the most pristine beaches in Viet Nam. Let's experience the discovery of the real country with Six Senses Ninh Van Bay, your honeymoon at Nha Trang will be the wonderful memories together in the southern coast of Viet Nam.
Sharing on honeymoon destination and activities in Vietnam