Located far Ho Chi Minh City from 250 kilometers towards Northeast, Mui Ne is name of a fishing village and also is an ideal destination for beach lovers. The 4-day Honeymoon Package Mui Ne is spotlighted with staying at beach front resort, Doi Hong sand dune and Bau Trang Lake sightseeing, romantic dinner in candle light for the couple.
Highlights of 4-Day Honeymoon Package Mui Ne Beach
Enjoy private and romantic atmosphere in your resort in Mui Ne. Stay in luxury deluxe sea view room with roses, candles, chocolate and wine on the first night at the resort.
Swimming and sunbathing at private beach of the resort, one of the most beautiful and clean beaches in Mui Ne.
Discover Doi Hong – the red sand dune in the sun rise and Bau Trang, where you can admire the endless white sand dull beside the beautiful lake. It can be the ideal place for you to discovering of taking picture together.
Cycling along sea coast in Mui Ne to beautiful sand dull or hand in hand together discover Suoi Tien, the great stream with beautiful formation have been created by erosion to the bank of the river.
Enjoy the best meals in the candle light and roses in the most romantic and best restaurants in Mui Ne.
The special meaningful honeymoon present from Vietnam Honeymoon.
There is no hidden cost in honeymoon package Mui Ne. We take care everything, even the tip for your guide and driver.
Destination: Phan Thiet – Mui Ne Beach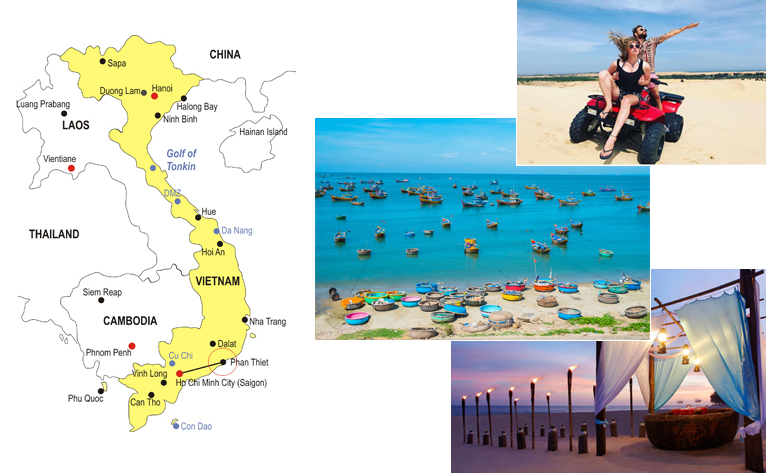 Sharing on honeymoon destination and activities in Vietnam