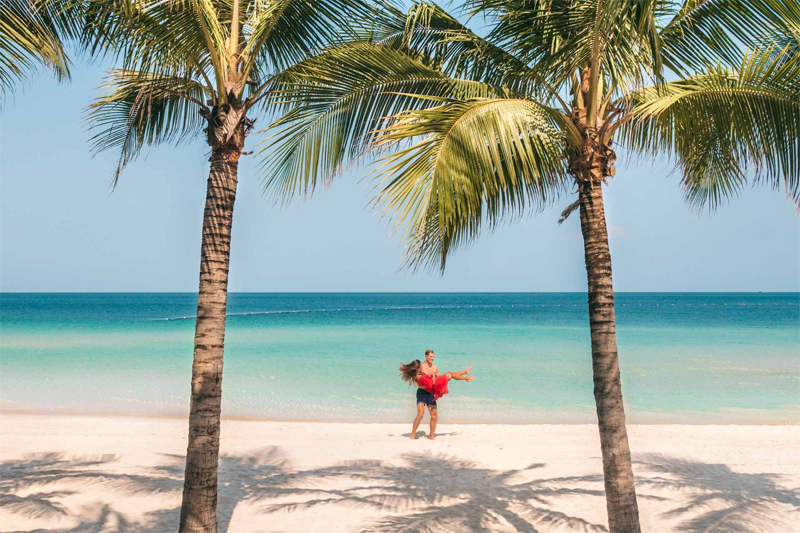 Where to Go for Honeymoon on Christmas in Vietnam
Honeymoon is among the most beautiful life phases that every newlywed wants to make it special, and this milestone will be so wonderful than ever on Christmas that many come to ask where to go for honeymoon on Christmas in Vietnam. The perfect love and fulfilled feelings in the fantastic destination will evolve so much that brings you and your life mate with memorable merry Christmas as well as sweet honeymoon. Take your spouse's hand to any of the top five below and together, you celebrate the new and colorful once-in-a-lifetime journey.
#1: Ha Long Bay – Romantic Destination for Honeymoon on Christmas in Vietnam
Vietnam Honeymoon on a cruise goes best just in Halong Bay. The cruise packages might range from budget to luxury that fits your preferences to sail around and along the natural islands and islets. Other amazing highlights of this UNESCO Bay are the emerald sea, limestone formations, mysterious caves, and poetic floating villages, which all look gorgeous and picturesque. Cruising and honeymooning in Halong Bay, couples will be interested in swimming, kayaking, sunbathing, eating seafood, exploring caves, and visiting the fishing villages.
If budget allows, opt for the 5-star cruises and stay overnight there to enjoy the entertainment aboard such as the morning Tai Chi session, massage, night squid fishing, and even Christmas parties. You can level up the honeymoon trip by experiencing the helicopter sightseeing tours to fly over Tuan Chau Islands, Ti Top Island, Ga Choi Islet, Vung Vieng Fishing Village, Cong Dam Island, Ha Long Park, etc. This scenic bird's-eye tour can take place at 12 minutes, 25 minutes, or 40 minutes. Moreover, there is the yacht option to set sail for Halong Bay in a private and luxurious way.
#2: Pu Luong Nature Reserve – Vietnam Ecotourism Destination for Honeymoon
Around 160km from Hanoi, Pu Luong Nature Reserve is exactly where to get back to nature altogether. If you and your sweetheart want a "remedial retreat," away from the crowd, two of you should always flee to this shelter of serenity. This destination offers pure air, spectacular nature, and refreshing moments that are so valuable today. You can either use the shuttle bus services or rent a car from Hanoi to Pu Luong. In fact, the 2-day itinerary would be perfect for all honeymooners, who can extend the trip to Mai Chau if interested.
Activities in this Retreat could be the off-the-beaten-track trekking, mingling with the imposing nature and taking pictures, cycling to the ethnic villages (the Thai or the Muong minority groups), and kayaking. This is a true eco-tourism spot with the rich flora and fauna to admire. There, you also find the endless mountains, impressive waterfalls, fertile valley, untouched jungle, and a series of green terraced rice fields. These are the best remedies for the eyes and the minds.
#3: Hoi An Old Town – Historical Destination for Honeymoon to Vietnam During Christmas
Peaceful, romantic, and cultural, Hoi An Old Town is always present in the list of the best honeymoon destinations in Vietnam. This UNESCO Old Town has long been famous for the age-old houses, quiet streets, colorful lanterns, and valuable culture. The serenity and beauty of Hoi An receive excellent comments from foreign couples who believe this is the right place to make the sounds of love. Sometimes, just a peaceful walking hand-in-hand with the loved one along this street can bring newlyweds joy and happiness. Also, the town preserves the traditional tailor shops, well-decorated coffee shops, and historical attractions for a great day tour. Make sure you explore the iconic Japanese Covered Bridge, Tan Ky Old House, Phung Hung House, Phuc Kien Assembly Hall, etc. A boat trip on Thu Bon River is also delightful. You both can hire a bicycle at your hotel for some cycling rounds around the town and its nearby beach. The shimmering Hoi An might turn itself to be merry too on Christmas Eve.
Check out Hoi An old town honeymoon package here!
#4: Nha Trang Beach City – Fun Destination for Vietnam Honeymoon on Christmas
If you love beaches, then Nha Trang beach city is a place for a honeymoon. The destination is recognizable for white-sand beaches, beautiful islands, fresh seafood, and even hot mineral springs. What's more, entertainment in Vinpearl Land Nha Trang is just boundless that keeps you entertained almost every second thanks to hundreds of games. Honeymoon in Nha Trang is just perfect for all couples who love to fulfill their vacation with beaches and seafood. This city owns the top islands that promises the fascinating escapes to the nearby spots like Binh Ba or Binh Hung Islands. Make sure you also treat your sweetheart with the famous lobsters of the land as well as other local specialties. In this queen beach city, do feel free to enjoy soaking yourself in the transparent seawater. Anytime you feel like playing games, head to the Vinpearl cable car to unwind at the recreational park.
#5: Phu Quoc Island – Leisure Destination for Honeymoon on Christmas
Known as the Pearl Island, Phu Quoc is blessed with the picturesque sea, fresh seafood, and especially the friendly islanders. You can get to this far-off island by either speedboat or plane. More and more luxurious resorts and hotels are being constructed on this island, which betters up the hospitality services to please the high-end guests. This is also the largest island in Vietnam, where many people choose to relax when it comes to island tours. Not only famous for the beach vista but Phu Quoc Island today is also famed for the luxurious multi resorts, which indicate the fast-growing tourism sectors. If traveling there, do not miss the well-known fish sauce and black pepper. Furthermore, after hours of cherishing the beaches and swimming, you can go on exploring Phu Quoc Vinpearl Safari and Dong Duong Market. You are likely to see many fishing boats on the local beaches, which create fantastic photography opportunities.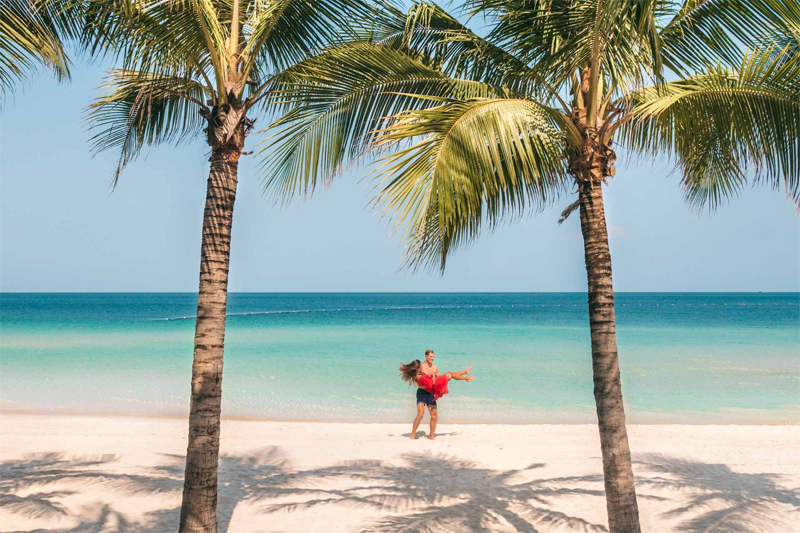 Now you know the top five, and it is your turn to sort out the best destination for your honeymoon on Christmas in Vietnam. Make the most out of your sweet vacation in Halong Bay, Pu Luong Nature Reserve, Hoi An, Nha Trang, or Phu Quoc Island! Any of these recommendations can even sweeten your marriage life and even inspire you both to make more trips together for the anniversary in the future. Right now, travel with your darling!