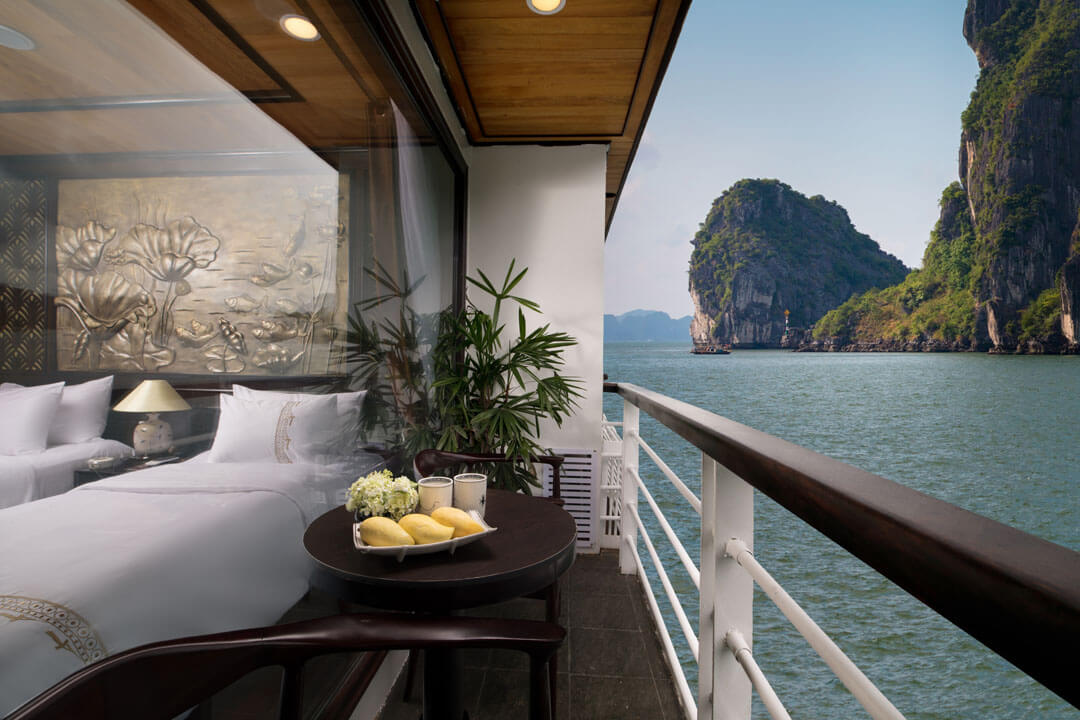 Tips about Lan Ha Bay Boat Tour for Honeymoon in Vietnam
Honeymoon is one of the most special life events that everybody wants to make it special, and in that sense, Lan Ha Bay Boat Tour for honeymooners promises to be as sweet and beautiful as your wishes. The natural destination is so pristine and spectacular that it is just perfect for cruise vacations. Happiness and pleasure are plentiful both aboard and ashore. The sweet travel to Lan Ha is indeed what all newly-weds need to celebrate their transitional life phase.
Lan Ha Bay – a pristine and captivating venue
Lan Ha Bay is a part of the extensive Cat Ba Island, Hai Phong City, Vietnam. It is located in the south of Halong Bay and the east of Cat Ba Island. This is an ecotourism destination with an area of over 7.000 hectares, of which 5.400 hectares belong to Cat Ba National Park. With around 400 green-covered islands and islets, as well as 139 wild beaches, this Bay serves as an impeccable getaway for everybody to go with their spouses, especially by together kayaking and cruising. Less crowd but more privacy and serenity are what to expect during the Vietnam honeymoon in Lan Ha Bay.
With proximity to Halong Bay, the pristine Lan Ha Bay raises as an attractive cruising destination for those that appreciate serenity, natural beauty, and privacy. Somebody even says that this Bay shares the same beauty with Halong but in the smaller scopes. So, cruising in this spot also lets you contemplate the limestone towers, the interestingly-shaped islets (like Turtle Islet and Bell Islet), and emerald sea. One exceptional trait is that all the islands and islets of Lan Ha are adored by greenery, even the smallest ones. Besides, the destination remains pristine while its sea is portioned into little bays, gulfs, and beaches at the base of the mountains. It is perfect for swimming, kayaking, BBQ parties, rock climbing, overnight camping, and more.
Honeymoon Vacations with Lan Ha Bay Boat Tour
If you both appreciate the pristine escape, honeymoon cruises to Lan Ha Bay, though not as famous as Halong, will take you away from the city bustle, to the "hidden Eden" where love and romance can evolve. The cruise packages of 2 days 1 night or 3 days 2 nights are so attractive that couples and holidaymakers decide to experience, to get rid of the work deadlines or car noises or traffic jams. The Lan Ha Bay is beautiful for sure, without a doubt, and the luxury cruises sailing on this route are fantastic themselves. Get to know the list of Era Cruises, Perla Dawn Sails, Mon Cheri Cruises, Indochine Cruise, O'Gallery Cruise, Ylang Cruise, etc., which serve the exceptional itineraries to Monkey Island (Cat Dua Beach), Tra Bau Area, Dark & Bright Cave, Ba Trai Dao Islet, Viet Hai Fishing Village, and more.
While the boat facilities and amenities aboard secure your comfort, the seascape is wonderful for sightseeing, the natural attractions are perfect for water activities, and the ancient fishing villages bring you friendly cultural experiences. After hours of dining onboard and relaxing in your privately refined cabins, or placid sightseeing or taking care of your health and comfort, the excursions to any attractions in the itinerary will turn out to be the exciting stories to tell. Seize the opportunities to express your affection to each other, have cute moments, take romantic pictures, and make the sounds of love.
As the smallest site among the top trinity (including the two others of Halong Bay and Cat Ba Island), Lan Ha Bay is the cleanest and less crowded, yet as beautiful as its famous UNESCO-listed neighbor. All recently-married couples should always honeymoon in Vietnam, and the Lan Ha Bay boat tour is the smart choice to celebrate this special event.