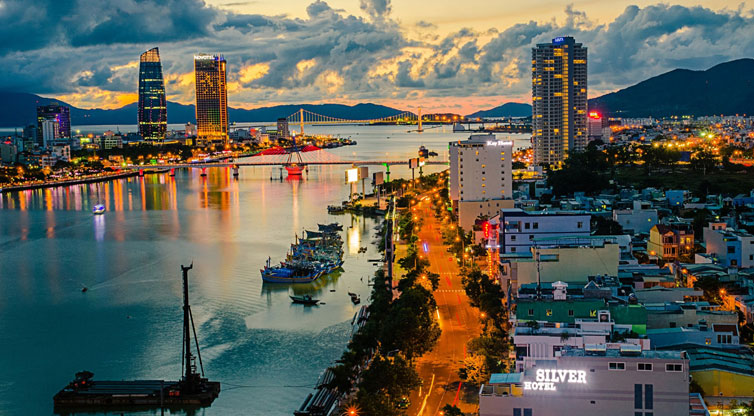 Danang, Live City and Beaches for Couples on Holiday
Da Nang is an ideal tourism city with "mountains inside city, city inside the sea", romantic Han River, the most seductive beach on earth, Son Tra peninsula, Ngu Hanh Son Mountain, … Da Nang owns not only natural beauty of Creator, but also unique architectures from delicate hands of people in here. These are roads, bridges, lines of tree, modern workings, and so on. Therefore, Da Nang is worthy of the foremost option for holiday of couples in Vietnam.
Thinking about Da Nang, tourists immediately imagine a magnificent city on the bank of Han River with charm which any other cities have never owned. Nature gives preference to Da Nang favorable situation nearly 3 World cultural heritages as Hue Citadel, Hoi An, and My Son. This is special position that highlight important role of Da Nang city in the region. Da Nang has Hai Van, a high and dangerous Pass, which is referred to as "the most marvelous wonder". Danang also has Son Tra peninsula, an ideal destination for honeymoon tour in Vietnam. Around Son Tra peninsula, there are some interesting beaches such as Suoi Da, Bai But, Bai Rang, Bai Bac, Bai Nom, … Tourists can steep their soul into splendid dawn and twilight of charming landscapes. Da Nang owns Ba Na Hill compared as Da Lat and Sapa of the Central Region. Moreover, Da Nang itself is home of many other spectacular landscapes making tourists never forget after visiting here only once.
Han River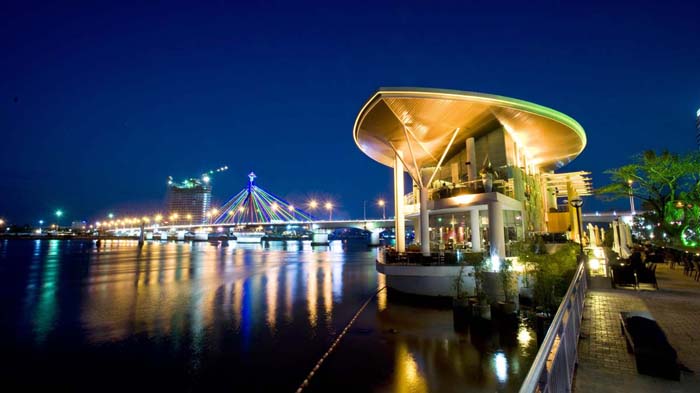 Da Nang honeymoon begins from romantic Han River and Han river Bridge – the first swing-bridge in Vietnam. The Bridge is the huge proud of Da Nang's citizens. Simultaneously, it is symbol of new vitality, up expectations of city built by contribution of people. Han River's poetic beauty seems to express fully in windy space. It not only creates convenience for transportation, tourism, develops economic potential of city but also is cultural hallmark of Da Nang's people to send to future's generation.
Ba Na Hill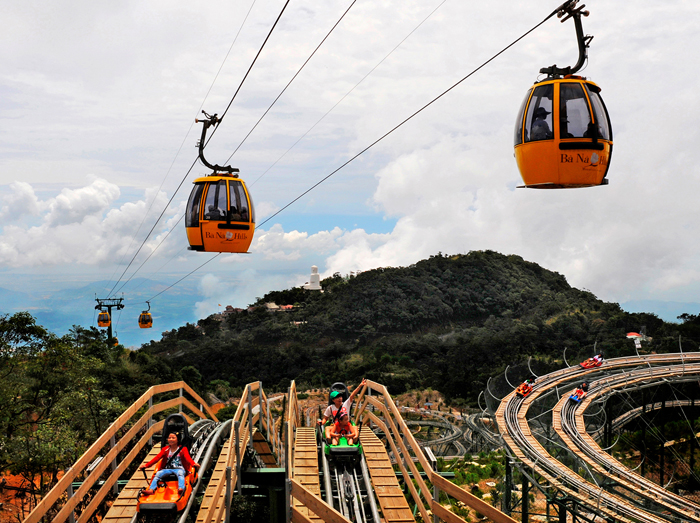 Ba Na Hill, one of the most attractive destinations of Da Nang, certainly brings tourists unforgettable memory in their heart. As Da Lat highland of the Central region, Ba Na Hill is situated at height of 1,478m in comparison with seawater surface and far from Da Nang about 48 kilometers towards the West. With temperate climate, Ba Na has 4 seasons in day. However, Da Nang isn't wet as Da Lat or other highlands because falls of rain and cloud is at half-way mountain while sky is still clear at the top. In Ba Na, tourists will feel a little chilly at dawn and dusk making them temporarily forget bright sunny of summer days at city. Sound of stream's babbling, gentle rustle of the leaves in wind like forest's harmonious song, and bobbing clouds make you feel as losing in Elysium world.
At present, Ba Na is a resort destination attracting a large number of visitors with convenient villas and modern services. At the same time, Ba Na Hills Mountain Resort is ideal place for couples in their sweet honeymoon with interesting sights such as Nai stream, Cau Vong waterfall, Linh Ung pagoda, anh so on. Especially, 870 – meter cable system with 16 modern cabins takes tourists to Vong Nguyet Hill, across primeval forest to tourism center area. From top of Ba Na Hill to the bottom, tourists can contemplate immense landscapes with tiny building, wandering roads and blue seawater. All appear in front of their eyes making them think that they are living in other life, not their busy life. That is reason why they would like to live here forever, not come back.
Son Tra peninsula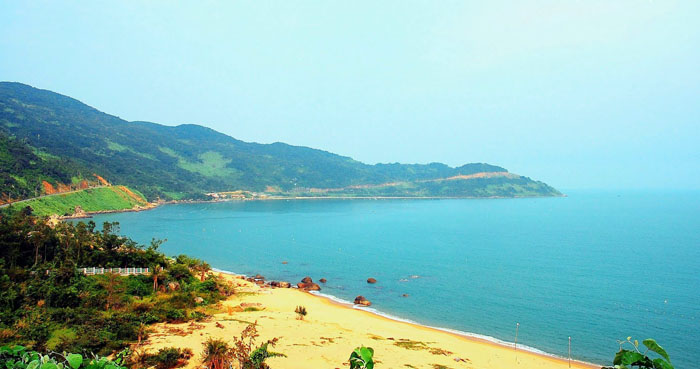 One of destinations tourists shouldn't ignore in honeymoon to Danang is Son Tra peninsula. Son Tra is a favor Creator gives Da Nang. No matter where you stand in Da Nang, you can see this mountain. With shape towards East Sea, Son Tra is a huge screen to obstruct storms for the whole city. Here, tourists will feel many interesting things from natural landscapes to entertainment areas. There are some attractive places to tourists such as Bai Rang, Bai But, Dong Duong resort. They mix soul with warm climate, submerge themselves in cool and transparent water or enjoy going fishes. Besides, They can try traditional dishes of the coastal area. What is more interesting than eating fishes on fire?
Travelers feel not only saltish taste of sea, when visiting the top of Son Tra mountain, they can steep into cool water of streams. Anyone would like to contemplate white inflow, roaring sound of waterfalls, go to Suoi Tien and Suoi Da. Streams thread their way through chink of rocks, hollow in a tree with water sometime flowing sluggishly sometime crushing into rocks. Two banks contain slabs of different- shape rock making people imagine shape of cute animals or chairs to rest.
Latest years, with landscapes which are beautiful as a dream, Da Nang is always listed into the most attractive destinations list for honeymoon tour in Vietnam. Are you planning for your sweet honeymoon? Welcome to Da Nang and enjoy your happy moments.
Sharing on honeymoon destination and activities in Vietnam