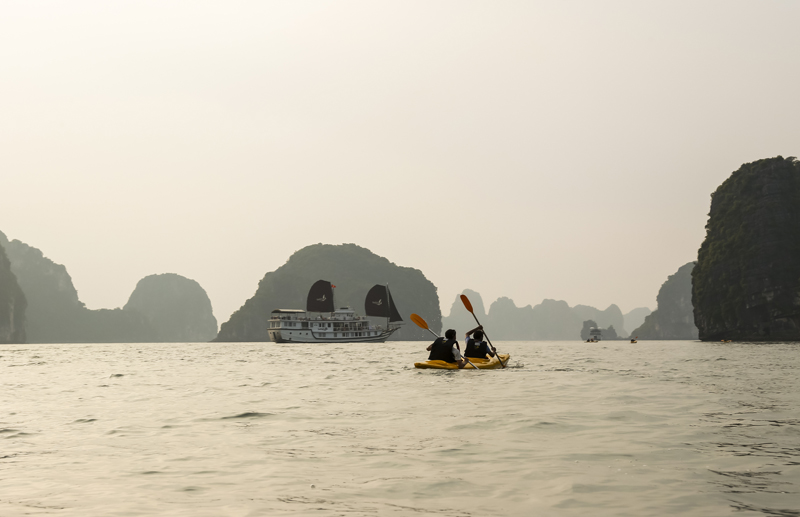 Why should you go to Ha Long for your sweet honeymoon?
It is not surprise when Ha Long became one of 10 the most attractive destinations in the world. During 4 seasons, Ha Long's sea is only blue with silvered waves rippling on water surface. Certainly, this will be a sweet and memorable honeymoon tour when couples experience bobbing feeling on sea and gaze at a 3000- limestone island population in a dragon shape.

Situated at the Northeast, Vietnam, Ha Long Bay is a part of the Bac Bo Gulf, including Sea of Ha Long city, Cam Pha provincial capital, and a small part of Van Don District. Ha Long Bay abuts on Cat Ba Island in the Southwest. From top to the bottom, Ha Long is like a huge and vivid picture. Standing in Ha Long, tourists seem to live in the petrified legend world. Sometime, they find a island like a head towards mainland, another like a dragon flying on the surface, one like an old man going fishes. Shape of the marvelous rocky islands transforms suddenly under light angle daily. Inside the rocky islands, there are many wonderful caves as Thien Cung, Dau Go, Sung Sot, Tam Cung. They are really castles of Creator on earth. Each year, Ha Long always opens to welcome thousands of couples for their honeymoon travel.
Thien Cung Cave
Considered as the most beautiful cave in Ha Long human have known, this cave situates nearly at Dau Go Cave, cave's door lies on the height of 25 meters. Its area is about 10,000 kilometer square with complex structure including many layers, compartments with high and wide ceiling and membranes. Anywhere inside cave, tourists can see no end of strange shaped stalactites and stalagmites. Inside, the cave gives on outside world through a small door; here, sea gulf in front of tourists 'eyes is surrounded by mountains. Currently, a beautiful and elaborate staircase and corridor system is built both inside and outside with lamp system to server tourists.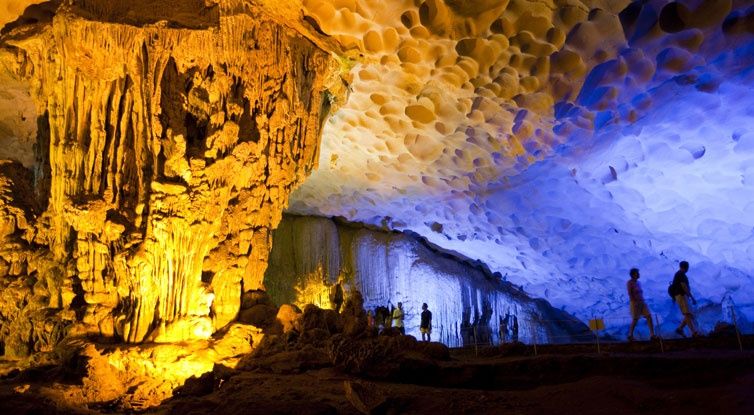 Sung Sot Cave
Situated at center area of the world heritage – Ha Long, Sung Sot Cave in Bo Hon island is called "Grotte des Surprises" by French. That is the widest and most beautiful cave in Ha Long. In addition, the cave belongs to tourism center area of Ha Long Bay ( including Ti Top beach, Bo Nau cave, Me Cung cave, Luon cave and Sung Sot cave) and is home of the most impressive islands in Vietnam. Road to Sung Sot cave is under forest foliages, rocky stair steps are high and dangerous making tourists hanker like both climbing and going to sky. Cave consists of 2 main compartments; the first one is like an immense opera house. Its ceiling is filled by glossy velvet layer, a large number of glistening stalactite chandeliers, rocky statues, rocky elephants, flowers, and so on. All of them seem to move in a mysterious world as a dream. It is not all. When tourists set their foot on the second compartment, a stream of light radiates all over the space for thousands of people making it become more splendid. At the highest position of the cave, there is a garden with cool lake, spectacular landscapes, and flocks of monkey playing in nice days.
Trong Mai Island
Trong Mai Island, also called Hon Ga Choi or Coqs Fighting Island, is nearly Dinh Huong Island in the Southwest of Bay, to 5km from Bai Chay port. This is logo symbol of Ha Long Bay with a shape of one cock standing by one hence, simultaneously, is symbol of Vietnamese tourism. When the sun rises, the bright light dyes two huge chickens red in surface. With the height of 10 meters, tottery position seems to collapse anytime, but actually, over millions of years, they still keep its position as if they are challenge the Nature.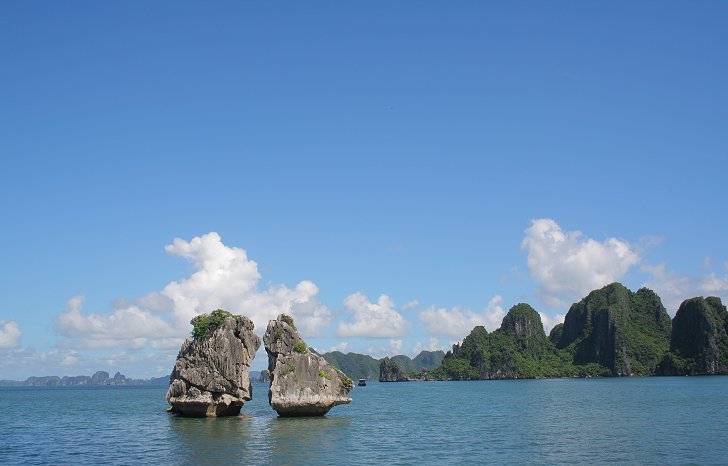 In Ha Long, the most interesting activity is sitting on the boat and worming through no end of islands standing by together as an endless rampart. Normally, newlyweds often choose sweet activities for their honeymoon as dinning with sparkling candles; however, Honeymoon Package Halong Bay is certainly the most special honeymoon tour for couples thanks to rowing kayak and contemplating landscapes. When yacht stop at nearly a fishing village, tourists can row kayak around the village. Tourists are completely infatuated with marvelous beauty of nature through unique shape of thousands of islands, caves filled stalactite in Ha Long. Moreover, to feel entire gorgeousness of Ha Long Bay and discover thousand-year-old rock, or gaze at flocks of bird at rugged rock-top, the best measure is sitting on kayak boat.
Ha Long Bay has individual beauty when the sun sets. The surface appears to dye red color of last light in day. Sceneries mix together to make wonderful tonalities. When the mantle of darkness is let down, in moon night, surface water become mysterious as if inlaid with silver.
Thanks to favor of Creator, every year, the number of domestic and international tourists coming to Ha Long has raised, especially couples going to this Bay for their unforgettable honeymoon.
Useful tip: If you are tired of 7 hours return transfer by car from Hanoi, other option is travel to Halong Bay by helicopter with only 1h30′ for return flight. Check at vietnamhelitours.com !
Sharing on honeymoon destination and activities in Vietnam