Great honeymoon at La Residence Hue Hotel & Spa
Situated in the central of Viet Nam along Huong River, Hue City is renowned as its ancient beauty of the former capital differently from other city like Ha Noi or Ho Chi Minh. Poetic, picturesque or romantic are ever words described the natural beauty of Hue, where is definitely a great ideal for honeymoon or other memorable anniversaries. Being as an elegant boutique palace on the banks of Huong River opening its first doors in 2005, La Residence Hue Hotel & Spa is designed in art-deco style in the ancient imperial capital of Nguyen Dynasty and preserved as a UNESCO Heritage Site now. The destination is once the Governor's mansion in the period of colonial history with the look straight the poetic streamline. The sleek architecture of fabulous Le Residence hotel will promise to bring for lover couples the most romantic honeymoon in Hue.
The best-ever place for honeymooners
With 122 guest rooms & suites, the art-deco architecture is truly a paradise for honeymoon at Hue with its charming, comfortable and sumptuous spaces of the classic colonial villa. The boast of La Residence is captured from its modern convenience, the classical design of a bygone beauty or the using of local material to attention of every small detail. The friendly staff of hotel always celebrates the history and its magical beauty of the latest capital in everything they do. The faithful interpretation of rooms are much more than a place to sleep because of its achievement of inspirational touch in its interior like ceilings, terrazzo floor, nice balcony, system of lightings or furniture. Each room of La Residence are designed with fully equipment and hotel amenities as its specific features such as Superior & Deluxe with garden or city sights, Superior River and Deluxe River with panoramic window to view the breathtaking of Huong streamline, Deluxe Colonial, Colonial Junior Suite or Colonial Suite  with city views or pool sight and Resident Suite providing 360 degree view of the governor's mansion…La Residence Hotel & Spa Hue is truly the best luxurious hotel in Viet Nam for its dedicating all the wonderful things with each guest for their great honeymoon in Hue.
Honeymoon in Hue with La Residence is an ideal opportunity for tourists to experience the gourmet dining of La Parfum Restaurant served by team of professional chefs. The elegant restaurant will delivery a various traditional culinary of Viet Nam cuisine as well as French fusion experience for first class. Moreover, travel couples also explore the colonial life for gourmet feelings such as the colonial dinner for governor, cruising dinner on Huong River, picnic lunch or BBQ poolside…The La Governeur Bar of La Residence is another great place for tourists with a lot of surprises. The sumptuous bar welcomes visitors in their honeymoon at Hue with refreshing airiness, convenience furniture from dark wood and romance atmosphere. Lover couples can enjoy wonderful drinks from famous place in the world, dim themselves in music and experience the opening views from the resort garden to Huong River. Honeymoon at Hue with La Residence, tourists can have chance to refresh their mind and body with other high quality services of massages, sauna, Le Spa for beauty treatments, Le Boutique for shopping or fitness center…All will contribute to be the best memorable honeymoon in Hue for couples once in their lifetime.
Exciting activities for holiday in La Residence Hue Resort and Spa
Being as one of the most precious pleasures of Viet Nam, Hue is famous for its rich history and ancient beauty of the former capital from the old pagodas, tombs of Nguyen Dynasty to peaceful landscapes. The elegant Resort & Spa, La Residence will surely provide many stunning canvas of making unforgettable memories in tourist's honeymoon in Hue. The city tours will bring for tourists a chance to reveal fascinating scenery, spectacular destinations as well as attracted history of this town. They can go sightseeing the age-old Citadel, view around the backstreets by cyclo, witness the mesmerizing tombs of royal mausoleum in Nguyen Dynasty…In addition, tourists also discover the hidden secrets of Hue by bicycle when passing through craft villages, local ferryboat areas or Sinh village, a famous traditional one of printing woodlock…Other exotic excursion will certainly make the honeymoon in Hue of couples much more romantic like impressive gate of Ngo Mon, breathtaking palaces of Thai Hoa or Kien Trung, outstanding constructions of Minh Mang, Tu Duc, Thien Mu Pagoda for seeking a sense of peace and touching in one's own hearts, Truong Tien Bridge for unique emotions…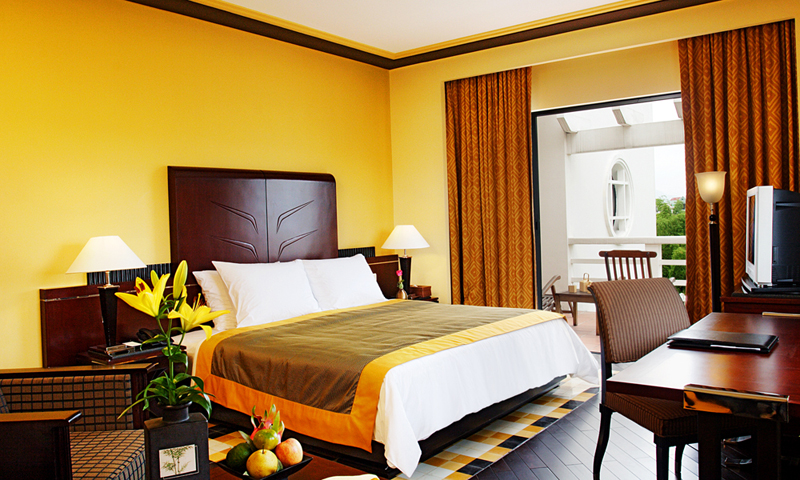 Excellent option for a truly honeymoon in Hue
Hue is one of the most alluring locations for lover couples in Asia as well as in Viet Nam. Honeymoon in Hue with the best resort & spa, La Residence will never make tourist disappointed from itineraries of discovering imperial monuments, cruising on Huong River or experiencing the specific culinary excursions…They will be offered one surprise to another with their beloved in the most perfect way. Forgetting any busy of daily life, La Residence is definitely a different world where they can immerse themselves into the natural beauty, the peaceful paddy field or majestic sights…Come and experience a paradise of romance in your honeymoon with La Residence to understand its differences than other can do.
Sharing on honeymoon destination and activities in Vietnam