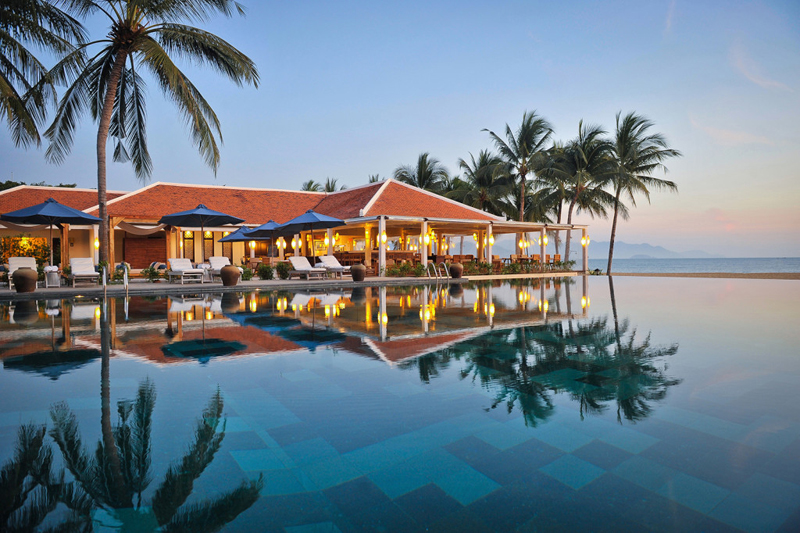 Paradise honeymoon in Nha Trang with Evason Ana Mandara
Evason Ana Mandara Resort & Spa is located at Nha Trang – The central beach city which is always in the top most premier beach in Viet Nam because of its pristine long white sand under bright sunlight, the natural beauty of sea scenery and high quality of tourism services. If you are considering about the place for honeymoon in Nha Trang, Evason Ana Mandara will make you satisfy with all their efforts to make a heavenly journey for tourists.
The luxurious accommodation for customers
With the beachfront in the charming beach which is far away about 3 km of Long Son Pagoda and 4 km of Cham Towers, Evason Ana Mandara is set up its new standard of 5-star resort in Nha Trang Bay. The luxurious Resort is featured 74 elegant garden villas and spacious suites in the traditional Vietnamese ornamentation and decoration. Evason Ana Mandara suites are also designed in 5 special types like suites for Green Garden View, Superior/Deluxe Sea View, Deluxe/Suite Beach Front which can be suitable with each requirement of tourists in their honeymoon in Nha Trang. All guestrooms are fully equipped with modern facilities and bathroom amenities such as tub, minibar for drinks and other furniture…Moreover, high quality of spa treatments will be offered by Evason Ana Mandara to bring the best relaxation and refreshing for customers. The resort also has specialized area for serving any demand of tourists including 2 outside swimming pools, the large yard for playing tennis, volleyball or other water sports, diving with scuba or entertainment area for children. With the best efforts that Evason Ana Mandara, all traveller couples will experience the romantic honeymoon at Nha Trang which is truly like a heaven on earth for lover travellers in the Central South of Viet Nam.
Offering the gently touch of classical Viet Nam with a lot of breathtaking sights, Evason Ana Mandara Nha Trang also give sumptuous dining options for tourists including local dishes, unique favors of each region and international cuisine prepared from the freshese ingredients. The resort's chefs will produce a selection of delicious foods both in East and West style, while also give tourists chance to enjoy the culinary experiences of country in the highest quality of satisfaction. You and your lover can have wonderful memories with the wide range of choice in the elegant place of Pavillion Restaurant for verandah, dining on beautiful beaches with the panoramic scenery of Bay. The Pavilion will surely to offer a romantic honeymoon at six senses Nha Trang with marvelous cuisine in buffet breakfast, sumptuous dinner or lunch.
Other one, the Beach Restaurant will serve inside and outside seating choice for tourists with a la carte menu for lunch and unique dining for the colorful street market of NhaTrang. Extending to a spacious yard and cellar, the Lobby Bar is a perfect one for enjoying with cool wines, wonderful glass of international beer and exciting creation of cocktails…
Moreover, Evason Ana Mandara is always to make their best efforts to customers with the Six Senses Spa which specialize all beauty treatments with its signature menu for lover couples in their luxury honeymoon in Nha Trang. Besides, the resort area is designed for teambuilding activities such as playing tennis/volleyball on beach and many kinds of water-sports for adults as well as children.
Are you looking for luxury honeymoon package in Nha Trang, go this link!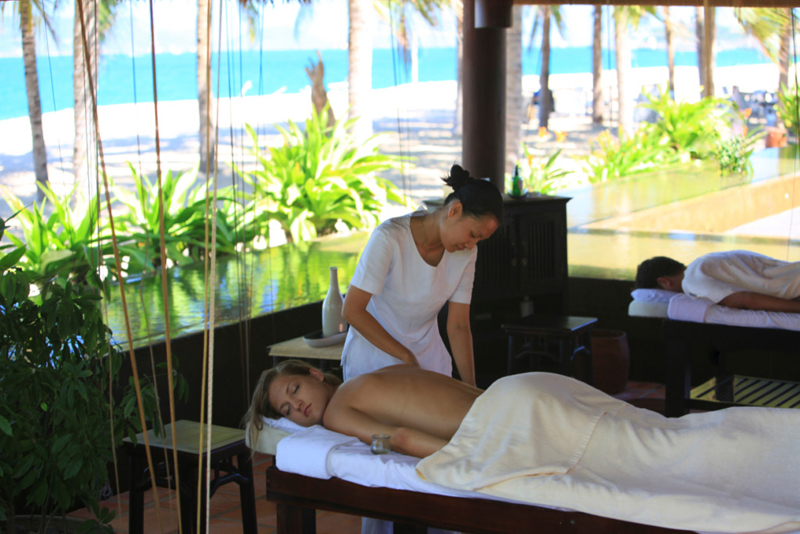 Great excursions for honeymoon in Nha Trang
Evason Ana Mandara Nha Trang is definitely not only the perfect situation of escape the busy in daily life and tranquility in the middle of nature but also a place for memorable itineraries for all tourists. The resort will be a good partner in their journey to discover the versatility of beach city and its surrounding with a lot of highlight excursions for their honeymoon at Nha Trang.
In early morning, tourists can experience the true way of Vietnamese life, country and people in market tour. They will explore the island around Nha Trang with adventurous journey in Mountain of Refuge, fishing tour to understand the local routines, the White Water Safari…Tourists can enjoy the own taste of country from its simple parts of life, high range of mountains or green paddy field…You and your beloved will take part in together many interesting programs like biking in safaris, going picnic on long sand beach, swimming in the crystal water or cruising for spectacular moonlight along the coast… Moreover, Evason Ana Mandara also supplies modern equipment for underwater activities; special honeymoon at Evason Ana Ressort will be unforgettable with some ideal trips such as snorkeling to seek for the charming scene of Mun Island, scuba diving to understand the sealife or boat charters…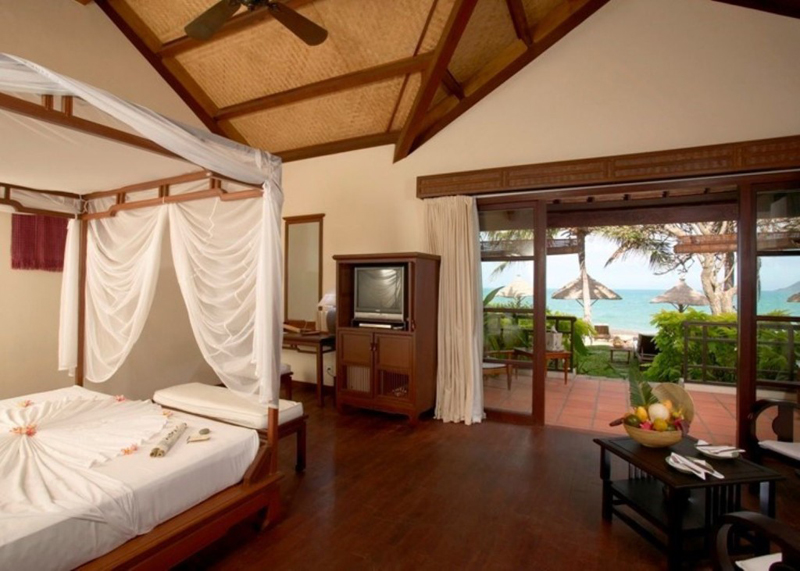 The best-ever heaven for honeymoon in Nha Trang
Being as a superb 5-star on the pristine beach next to the southern of Bay, Evason Ana Mandara Nha Trang Bay is certainly one of the most luxurious resort in the country. The resort is worthy trying because it's truly a paradise for making any dreams of tourists come true with its elegant restaurant, comfortable accommodation, well-planned journey…Let's come and experience the unique and luxurious resort with your beloved, Evason Ana Mandara will never make you disappointed for the most wonderful honeymoon in Nha Trang, one of the greatest beach in the world. Contact vietnamhoneymoontravel@gmail.com to book Honeymoon Package to Evason Ana Mandara Resort & Spa Nha Trang at Best Price!
Sharing on honeymoon destination and activities in Vietnam