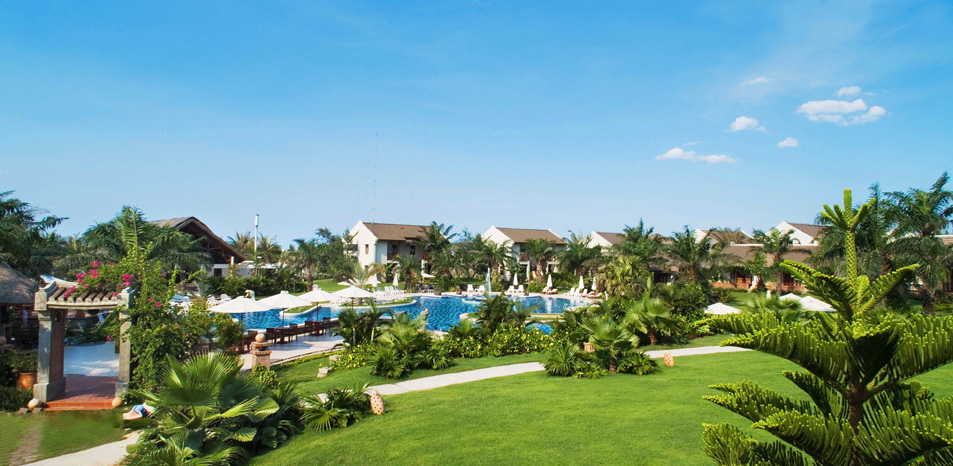 Sweetie Honeymoon In Hoi An With Palm Garden Beach Resort & Spa
Being as an ancient town, Hoi An is one of the World Heritage Site which attracts not only domestic tourists but also foreigners. Nowadays, more and more lover couples choosing the town for their vacation day by day and honeymoon at Hoi An will give them many romantic moments together. Offering a green environment for who coming in the world of 400 species of palm trees, flowers and plants, Palm Garden Beach Resort & Spa is one of the most famous resort in the ancient city for tourist 's option in their honeymoon in Hoi An. It's about 5 ha of tropical garden landscape with an enviable stretch of 200 meters of Cua Dai beach which promises to bring the greatest honeymoon in Hoi An for loved travellers.
The wonderful destination for holiday
Inspiration from its own considerable culture and people, Palm Garden Beach Resort & Spa HoiAn offers a close touch of traditional decoration in this town's architecture in harmony of ancient style and modern luxury. The resort has a total of 212 well-designed rooms which are suitable for any kind of tourists such as 4 suite rooms including 3 of Junior Suites and a Palm Garden Suite, Deluxe view or Superior view. Moreover, Palm Garden Beach Resort also has 20 bungalows with 14 bungalows situated on the pristine beach while the left of 6 ones given the beautiful garden scenery. It's a great ideal for lover couples option in their romantic honeymoon in Hoi An. The Resort emphasizes in ornamentation of comfortable room space, spacious balcony for providing exotic views of ocean or green garden as well as the quality of interiors and furnishing to be the valuable place for tourist. The best accommodation of Palm Garden will be definitely suited for those who want to get their private heaven in honeymoon at Hoi An.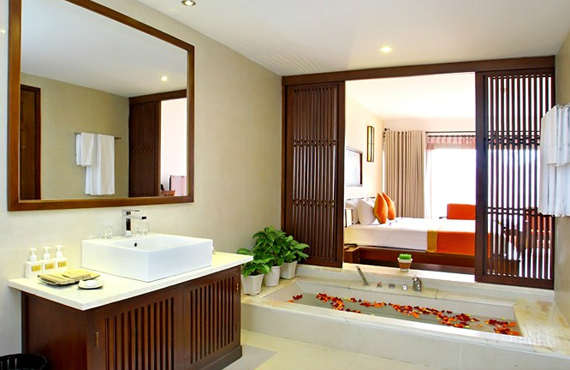 The beautiful landscape and green grass surrounding the Palm Garden Beach Resort is a paradise venue for lovers, honeymooners and travelling couples. With the interior in high quality of silk and Vietnam's traditional equipment, the guest area of this resort will give lover the most comfortable feelings in their honeymoon at Hoi from a sumptuous breakfast in Terrace Cafe, delicious lunch with various dishes in the Courtyard and buffet dinner of Colibri Bar. For the restless and relaxing their body, tourists can take part in a Tai Chi class in morning or other water sports such as parasailing, swimming, windsurfing… The beach restaurant of Palm Garden will also serve theme dinners from tourists, swimming pool party or beach barbecue where lover couples can experience a delicious seafood buffet both in Vietnamese and international cuisine in private space. Lover couple can enjoy a romantic evening in Cantino Club Bar with wonderful cocktails and happy hour of live music and sound of waves from ocean. Their honeymoon at Hoi An will surely become more and more fantastic with a wide range of sports together such as tennis, fishing or refresh services. In Addition, the Palm Garden Hoi An Beach Resort will offer luxurious services from traditional therapies to diverse options of massage and beauty treatment like face, body, nail or hair…. You and your beloved can immerse your mental and sprit in deep of perfect relaxation with high quality cosmetics from natural ingredient.
Activities for honeymoon in Hoi An
Palm Garden Beach Resort is always ready to welcome visitors with all efforts for their wonderful honeymoon in Hoi An. The charming magnificent of this town will ensure to bring tourists unforgettable memories with a lot of famous destinations for discovery, Palm Garden will be your perfect partner to give tourists a rare opportunity to witness the mysteries of Cham Island, My Son Holy Land which is recognized as a UNESCO World Heritage Site. Tourists can explore a lot of interesting surprises when sightseeing Marble Mountain, understand the local culture in Cham Museum or admire the simple beauty of Tra Que Vegetable village in suburb tour. In other hand, Palm Garden can provide many types of water sport activities on beach such as sea kayaking, jet-ski, boat speeding…Special, you and your lover can go along the coast by couple bicycle for romantic emotions together in your honeymoon in Hoi An beach. With the wonderful space, Palm Garden Hoi An Beach Resort also provide services for the breathtaking moments of important celebration like wedding ceremony, family anniversaries…which promise to be the best-ever palaces for guests in Hoi An.
Memorable honeymoon in Hoi An
Palm Garden Beach Resort & Spa Hoian is truly an amazing place because of its green and poetic scenery surroundings. With the team of professional staff and high quality service for luxurious clients, the resort is really a paradise for tourists who are looking for a different world of beauty, relaxation and romance. With lover couples, Palm Garden Beach Resort will make their honeymoon at Hoi An become more and more wonderfully with all great time together.
Sharing on honeymoon destination and activities in Vietnam