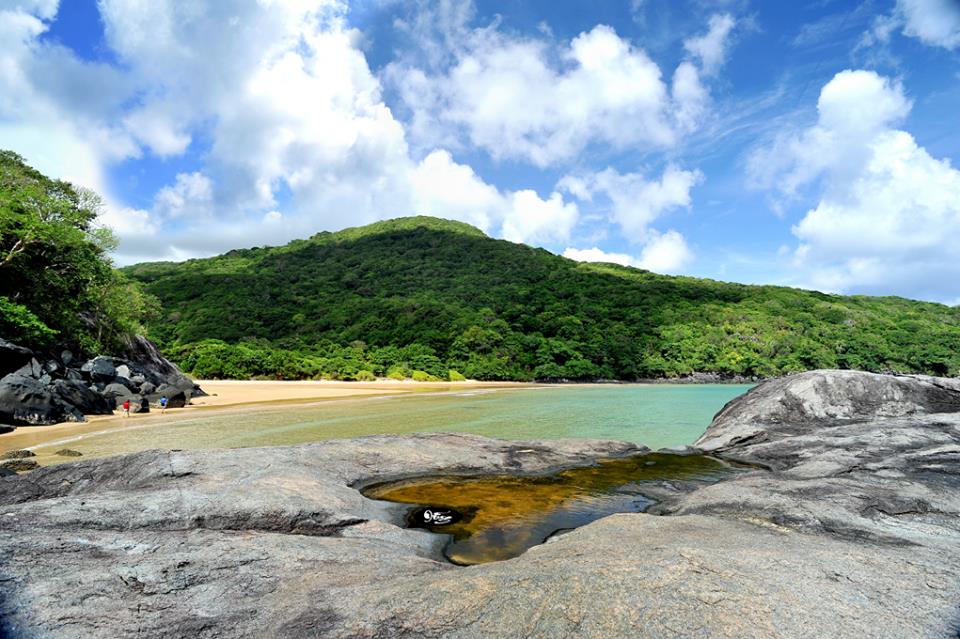 How to Get to Con Dao Island Vietnam – Tips on Flights to Con Dao
How to Get to Con Dao Island is the frequent concern for people planing the holiday to Con Dao Vietnam. There are 2 ways to get to Con Dao Islands: by boat and by air. But we do not recommend honeymooners the waterways because it take 5 hours from Vung Tau to Con Dao! Please note that most of travellers who arrive in Con Dao by ferry decide to fly back. Concerning airways, Ho Chi Minh City is the nearest international airport and daily direct flights opererated by VASCO (subsidiary of Vietnam Airlines) take 45 minutes only. You can book airtickets  offline at any Vietnam Airlines agencies or online at https://www.vietnamairlines.com/
How to Get to Con Dao Island – Tips on Airfare and Schedules
Airfare quoted below is for round trip tickets, inclusive of taxes.
USD 210 per adult
USD 158 per child from 2 to 11 years of age
USD 25 per child under 2 years of age
Reference about daily scheduled flights between Ho Chi Minh City (SGN) and Con Dao Island (VCS)
Ho Chi Minh City (SGN) to Con Dao Island (VCS)
| | | | |
| --- | --- | --- | --- |
|   Days of the week   |   Flight number   |   Departure time   |   Arrival time   |
|   Daily | OV 8051 | 5:55 am | 6:55 am |
|   Daily | OV 8053 | 9:05 am | 10:05 am |
|   Mon, Wed, Fri, Sat | OV 8055 | 9:30 am | 10:30 am |
|   Daily | OV 8057 | 12:10 pm | 1:10 pm |
|   Daily | OV 8059 | 3:00 pm | 4:00 pm |
|   Daily | OV 8073 | 3:20 pm | 4:20 pm |

Con Dao Island (VCS) to Ho Chi Minh City (SGN)
| | | | |
| --- | --- | --- | --- |
|   Days of the week   |   Flight number   |   Departure time   |   Arrival time   |
|   Daily | OV 8050 | 7:25 am | 8:30 am |
|   Mon, Wed, Fri, Sun | OV 8052 | 1:20 pm | 2:25 pm |
|   Tue, Thu, Sat | OV 8052 | 10:35 am | 11:40 am |
|   Mon, Wed, Fri, Sat | OV 8054 | 11:10 am | 12:05 pm |
|   Daily | OV 8056 | 1:40 pm | 2:45 pm |
|   Daily | OV 8058 | 4:30 pm | 5:35 pm |
|   Daily | OV 8072 | 4:50 pm | 5:55 pm |
Note: Flight schedules are subject to change by VASCO
Highlights of Con Dao Islands Vietnam
Selected as one of the most mysterious islands in the world, Con Dao Islands Vietnam are becoming more attractive to tourists, especially to couples on honeymoon, by its pristine beaches and peaceful scenery.
Situated at the Vietnam's South, over many years, people get used to calling Con Dao "Hell on Earth". However, they seem to forget that Con Dao Island is also immense blue of sky and sea listed top destination of famous tourism magazines. Actually, Con Dao is an off-shore archipelago of Ba Ria – Vung Tau province. Beside, Con Dao is also called Con Son or Con Lon. This is the largest island in the region with sum of 16 islands.
The most interesting thing when discovering Con Dao is steeping yourself in boundless ocean world, contemplating multi-colored coral reef stretching thousands of kilometer, and viewing dolphins in water. When tide downs, a wonderful image of shellfish hugging rocks appears in front visitors' eyes. Or they can wander in Ong Dung forest, view tropical rainforest with many rare 100-year-old wood species, and listen to chirp on the tree branches making a natural vivid picture.
Along to coastal road toward to Ben Dam fish port, tourists can gaze at romantic the glow of dawn at Ca Map point or view the sun setting on visionary Love Mountain. If they have a lot of time, they should go to Bay Canh to join activities for protecting sea creatures such as taking care of tortoises giving birth to eggs, let small tortoises out sea, visit mangrove forest, and conquer a 350 meter lighthouse.
Tips on Most Popular Destnations in Con Dao Islands Vietnam
Dam Trau Beach – The Famous Site in Con Dao Island
Certainly, travelers will be attracted by spectacular beauty of Dam Trau beach with limitless white sand under foot and bulky and motionless rocks. Remotely, on the slope of large rock, there are 2 big huddling slabs of stone as if they forget whole around world. Visitors see to eliminate life's sorrow as contemplating deliberately green mountains and immense ocean. Addition to, peaceful feeling when sitting on cool rock mass, observation waves towards off-shore, listening to whispering wind on tree branches is unforgettable memories. Especially, Dam Trau beach is also ideal destination for honeymoon of young couples because Dam Trau beach is not easy and crowed as other beaches.
Poetic Hon Bay Canh – Tortoise Protection Area in Vietnam
The whole island is covered with green trees' parasol of primeval forest. Every year, hundreds of turtles go to Hon Bay Canh to lay eggs and this is the place having the largest numbers of tortoises in Vietnam. Tourists can comfortably swim; play with their friends on gently sands or observer turtles laying eggs. Diving coral reef attractive amusement to almost travelers because nowhere in Vietnam owns various coral reef as Hon Bay Canh (some of them are listed in Vietnamese Red Book) as plate –shape coral, table – shape coral, branch-shape coral, and so on. Hon Bay Canh is also the destination for taking romantic pictures on a Con Dao honeymoon tour.
Timid Beach (Bãi Nhát) – The Most Beautiful Beach at Con Dao Island
Timid Beach or Ca Map point is considered as one of the most beautiful beaches at Con Dao. Situated at nearly center of Con Son town and main roads with favorable position, this beach makes anyone setting their foot in it surprise. Bai Nhat – Timid Beach is far from town's center about 6 kilometers towards Ben Dam, here, landscape is still pristine, less affected by human. The beach along with sand mix with rock and small waves making vivid and harmony picture. Many couple often choose Nhat beach to take their wedding photographs and record the most memorable moments in their life. Some go to enjoy Timid Beach during their honeymoon tour in Con Dao. The most special thing in Timid Beach is that the beach appear only some hours per day, in rest time, it is submerged in water. Standing on Ca Map point, tourists can contemplate spectacular landscapes and wonderful beauty of Love Mountain.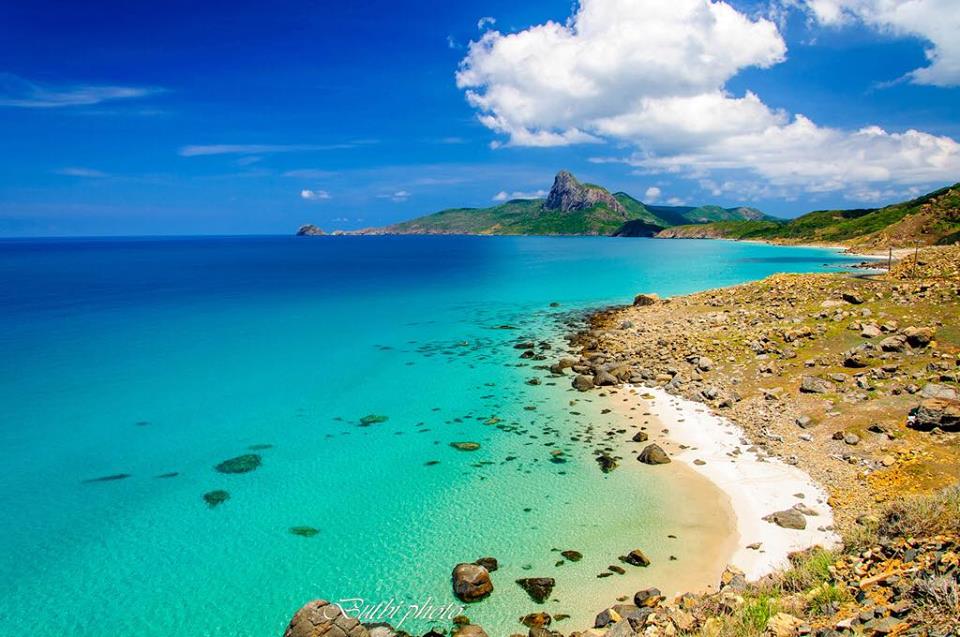 Check out best deals for honeymoon package Con Dao island here !
Love Mountain – Romantic Destination for Couples
Love Mountain is not far from Nhat Beach. Here is a destination for couples having romantic time together. This mountain is like an image of hugging couple, so people called it Love Mountain. In wedding season, many couples would like to keep their sweet moments at Love Mountain with a honeymoon tour or a romantic wedding anniversary. Going to Con Dao at any season, visitors also feel pristine beauty of island referred to as "Paradise of Sea".
Con Dao is one of the most wonderful islands in Vietnam. This is ideal destination for people who want to discover pristine beauty of Con Dao, to survey its history, to experience memorable moments with blue sea, white sand and primeval forests. The above tips on how to get to Con Dao Island and its popular destinations are especially useful for couples who come for the first time to Con Dao Islands in honeymoon.
Sharing on honeymoon destination and activities in Vietnam