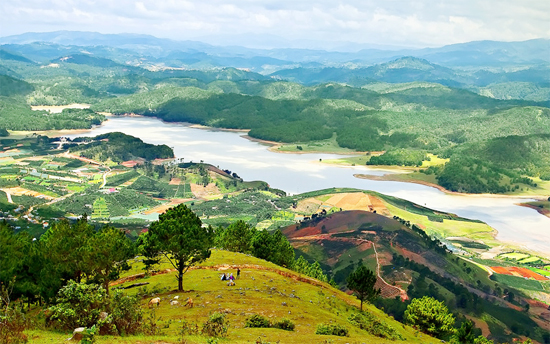 How to Get to Da Lat Vietnam – Ways to Amazing City of Flowers
How to get to Da Lat Vietnam encourages you all to head towards the existing "City of Flowers" which is also addressed by other beautiful names like "the City of Love," "City of Eternal Spring," or "Le Petit Paris." If you're about to visit this amazing city, here are the big thumbs-up as well as the quick instructions on how to get there.
By Air – Travel to Da Lat via Domestic Flights
Da Lat has Lien Khuong Airport which is well linked to Hanoi and Ho Chi Minh City via the daily domestic flights. The flight to Da Lat from Hanoi is about 1 hour 40 minutes, and from Ho Chi Minh City is 45 minutes. So, if you ask how to get to Da Lat from Hanoi, the big recommendation is to fly. The prices vary from USD$45 to USD$90 one way due to the class you choose as well as the time and agency that you book the tickets.
Upon their arrival, the first-time travelers might wonder how to get from Da Lat Airport to Da Lat, then the answers cover these channels: bus, taxi, and motorbike taxi. The airport is around 30km away from the city center, and taxi and buses are plentiful, outside of the luggage area. You can also use the Shuttle Bus services offered by the hotels.
By Road – Go to Da Lat via Public Bus, Tourist Coach, or Motorbike
It's easy to book the bus tickets to Da Lat from other provinces of Vietnam such as Da Nang, Hue, Nha Trang, Mui Ne, Ho Chi Minh City, and more. The recommended companies are Mai Linh and Phuong Trang (Futa Bus). The bus ticket prices are slightly affordable to all; that is why most of the local tourists choose this method. Though you can buy the tickets at the station right after you arrive there, try to get the tickets in advance to guarantee the seat, especially during the peak time from June to August.
In particular, for how to get to Da Lat from Ho Chi Minh City, get a bus ride which takes about 7 hours, with the distance of 310 km. Particularly for the foreigners who use the Futa Bus, their tickets already include the free shuttle from your hotels in the town. You need to show the hotel addresses to the drivers so that they can bring you there because they unlikely speak English.
As Da Lat is a stop on almost every route of the bus companies, people find it easy to get the bus tickets to Da Lat from other places in Vietnam. For instance, if concerning about how to get from Nha Trang to Da Lat, you can take a sitting bus trip of 4 hours which covers 30-minute breakfast – WC stop, the beautiful scenery for sightseeing along the road, and the hotel pick-up upon your request. Furthermore, if you depart from Da Nang or Hue, the sleeping bus takes about 15-16 hours as it is the long and scenic ride.
And if you choose to drive from your places to the City of Flowers, then take the inland route to Bao Loc and Di Linh, which is safer and shorter in comparison to the route to Ngoan Muc Pass. Use Google Maps to direct you toward the city center. Otherwise, prepare yourself with the paper maps to use, in case your smartphone runs out of battery or cannot use GPS!
Choose your ways to visit the City of Eternal Spring, book your Honeymoon package Da Lat Vietnam and discover its attractions of Xuan Huong Lake, Truc Lam Pagoda, Domain de Marie Church, Lang Biang Mountain, Valley of Love, Dalanta Waterfall, etc. Fly or drive? You decide how to go to Da Lat at your earliest convenience!
Sharing on honeymoon destination and activities in Vietnam