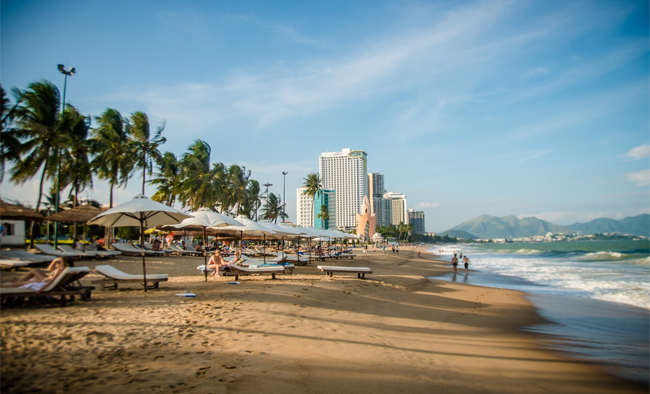 Memorable Honeymoon For Couples In Nha Trang
Nha Trang which is referred to as Vietnam's Mediterranean is member of most beautiful Bay in the world Club. Nha Trang with blue sea and white sand is worthy of ideal paradise for couples to make the most of happy favor of honeymoon in warmness of tropical sunlight.
Nha Trang- the Pearl of the Far East – appears in poems, songs, pictures with gentle beauty from its name. Nha Trang's beauty make many other beaches envy because perhaps the Nature is completely partial Nha Trang when giving it all things the coastal areas expect from beaches with endless white sand to off-shore islands, from marvelous coral reefs under sea to ancient Cham temples at mountains.
Nha Trang is an active sea city and rich vitality with new opened-roads, new bridges, coastal resorts, new works which are changing day by day and especially, local people is very friendly and gentle. All these things will create good impresses to domestic and international tourists despite of only one time.
Only looking Nha Trang from on high, tourists can feel fully perfect beauty of this city. Beach seems to meander to hug emerald bay, rows of casuarinas, coconuts swaying in wind dignity wonderful beauty of this warm and peace area. Over time, Nha Trang city has changed, but Nha Trang beach still maintain past image. Under splendid sunshine, white sand of Nha Trang beach is like a silver sickle surrounding this beach. Nha Trang beach has different features in comparison with other beaches. In Nha trang, climate is mild, sunshine radiates thorough years, rain occurs within 2 months in year, so many couples prefer to spend their honeymoon to Nha Trang. (See honeymoon package Nha Trang )
Referring to Nha Trang Sea, we can't forget Nha Trang Bay, a wonderful bay with 500 square kilometers of area includes 19 large and small islands, in which Hon Tre is the largest island with 3250 hectares and the smallest island is Hon Noc with only 4 hectares. Regarding ecology, Nha Trang Bay is one of rare natural models of bay system in the world as it owns almost typical ecosystem of tropical sea area including mangrove forest, coral reef. Sea grasses, estuary system, sea and island system, coastal sand system.
Here, tourists can not only steep into sceneries of Nha Trang, but also enjoy attractive services as joining tourism travels in Hon Tam, Hon Yen, Hon Mun, visiting fishing villages, eating special seafood. They also participate in adventurous sport activities as water motorbike, water skiing. In recent, Nha Trang has started to develop diving. Sometime, attractive features of Nha trang come from simple things as enjoy a hot coffee in earlier morning and contemplate sun rising on the horizon.
Hon Mun Island locates at the South of Nha Trang Bay. Hon Mun is a name coming from fact that in the southeast of Island, there are black dangerous rock-top creating spectacular caves. With the pristine beauty, Hon Mun is considered as the most romantic island of Nha Trang's island system. Although Hon Mun's beach is not good as other beaches, its landscapes can't be ignored. At the sea bottom, there is a various and abundant population of sea creatures, at the same time it is a monitoring and research place of oceanographers and tourists who would like to understand the world under sea.
If you are a person love adventurous tourism, Bai Dai certainly is perfect option for you. Bai Dai is 12km from Cam Ranh, belongs to Cam Hai Dong commune, Khanh Hoa province. Perhaps, few people know about Bai Dai, but for anyone setting foots on this land only once, obviously they are surprised by its pristine beauty. Tourists is conquered by measureless sand beach under foots and original feature people haven't yet explored. Water at Bai Dai is approximately people's knee, so they can play with waves, submerge in blue water. Entertainment services are present as canoe, water skiing or water motorbike. Besides, Bai Dai is ideal destination for picnic travels along with outdoor activities of tourism companies. Bai Dai's position is suitable for Team Building activity or playing football, beach volleyball. Surrounding Bai Dai, there are less hotels invested, maybe so, Bai Dai still keep its original beauty. With available tourism potential, Bai Dai promises to bring the most memorable time in tourists' journey. Many Nha Trang tour choose Bai Dai as the first destination when coming to the beautiful city.
Hon Chong is one of other attractive destinations in Nha Trang. Anyone going to Hon Chong expects to hear its story. Although large rocks piling into each other over many years, sea waves, rain and winds can't make them fall. From city's center, tourists go towards Northeast to Hon Chong. This road leads to Hon Chong is quiet romantic, because two sides of road covered with lasting sands and unique architectures.
Another proud of Nha Trang people is Vinpearl resort or also called Viet Pearl. Located at the most famous Bay in the world, Nha Trang Vinpearl is combination of luxurious, simple, romantic and seductive beauty. Not only favored with blue sea, white sand, splendid sunshine by the Creator, Nha Trang is also sophisticated designs through delicate hands of skilled people. It is not all when Vinpearl is known for the longest cable system in the world and best natural beach and the largest outdoor pool in Southeast Asia region.
Gentle Nha Trang Beach, heart-warming local people are unforgettable impresses about Nha Trang in heart of tourists. Though Nha Trang is not romantic as Da Lat, Nha Trang also brings couples free space, peace moments for their honeymoon in Vietnam.
Sharing on honeymoon destination and activities in Vietnam