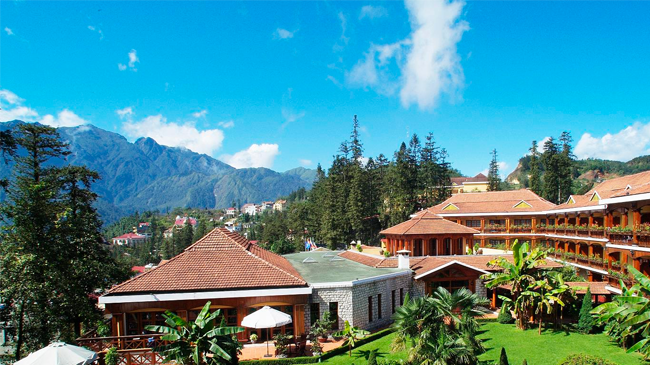 Honeymoon at Victoria Sapa Resort and Spa
Located in the northern of Viet Nam along the Chinese border, Sapa is renowned as a mountainous town of the rugged sights as well as special diversity. It's orientated to be the most of incredibly picturesque, the exotic scenery and gorgeous masterpiece of nature in Hoang Lien Son range. Come into operation in March, 1998, Victoria Sapa Resort and Spa is only 4-star hotel of Sapa area which is designed in the traditional chalet with the accented wooden ornamentation and stone fireplace. Being suitable for traveler couples in honeymoon, the Victoria Resort and Spa will certainly make them satisfy by their fine accommodation, luxurious facilities and the perfect experience of wallowing in the beauty of rice terrace valley, rock formations above with mist rolling across the tops, the indigenous cultural of local hill tribes…If you are looking for a destination of cultural authenticity and wild tranquility, Victoria Sapa Resort and Spa will be great ideal for your honeymoon or any memorable celebrations.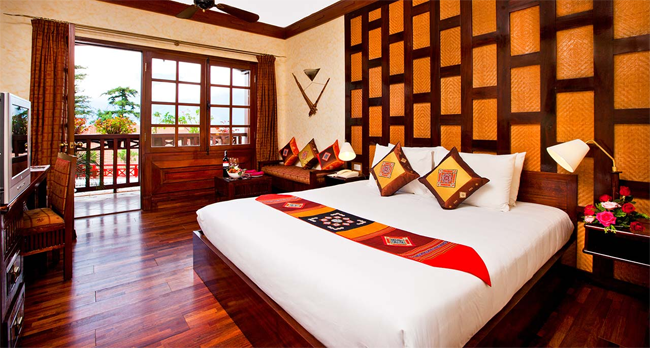 The most convenience for honeymooners
Victoria Sapa Resort and Spa is featured 77 private rooms with wooden flooring and spacious balconies offering the spectacular views of the village's region and Mount Fansipan. A warm atmosphere of elegant decoration including 2 large suites and 2 studios of six beds on the upper rank will provide tourists a sense of peace and cozy in the mountain chalet. Each room is fully equipped amenities such as ceiling fan, air condition, satellite TV, wireless internet access…In addition, Victoria Sapa Resort and Spa can give their holiday with a list of convenience like well-trained sauna services, indoor swimming pool, a fitness center or game rooms. Lover couples can feel comfortable in their honeymoon at Victoria Sapa Resort and Spa because of its pristine location with natural around and high quality services which is carefully trained to give tourists the best-ever of differences and unique.
Moreover, tourists have not to go far for sumptuous dining options of restaurant and elegant lounge when they come to Victoria Sapa Resort and Spa. The team of professional chefs will serve the wide range variety of international menu both Viet Nam and French cuisine from the local ingredients. Their honeymoon will become more and more romantic with the great dining in the luxury hotel while witnessing the breathtaking sights of the north-western mountains. After a hard day of experiencing the beauty of Sapa, they can dimmed themselves in sweet music, share a lot of interesting stories and enjoy the wonderful taste of red wine or cocktails in Ta Fin Bar.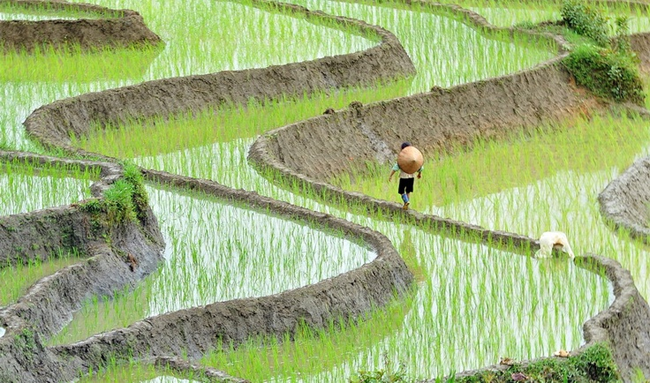 Activities for the best-ever honeymoon in Sapa
What's about the exciting schedule? Honeymoon at Victoria Sapa Resort and Spa is the best opportunity for traveller couples experience many indoor as well as outdoor activities. They can go sightseeing some famous places of Sapa such as Ta Van Village, Lao Chai Village, Suoi Ho, Ma Tra, Ham Rong Mountain…Climbing to the Fansipan peak for having overlook of this town, walking along the roadside to admire the strenuous trek as well as rice paddy fields, sightseeing the stone church at the center, mountain biking to discover the mysteries of forest or participating "love market" at Saturday night is also should-not-miss excursions for honeymooners at Victoria Sapa Resort and Spa. From 8:00pm to 9:00pm at Saturday night, you and your partner also have chance to enjoy the special dance performance of H'mong and Thai people, learn more about the traditional cultural of ethic minority…
Being one of the most attractive places, Sapa is truly a precious gift of Natural Mother which delicates to the nature of Viet Nam. Passing through the majestic landscapes of the country, Victoria Sapa Resort and Spa will offer every tourist a wonderful honeymoon memory with its splendid construction of the luxury hotel, high-grade services to meet any requirements of clients, the most fascinating scenes enough to allure any fastidious one. Come and experience an unforgettable honeymoon in Sapa with stay at Victoria Sapa Resort and Spa in your lifetime.
Sharing on honeymoon destination and activities in Vietnam