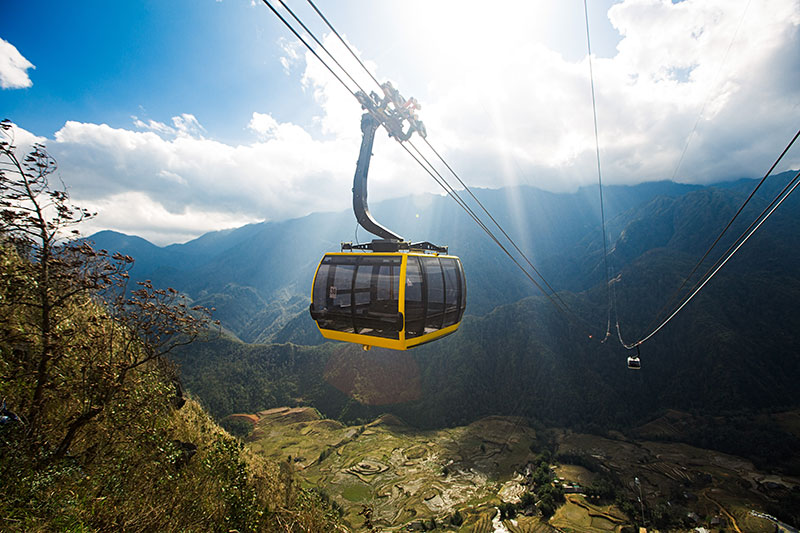 Top New Check-in Places in Vietnam for Young Travelers
If you are new to a destination or you have not previously seen it, this will bring ultimate excitement to discover, and these top new check-in places in Vietnam for young travelers hits the spot. The recommended list promises a journey of distinction that you differentiate your holidays in Vietnam from the others'. Your pictures and experiences will be unique and admirable.
#1: Fansipan Mountain in Sapa
Checking-in Fansipan Mountain is one of the most exciting things to do in Sapa town, Lao Cai Province. It is the highest mountain in Vietnam and Indochina peninsula, at 3.143 meters above the sea level. Especially for those that love adventures, climbing the mountain to reach the summit and take pictures is an amazing idea to carry out. Young travelers that want an appealing rendezvous will be happy to enjoy the pure breath of magnificent mountain and primitive forest. Reaching the "Roof of Indochina" in the center of Hoang Lien Son mountain range by using the Guinness World Record-listed Fansipan cable car service in 15 minutes (Sun World Fansipan Legend), you create your own exhilarating episodes and numerous enthralling check-in photos of the misty and paradisiac scenery.
Another way is to go trekking in Sapa, conquer the pristine jungle trail, and reach the top. Coming equipped appropriately, mountaineers will experience the fascinating path to Fansipan filled with wildflowers, plants, orchid species, dwarf bamboo, etc. When being at the summit, just pose and take photos that you will be proud of.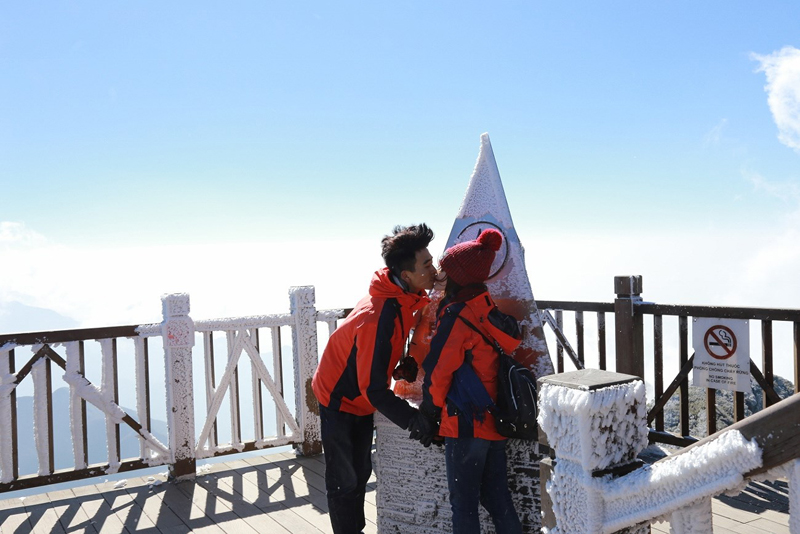 #2: Lotte Center Hanoi (Hanoi City Complex)
If this attraction sounds new to you, then it is a right recommendation to discover what Lotte Center Hanoi is in Ba Dinh. This tower or skyscraper is the third tallest in Vietnam (after Landmark 81 and Keangnam Hanoi Landmark Tower), and the second tallest in Hanoi. The 65-floor construction was inspired by the Vietnamese traditional "Ao Dai" design and constructed by the Callison of the U.S. It includes areas for offices, shopping malls, luxurious conference rooms, and entertainment centers.
Inaugurated on 02 September 2014, Lotte Center Hanoi offers an ideal venue for young people to gather, play, and refresh. There, you find department stores (1-6F), office for lease (7-31F), residence and hotel (33-64F), and skywalk – observation deck (65F). The building has various flattering corners for photography, shopping, eating, and sightseeing that keep attracting new visitors. This is one of the best "cradles" in Hanoi where the young people create the "so-deep" photos.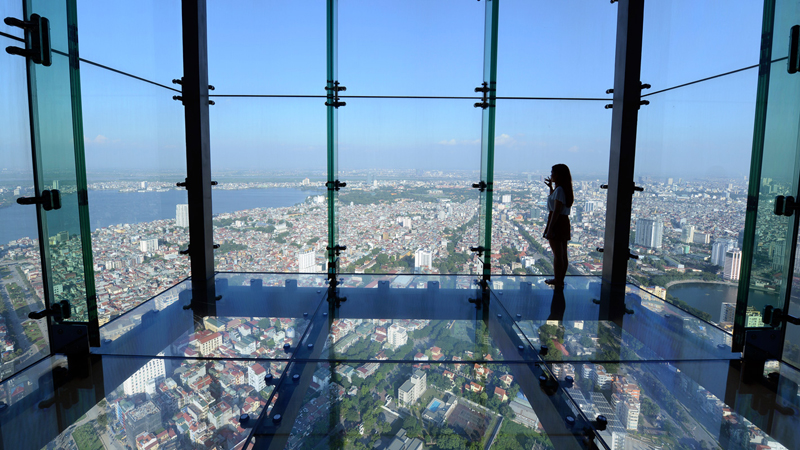 #3: Hanoi Train Street
Hanoi Train Street is nestled in the narrow Tran Phu Street, Hang Bong, Hoan Kiem of Hanoi. It is surely a new place of interest that just some seasoned travelers know. Going to check-in this quirky train street in Hanoi appeals to the young explorers. Located in the Hanoi Old Quarter, this quirky little site has appeared on Pinterest and attracted young explorers to hunt for it. The working railway track is set through the residential streets and bordered by the local houses on two sides. The antique look makes it photogenic and appealing to the youth. There, you can see the local life by the side of the railroad, and if you come early before the train drives past, you will see how the locals vacate the street by moving items away from the tracks, etc.
Taking some photos in this narrow train street in the heart of the city and making sure you're safe because the train runs fast on its own track. It's exciting to be next to something powerful, right? The train will past you no longer than a minute, so the experience is unique and exhilarating, and only you can describe. The trains run at 3:30 PM and 7:30 PM every day. Get there, find a safe spot to watch, and use your camera.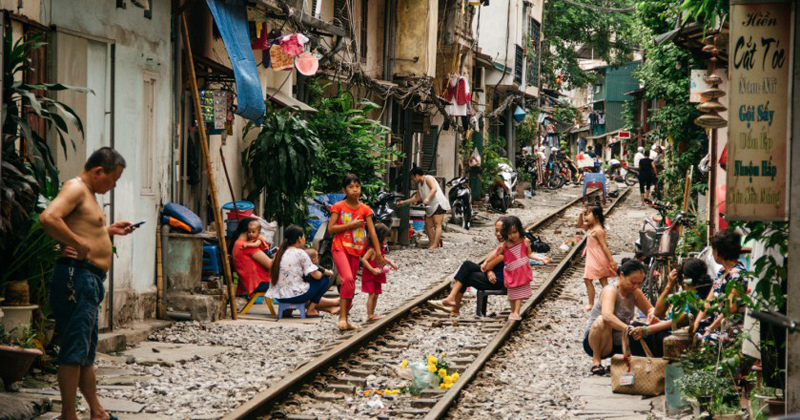 #4: Golden Bridge in Ba Na Hills Da Nang
Almost all netizens appreciate an extraordinary golden bridge in Ba Na Hills Da Nang, and they keep sharing its pictures at various light conditions since June 2018. Held by "hands of Gods," this bridge produces countless photography opportunities. Some describe it as the "golden silk lifted up by the fairy's hands" which is a top landmark in Sun World Ba Na Hills Da Nang. Measures of the bridge are 1.400m high, 150m long, and 8 spans. The highlights of empyreal scenery, stone titan hands, and golden spans make this Bridge a must to check in during tours to Da Nang – the city of bridges.
Amazing, unique, and magnetic, "Cau Vang" or "Cau Ban Tay" has been called world's most striking pedestrian bridge and posted on The Guardian, Art Fido, Somewhere Magazine, HypeBeast, Highsnobeity, etc. It is set nature-friendly to the panorama of mountain, forest, and cloud. The young and la-la souls definitely love visiting Golden Bridge which seems leading up to the sky. You can also welcome the cool air when standing at this 1.400m height.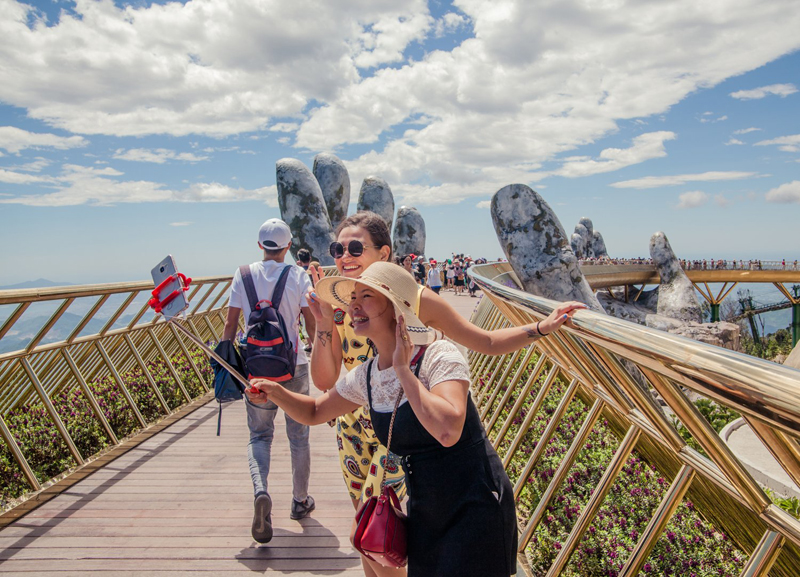 #5: Central Post Office Saigon
Not only historical but also cultural, Central Post Office Saigon has been in the city since the French colonial time and used to be the grandest post office in Southeast Asia. This building was designed in the European style by Villedieu and Alfred Foulhoux and constructed between 1886 and 1891. The large portrait of President Ho Chi Minh, marble floors, red telephone boxes, and French-style architecture are nice to photograph. Sit next to the famous Notre Dame Cathedral, the post office creates the important corners to attract visitors all seasons.
Getting inside the post office, you'll be pleased with the flattering corners for photography such as souvenir booths, red telephone boxes, postcards, etc. Young visitors get there to enjoy a piece of living history by sticking stamps to letter or using antiquated telephone boxes.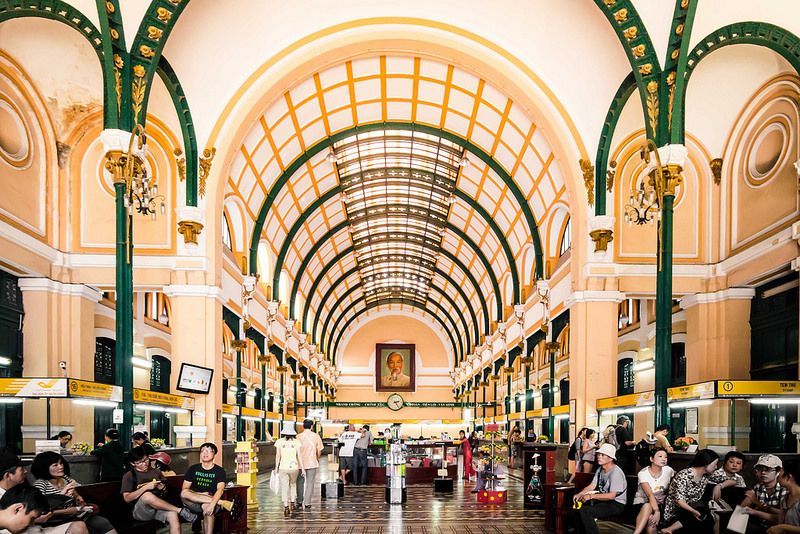 #6: The Landmark 81 Saigon
Vinpearl Luxury Landmark 81 is a new tourism icon in Saigon that surprises locals and foreigners. It is the highest building in Vietnam with 81 floors (at 461,3m height). Inaugurated on 26 July 2018, the skyscraper is a part of the Vinhomes Central Park project. Next to Saigon River, this riverside luxury building offers the fantastic look associated with the rich entertainment elements of cinema, department stores, restaurants, gym centers, indoor ice-skating houses, the 5-star Vinpearl hotels, observation deck, etc.
The Landmark 81 is also one of 10 tallest buildings in Asia. The design of this 81-floor skyscraper is inspired by the Vietnamese bamboo image that reflects solidarity and growth. Having the building as a background, young photographers can boost their creative ideas and create numerous Saigon-based photos which even look "world-class." And, if you get a chance to reach the observation deck, it promises to satisfy you at the 360-degree panorama of Saigon that you see how beautiful and dynamic the city is.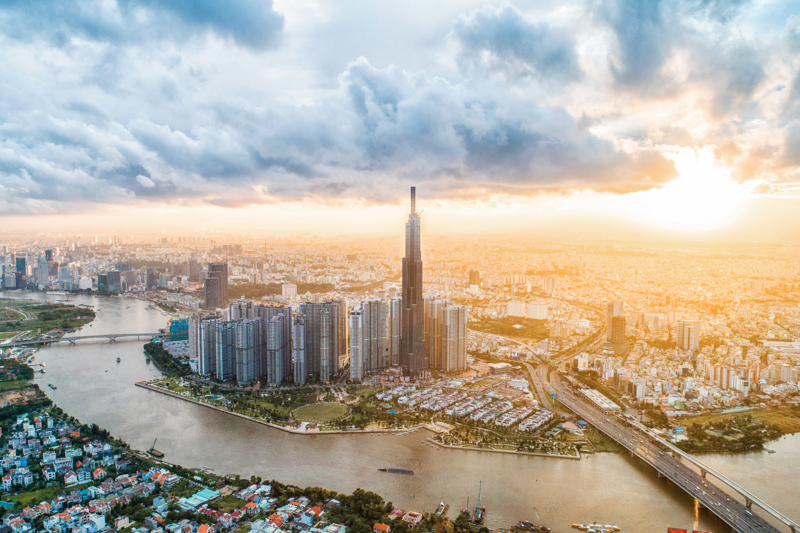 The fantastic and new tourist attractions in Vietnam keep attracting travelers. If you love adventures and are not afraid of the height, Fansipan Mountain in Sapa and Golden Bridge in Ba Na Hills Da Nang are the right spots to see. Then, if you enjoy the modern skyscraper views, Lotte Center Hanoi and The Landmark 81 will please you. Look for historical and remarkable sites? Hanoi Train Street and Central Post Office Saigon are the answers.
Sharing on honeymoon destination and activities in Vietnam