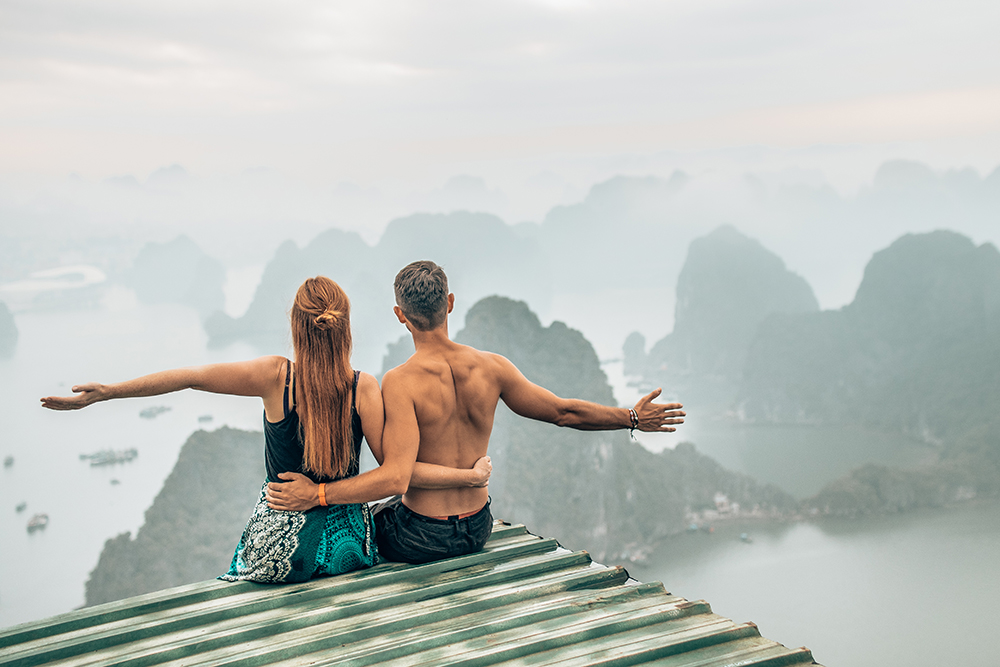 Is Vietnam a Good Place for Honeymoon? Things to Know before Traveling
Breathtaking scenery, cultural features and affordable prices are three of the reasons why Vietnam is such a good place for couples going on honeymoon.
Is Vietnam a good place for honeymoon or not is a frequent question for young couples. As a country with wondrous coastlines, lush forests, fresh tropical fruits, friendly locals and interesting history, Vietnam should definitely be on your list of places to visit. The travel site The Travel based in Quebec (Canada) introduced Vietnam attractively as above at the beginning of the article 10 reasons why Vietnam should be on your "bucket list" – a list of things that someone wants to do before they die.
According to The Travel, there are many reasons tourists should visit Vietnam at least once in their life. Here are the 10 most typical reasons that make Vietnam a good place for honeymoon vacation.
10 reasons to make Vietnam the good place for honeymooners
1. Affordable price
The Travel page says that unlike many other exciting destinations, Vietnam is a place where prices are affordable. This is also a top attraction for backpackers. "You'll get to enjoy some of the world's most beautiful sights without falling short!" – The Travel shared. Previously, some famous travel sites like Trip Savvy also appreciated this factor.
That's right,, there are many ways to save money when traveling through Vietnam such as: hunting tickets of low-cost airlines, using public transport such as buses or trains, finding low-cost accommodation…
2. Peaceful and relaxing
"Vietnam is an ideal destination if you are in need of a break from your busy life. If stress is keeping you busy, a trip to Vietnam could be just what you need as it is full of attractions. Brings peace and relaxation, allowing you to let off steam.
From dramatic landscapes that allow you to immerse yourself in nature to ancient temples that give you a sense of serenity… Vietnam has some places that are super crowded, but there are also places that are extremely quiet" – The Travel description.
3. To understand history from a local perspective
With more than 3,000 years of building and defending the country, Vietnam is an important part of the world's historical picture. Many visitors come here just to discover the local history, admire the surviving monuments, and hear the stories of the people's lives.
4. To immerse yourself in Vietnamese culture
Coming to Vietnam, not only enjoy the beautiful scenery but also have the opportunity to interact with local people and hear their stories about life.
"Putting aside what you know and experiencing the world from the perspective of a Vietnamese farmer, for example, will open your eyes. In doing so, you will not only learn a lot about Vietnamese culture, but also learn many things about yourself" – The Travel wrote.
5. Majestic nature
The scenery in Vietnam is breathtaking. On any journey through this country, you have to stop and ask yourself if the surrounding scenery is real or not. Within the borders of the same country, but there are so many beautiful sights. Beautiful national parks, natural caves among the world's largest, vast green forests, rivers and waterfalls …
6. Outdoor activities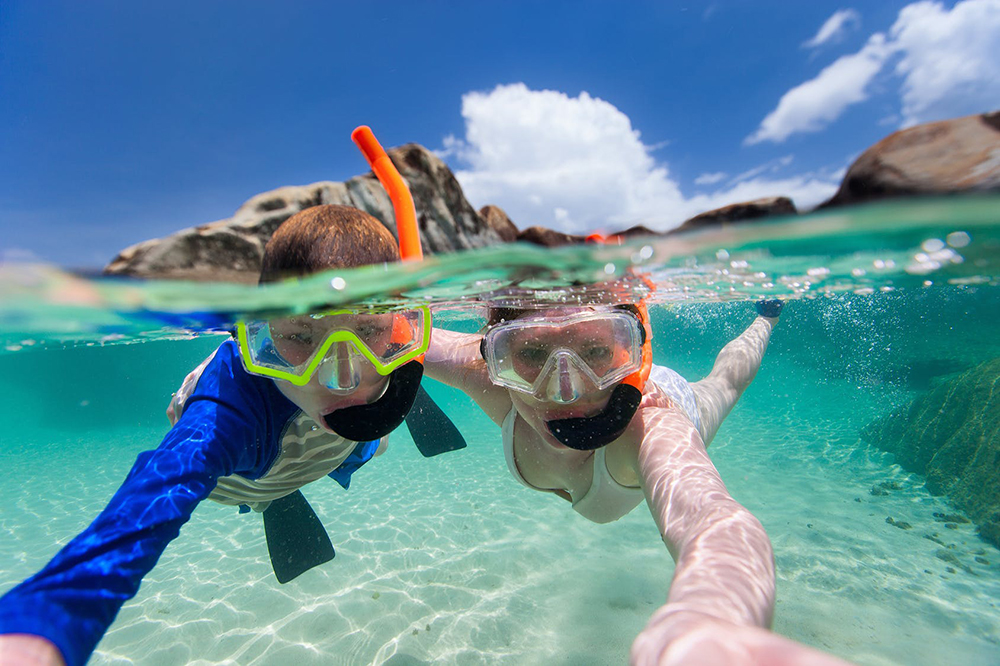 Vietnamese landscapes are not only outstanding, but they are also a great backdrop for some thrilling outdoor activities. Water sports are at the top of the list of favorites, because of the clear blue waters outside the beaches. Vietnam's coastline makes it hard for tourists to resist.
The Travel also suggests that visitors can rent a motorbike and go on a trip to explore the S-shaped country.
7. Many shopping options
Shopping is a must for most tourists when visiting a country. According to The Travel, Vietnam is also an ideal place to talk about this issue.
The Travel suggests: "Browse the markets and you'll find a variety of traditional costumes, trinkets and accessories. In big cities, you can order clothes in less than 24 hours, at an affordable price."
8. Enjoy "real specialties" of Vietnam
"Vietnam's 'addictive' dishes have taken the world by storm, but there's nothing like eating these dishes right here in Vietnam. Although there are many restaurants in big cities, most tourists go to Vietnam to eat them. Customers still love Vietnam street food located along the busy streets.
For the best bowls of pho in your life, or a fresh papaya salad to get you out of the heat, visit Vietnam. The country is also home to some of the freshest seafood on the planet and you won't stop at the first plate!" – The Travel describes.
9. Fresh tropical fruit
This Canada travel site piqued the curiosity of visitors: "You'll find fruits you know back home like pineapple, mango, watermelon and banana, but in Vietnam, they're surprisingly fresh and delicious. often and will give you unrealistic standards forever. It's also your chance to try all-new tropical fruits."
10. Rice wine or corn wine
"To pair with tropical fruit, you need a really good drink. Chasing the Unexpected travel site believes that rice wine or corn wine is so great that it's one of the reasons you should visit Vietnam first.
This drink has a slightly different composition depending on where you are in Vietnam. It tastes similar to vodka and is sometimes referred to as the 'happy drink'. You can't leave Vietnam without trying some of this wine," – shared by The Travel.
Is Vietnam a Good Place for Honeymoon Round Year?
For a successful honeymoon, you have to prepare well for your departure, and make sure you have ideal weather. Indeed, the Vietnamese climate is divided into two seasons: the rainy season and the dry season. The latter runs from December to May, which is the best time to enjoy the country. However, to enjoy the best climate both in the air and in the water, favor the months of February, March and November.
If you cannot choose the concerned  ideal time for the whole Vietnam honeymoon itinerary, you can still refer to the best places to explore each season by knowing the climate of Vietnam.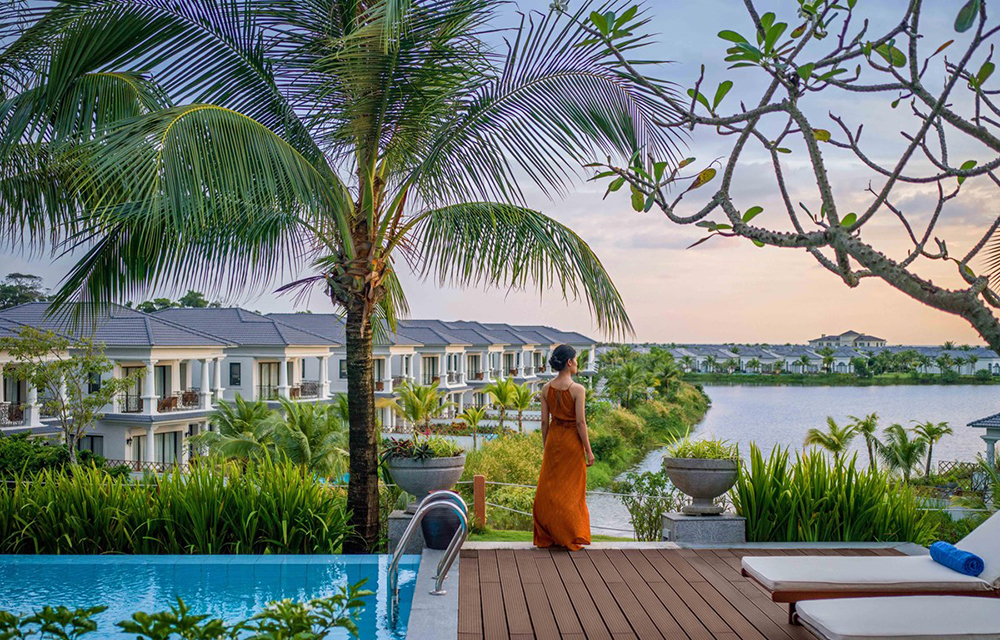 Know more about Vietnam's climate
Bordering China, Laos, and Cambodia, Vietnam, like many countries in Southeast Asia, enjoys a hot and humid climate over almost the entire territory.
Indeed, Vietnam has a tropical climate in the South and subtropical in the North. It is influenced by the different monsoons. In the plains, there is often high humidity, while in the mountains, such as Sapa and Dong Van, the climate is milder and drier.
The climate in Vietnam is marked by the alternation of two seasons: a dry and sunny season, which takes place rather in winter and a wet season, where temperatures are higher, in summer
Of course, it is the dry season that is preferred for traveling to Vietnam. However, although the wet season often scares tourists, it is quite possible to visit Vietnam during this time.
Indeed, the rain does not fall all day during the rainy season (or monsoon) in Vietnam. The precipitation mostly occurs in the late afternoon or at night, in the form of showers. This therefore makes sightseeing and outdoor activities possible. In addition, this precipitation brings a particularly appreciable freshness.
The weather in Vietnam is very different from region to region. Let's take a look at these variations in climate, region by region.
Climate in Northern Vietnam
The climate of Vietnam, in the north, as towards Hanoi or Halong Bay, benefits from what is called "Vietnamese winter".
This period, located between November and early May, has cooler weather with temperatures between 20 and 30 ° C during the day, which can drop further during the night. However, the weather is generally gray and rainy in this area, making the weather a bit gloomy. A fine rain can fall continuously which is not very pleasant for visitors and photographers.
The months of November and December, when rainfall is the lowest, will be preferred.
In addition, in the northwest, in the mountainous regions, the climate is more pleasant, with higher temperatures and less rain.
Summer, meanwhile, runs from May to September. It corresponds to the wet season with 15 or more rainy days in the month. Precipitation is very important in June, July and August. On the other hand, it is the hottest period with temperatures often above 30 ° C during the day. The humidity in the air and the constant heat make the atmosphere quite moist. During this period, particularly powerful typhoons can affect the coastline and cause damage.
Climate in the Central Vietnam
The Central Vietnam is just as humid as the rest of the country, but rainfall is even higher between November and the end of January. Indeed, the wet season is shifted from the north.
This region is also subject to a summer monsoon which runs from May to November. It is during this period that temperatures are highest, especially between May and August, when the mercury often reaches over 30 ° C in this part of Vietnam. On the Highlands, you can still benefit from more pleasant temperatures than on the coast.
Watch out for typhoons that can form between September and October, when the monsoon changes. The city of Hue in particular suffers a lot from flooding during this period of the year.
Thus, the best time to visit this region is especially between February and May. It is the driest and sunniest season and the temperatures are mild.
Finally, it is in this part of the country that we find the city considered to be the most pleasant in Vietnam in terms of weather. Indeed, Nha Trang enjoys a particularly pleasant microclimate with lots of sun and high temperatures. The climate is favorable there from January to September.
Climate in the Southern Vietnam
The south of Vietnam, towards Ho Chi Minh City or the island of Phu Quoc, enjoys a dry and sunny period between November and April. The driest month is February. In addition, with average temperatures between 30 and 36 ° C, the hottest months of the year are March and April. This heat wave announces the wet season…
Indeed, the rainy season extends from May to September. It is characterized by an increase in precipitation which reaches its peak in July. Summer is therefore a period to avoid if you are planning a trip to southern Vietnam. Phu Quoc Island, for example, becomes impassable due to heavy rains during this period.
Finally, it will be necessary to be vigilant in relation to the floods of the Mekong which can be quite significant in August and September.
10 Top Vietnam Honeymoon Destinations Voted by Travelers
Most tourists coming to Vietnam are attracted by the extremely beautiful natural landscape. From long white sandy beaches, beautiful turquoise sea to dense tropical forests or sky-high mountains. Vietnam is really a romantic paradise for couples or tourists from far away who want to find a peaceful place to relax.
1.      Sapa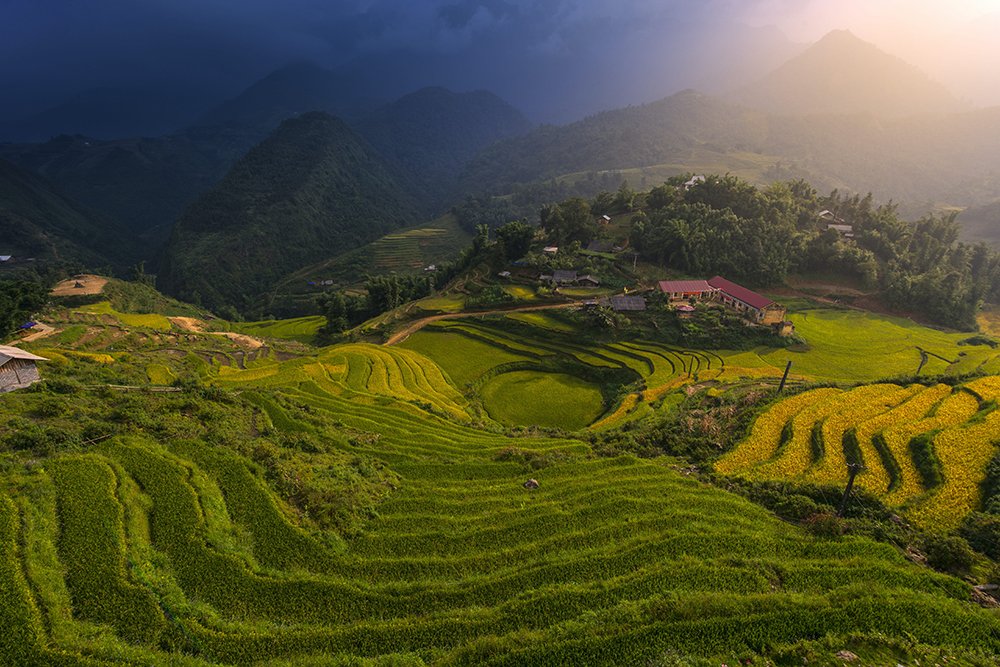 What place to include in the Vietnam honeymoon package in the North? Sapa is the first suggestion that you should not ignore. An ancient town hidden in the fog, along with the cool climate, becomes an ideal destination for a dating couple.
Famous Sapa tourist attractions must be mentioned: Fansipan peak, Ham Rong mountain, Sapa heaven gate, Silver waterfall, love waterfall, Muong Hoa valley, Sapa stone church, peaceful villages and resorts. Besides, you can also enjoy a lot of local delicious specialties in Sapa town.
In addition, traveling to Sapa, couples also learn about the unique culture of ethnic minorities. You have chance to admire the golden terraced fields or watch the clouds floating in the sky in trekking through Hmong and Dzao people villages. There are many other interesting things in Sapa waiting for you to discover. If the two of you still don't know where to go for romance and adventure, then Sapa is an ideal destination that should not be missed.
2.      Ha Long Bay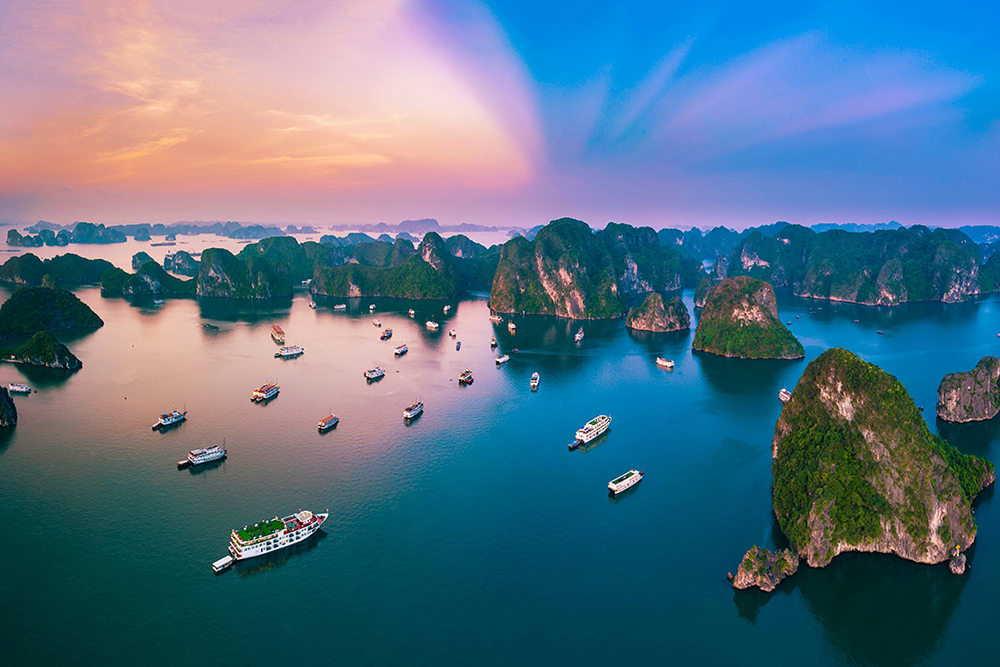 In recent years, the UNESCO World Heritage Site Ha Long Bay has received a lot of attention from tourists. You will be conquered by the beauty of the water here. Ha Long Bay is a famous destination in Quang Ninh province, with nearly 1600 large and small islands creating a rare beauty.
To explore the beautiful scenery of the legendary bay, there are several activities including kayaking, trekking on island, swimming, exploring caves…. Ha Long Bay has clear blue sea water, with abundant waves and famous natural caves such as Dau Go cave, Thien Cung cave…
The charming beauty of water paint helps your love sublimate. Besides the natural scenery, Ha Long also has famous entertainment areas such as Sunworld. You will find a feeling of freshness, youth and enthusiasm in your love.
3.      Hanoi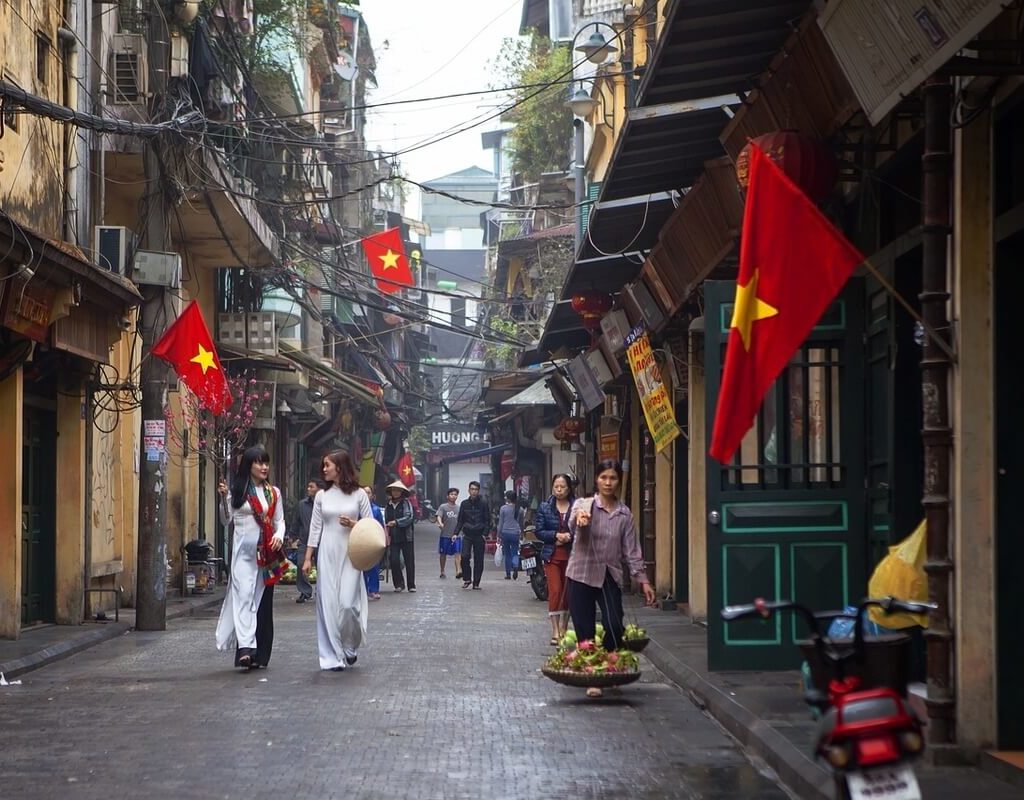 If you still haven't found yourself a romantic destination for couples in Vietnam, then Hanoi is the ideal destination. The capital brings a gentle, quiet space to create a peaceful atmosphere mixed with passionate love when two people share the same roof. Because Hanoi is the home, the warmest place of Vietnamese people.
Traveling to Hanoi, couples can explore destinations such as dating at sunset in West Lake, Hanoi's Old Quarter, Long Bien Old Bridge or walking hand in hand around famous streets such as Kim Ma, Thanh Nien, etc. Phan Dinh Phung…
Hanoi is in list of 10 top honeymoon destinations in Vietnam that you should not miss. Besides the delicious food for you to enjoy, there is also a friendly and hospitable atmosphere and people that make you not want to leave.
4.      Quang Binh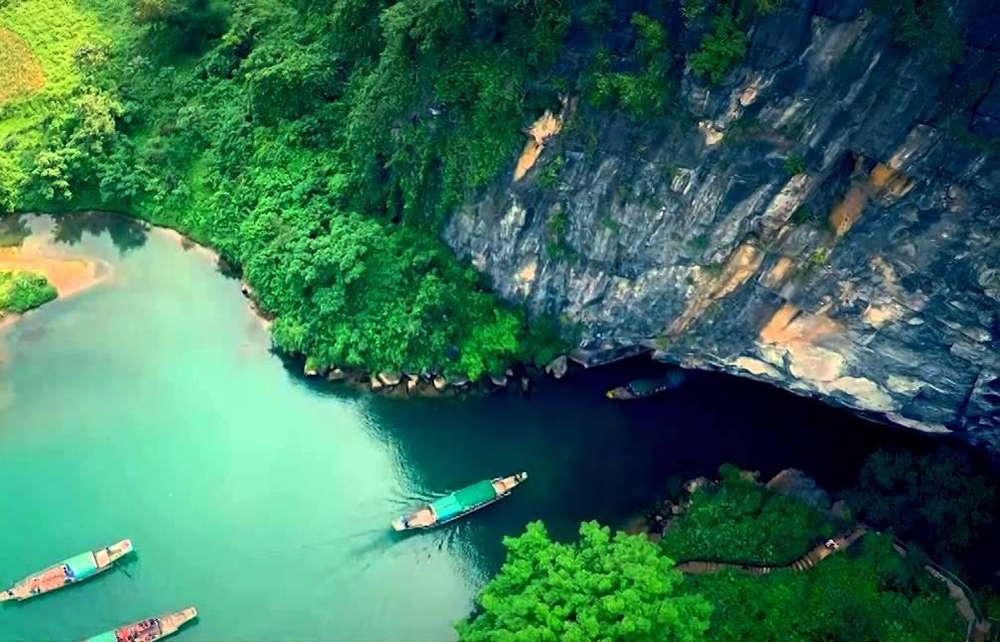 Quang Binh is famous for its magnificent scenery, charming mountains, and features of plains, mountains, rivers, seas, islands with many beautiful natural landscapes and famous landscapes: Ngang pass, Vung Chua Dao Yen, Da Nhay beach, Nhat Le beach… Especially Phong Nha Ke Bang National Park is recognized by Unesco as a World Natural Heritage. Phong Nha Ke Bang area has a magnificent cave system known as the "Kingdom of Caves" where there are many hidden mysteries and attractions such as Phong Nha Cave, Tien Son Cave, Dark Cave, Paradise Cave…, The most prominent of which is Hang Son Doong – the largest cave in the world (ranked by Business Insider magazine in the list of 12 most magnificent caves in the world).
Thanks to the natural landscape including the sea, forests, rivers and streams, and caves, Quang Binh has become an attraction for tourists who are passionate about eco-tourism and couples who love to explore the nature in mart style.
5.      Hue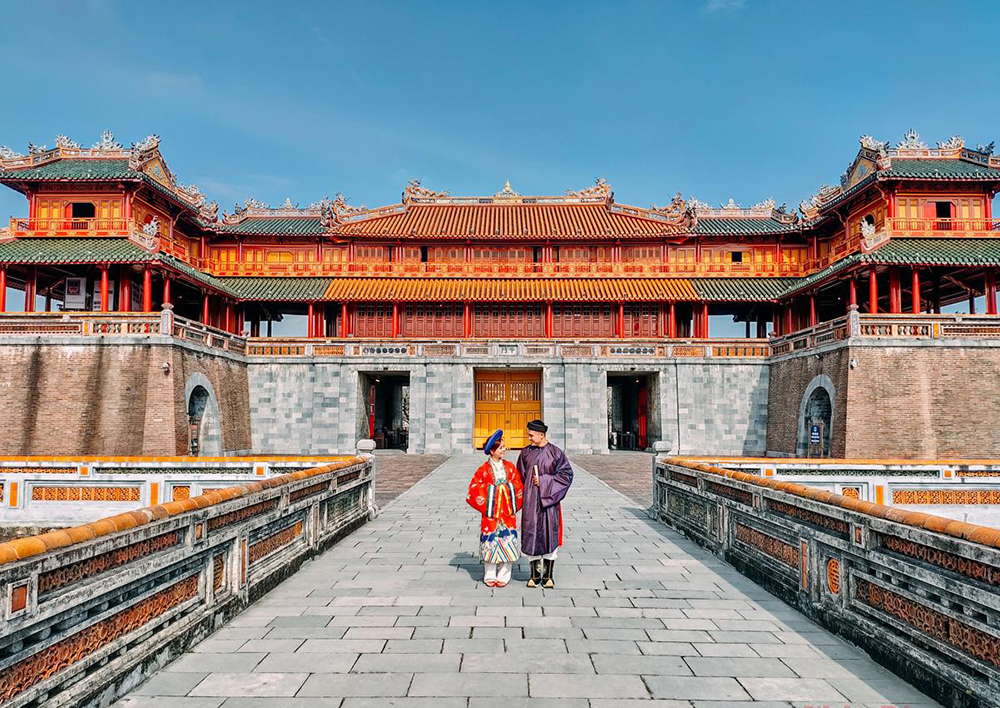 The dreamy city of Hue is a romantic destination for couples, with famous locations. The nature favors Hue with many beautiful landscapes, but Hue really shines with the tangible and intangible cultural values ​​created by humans. This place is the convergence of cultural quintessence, creating a spirit, a very unique nuance of Hue.
Hue has many attractions: the Citadel (Royal Citadel) and the relics of the Citadel area, other points can be mentioned such as Bach Dang old town, Chi Lang, Buddhist architectural works, garden houses, etc. craft villages…, go out and shop at Dong Ba market. Going further to the suburbs, you can go to the mausoleum relics such as Gia Long Tomb, Minh Mang Tomb, Tu Duc Tomb… or take a sightseeing tour of the Perfume River, to villages and lagoons – also very interesting.
6.      Hoi An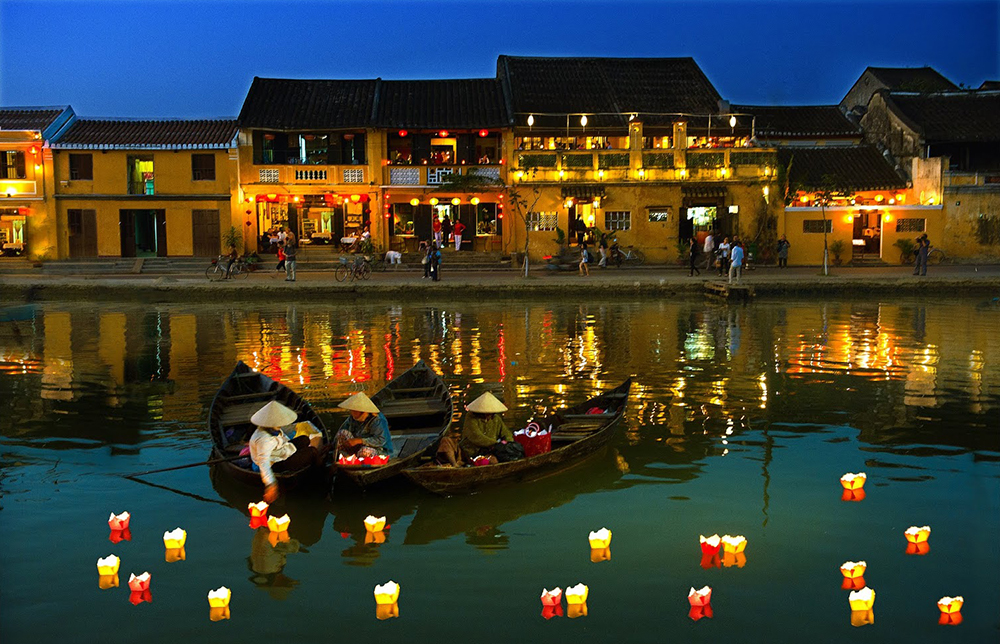 Hoi An Ancient Town is a place chosen by many couples for their honeymoon. Hoi An Ancient Town is located on the Thu Bon River, possessing many architectural heritages dating back hundreds of years. This place has been recognized as a UNESCO Cultural Heritage Site since 1999. In 2018, the travel magazine Travel Leisure voted Hoi An as one of the 15 most attractive destinations on the planet.
Hoi An is most beautiful when wearing the shimmering lights under the moonlight. Hoi An Ancient Town possesses the perfect blend of Japanese, Vietnamese and European cultures. In addition, Hoi An ancient town cuisine is also rated by many tourists as the best in Asia with dishes such as: Crispy fried pancakes, Cao Lau, and Quang noodles that are attractive both in taste and presentation.
7.      Mui Ne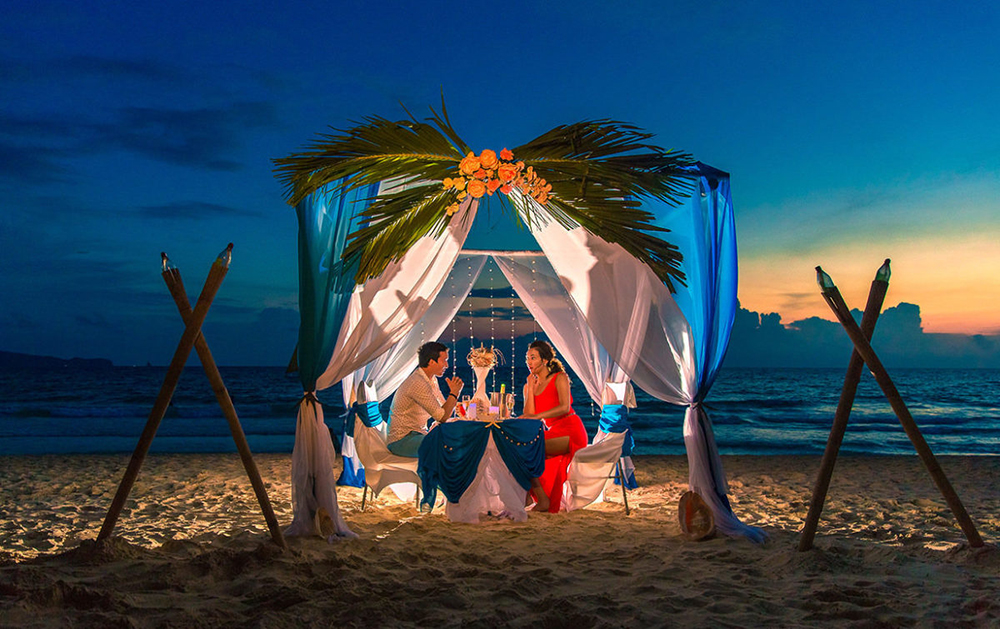 Phan Thiet Mui Ne is one of the most romantic tourist destinations for couples in Vietnam today. Mui Ne has long become an attractive tourist destination for tourists with vast white sand dunes and soaring coconut trees winding around the coast. Especially, Mui Ne owns one of the most beautiful beaches in Southeast Asia with clear blue sea and wide sand dunes.
Traveling to Mui Ne, couples will have many romantic experiences such as: Sand skiing, watching the sunset and sunrise on the sea, participating in sports activities such as kitesurfing, scuba diving or boating to see Bau Trang, Bau Sen In the midst of thousands of fragrant lotus flowers…
8.      Da Lat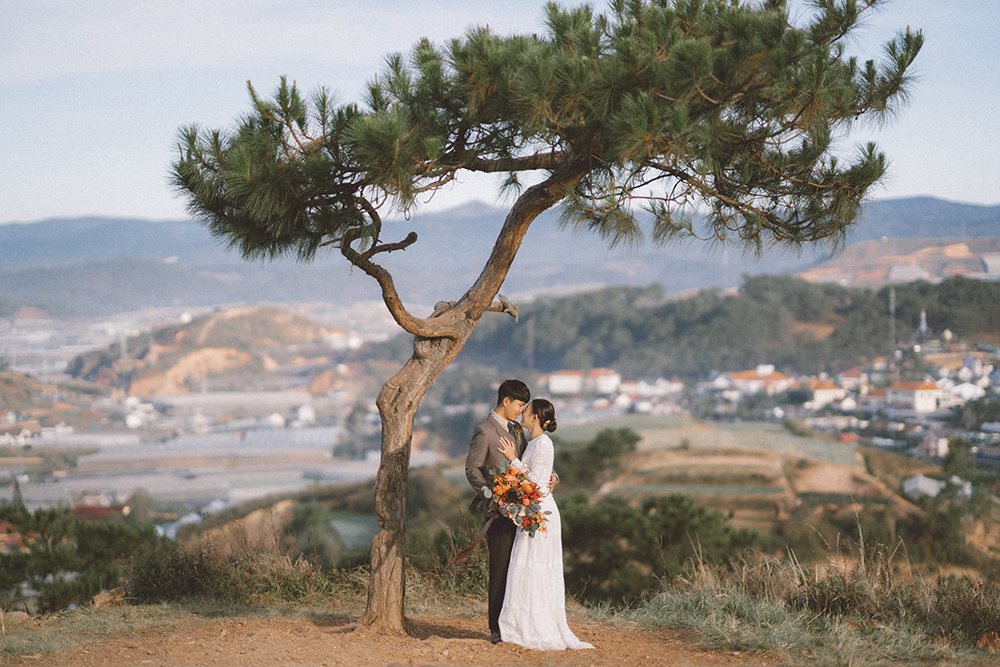 Da Lat is known as the "city of love", a romantic dating place that is loved by many people. Da Lat is a great resort location, an ideal dating spot for couples in love. Nature has bestowed Da Lat with the beauty of a dreamy, romantic and sweet land.
The quiet, poetic setting is especially suitable for couples who are or are about to fall in love. The sadness, cold and beauty of Da Lat makes everyone want a warm hand to hold, a firm shoulder to lean on so that their heart does not feel lonely and empty.
In particular, Da Lat is a very famous honeymoon destination chosen by many couples. Dalat tourism is attractive with many flowers, romantic atmosphere and beautiful scenery that attracts people. The romantic and ideal places to date in Da Lat must be mentioned: Valley of Love, Xuan Huong Lake, Dalat flower garden, Langbiang peak, …
9.      Con Dao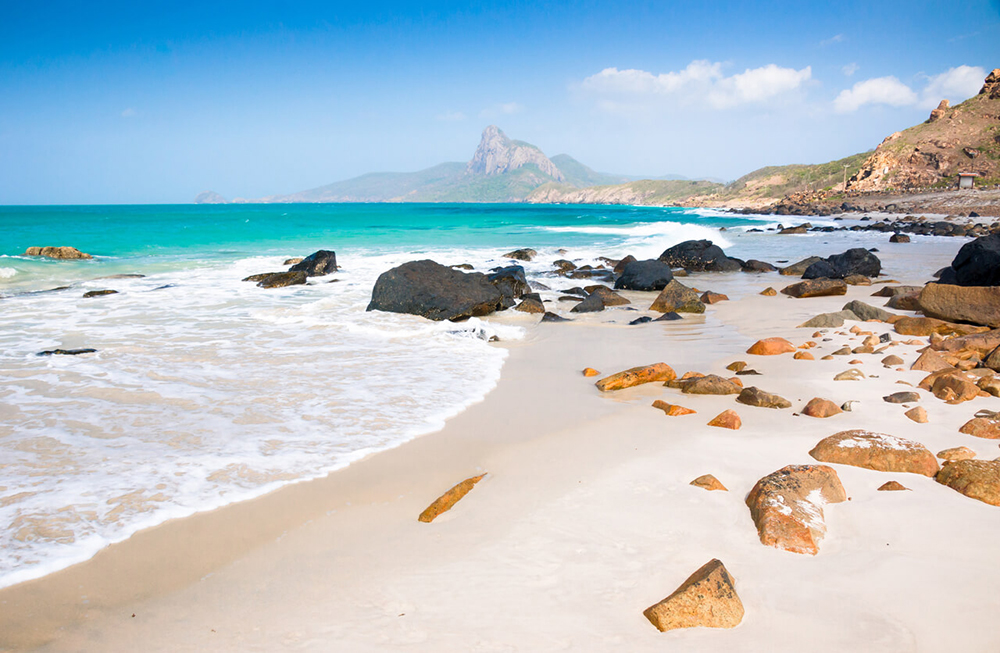 A destination not to be missed in the top of the most romantic places in Vietnam is Con Dao. Located in Ba Ria – Vung Tau province, every year this place attracts many domestic and foreign tourists. If both of you want to escape from the hustle and bustle of life, let's hold hands to this beautiful island.
The green landscape blending in the rich and beautiful coral reefs gives the young couple a peaceful feeling during their honeymoon. Starting to step into a sweet and happy married life in a peaceful space like Con Dao will be an unforgettable memory for the two of you.
10.  Phu Quoc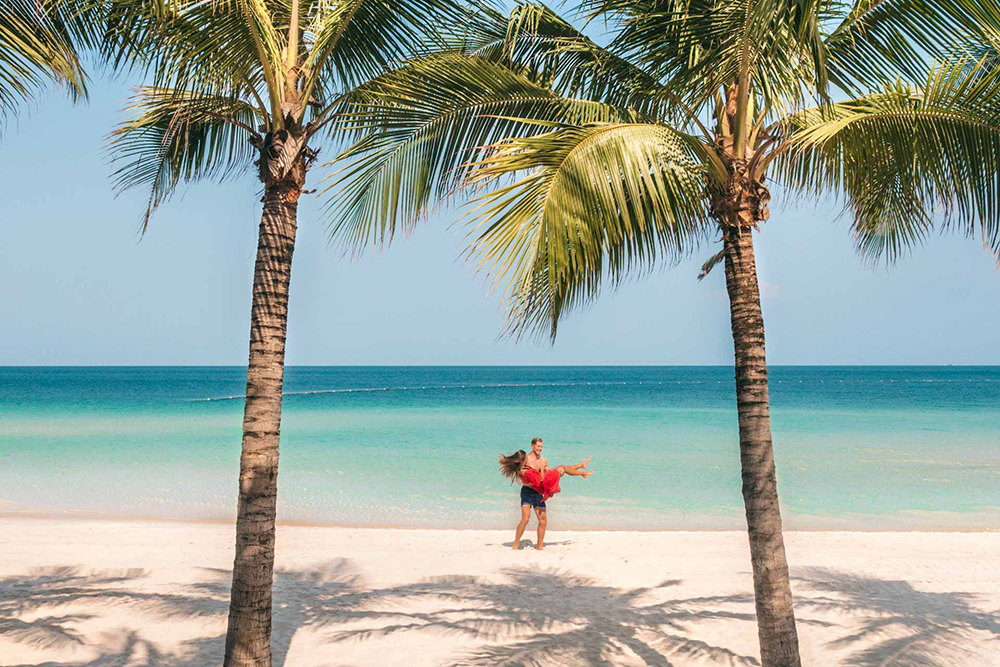 The final destination in the journey to discover the most romantic tourist destinations for couples in Vietnam is Phu Quoc. Phu Quoc is a favorite destination for couples who want to enjoy the fresh feeling from the blue beaches, white sand. The dreamy, romantic beauty at night here is a beautiful sight that no one can ignore.
Phu Quoc pearl island is likened to the "Pearl in the heart of the ocean", favored by nature with its long white sand beach and beautiful mountain ranges. Phu Quoc is located in the south of our country, convenient for all visitors from all regions. Besides, traveling to Phu Quoc, visitors can also enjoy a variety of fresh seafood dishes. In particular, Phu Quoc tourism owns luxury resorts for a more romantic and memorable trip.
Hopefully, with the most romantic tourist destinations for couples in Vietnam above, it will help you and "the one" choose for themselves the most satisfactory destination to celebrate your unforgettable holiday.
Most Romantic Resorts in Vietnam
Is Vietnam a good place for honeymoon with chance to stay in luxury resorts? The answer is YES. Besides the famous natural wonders, Vietnam is a destination for honeymoon vacation also because it has many high-class, luxurious and romantic resorts. Vietnam Honeymoon Travel introduce 10 most romantic resorts in Vietnam with wonderful natural scenery and high-class services.
1. The Nam Hai Resort (Hoi An)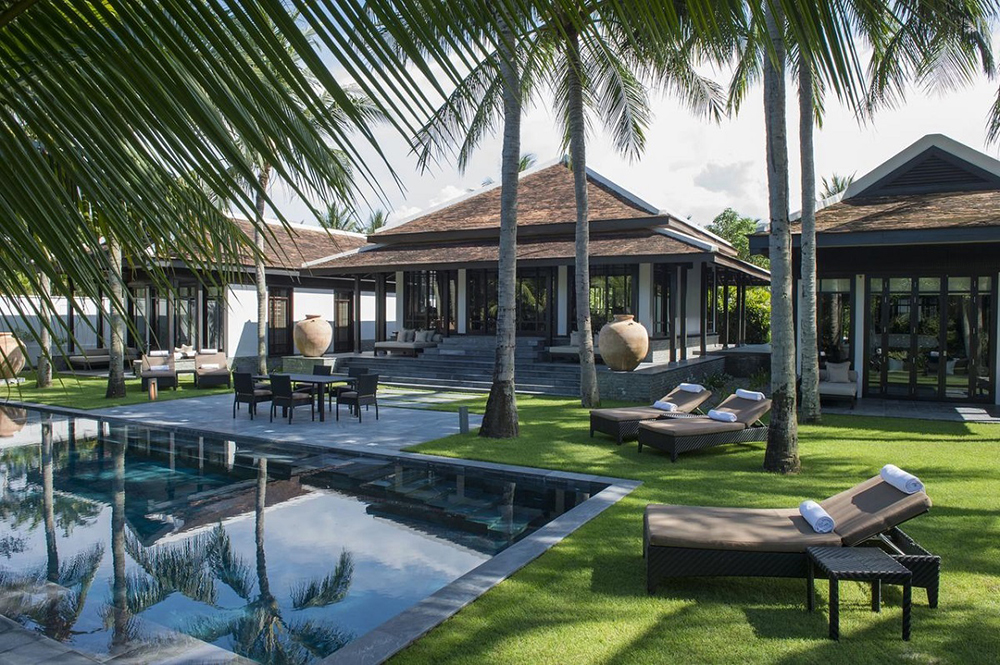 The Nam Hai Resort is one of the most romantic and classy resorts in Vietnam. The Nam Hai Resort is attractive with a harmonious design that combines the modern features of Western architecture with the serenity of Asian culture, bringing many new experiences to visitors. Coming to The Nam Hai Resort Hoi An, you have chance to relax in luxury villas with beautiful sea views, health care services such as steam sauna, herbal sauna, hot stone massage…
2. InterContinental Danang Sun Peninsula (Da Nang)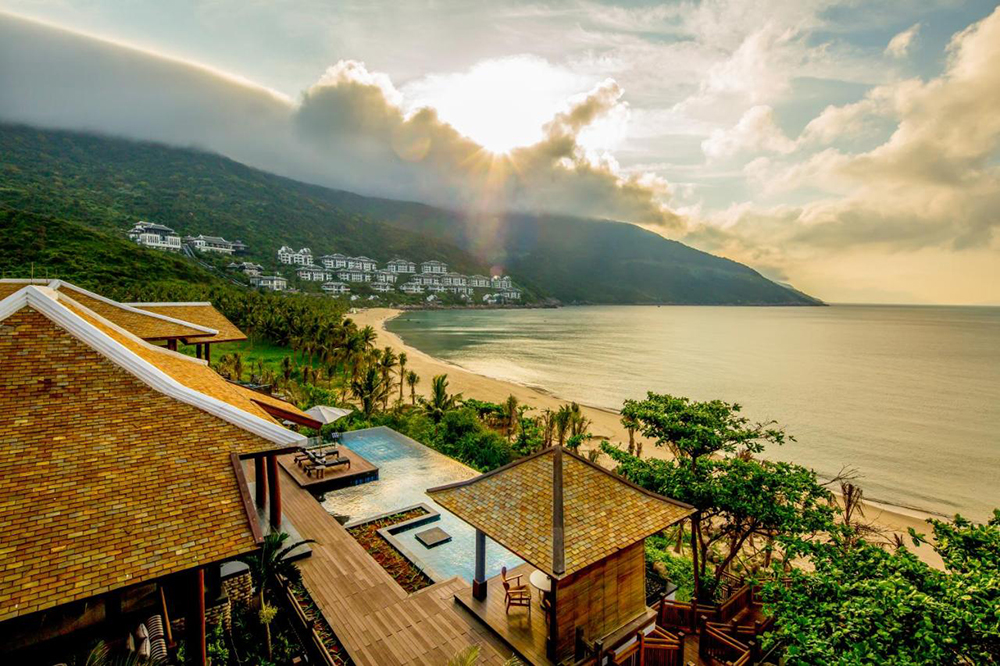 Is Vietnam a good place for honeymoon of romantic and luxury style?  InterContinental Danang Sun Peninsula was ranked by World Travel Awards as one of the most luxurious resorts in Asia in 2014, attracting many domestic and foreign tourists to rest and relax. InterContinental Danang Sun Peninsula is considered the most beautiful resort in Vietnam not only because of the beautiful natural scenery with the vast sea in front, the green mountains behind; but also due to its eco-friendly design, bringing a very cool and fresh atmosphere to anyone staying here.
3. Princess d'Annam Resort & Spa (Binh Thuan)
The most beautiful resort Princess d'Annam Resort & Spa is located at Ke Ga cape with luxurious design, beautiful sea view and airy and quiet space, which has become a resting choice for many tourists when coming to Binh Thuan. Coming to Princess d'Annam Resort & Spa, visitors will be attracted by the delicate romance of the beachfront restaurant with typical French architecture and extremely impressive with luxurious interiors of high-class rooms.
4. Amanoi Resort (Ninh Thuan)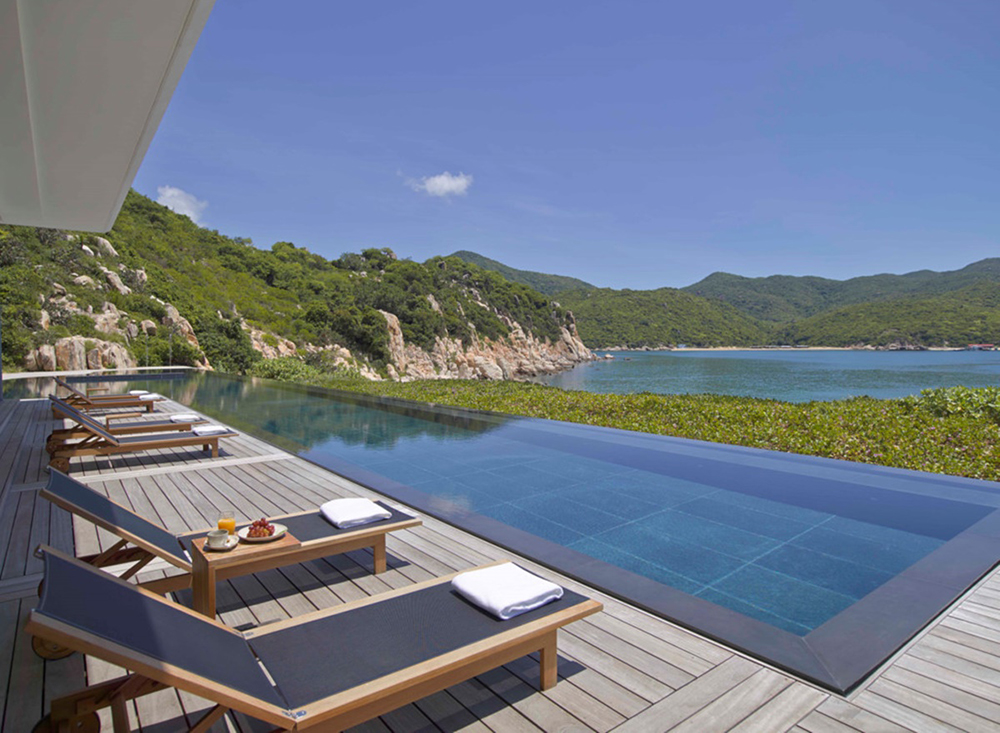 Is Vietnam a good place for honeymoon in top luxury level? Amanoi Resort is the most luxurious and expensive resort, with the highest room rate up to 100 million VND per night. The reason that Amanoi Resort has such an amazing price is due to its beautiful view over the ocean, extremely quiet and extremely high quality service. Staying at Amanoi Resort, visitors will have the most relaxing moments in the most beautiful space surrounded by mountains and forests and the panoramic view of the beautiful Vinh Hy Bay.
5. Six Senses Ninh Van Bay (Khanh Hoa)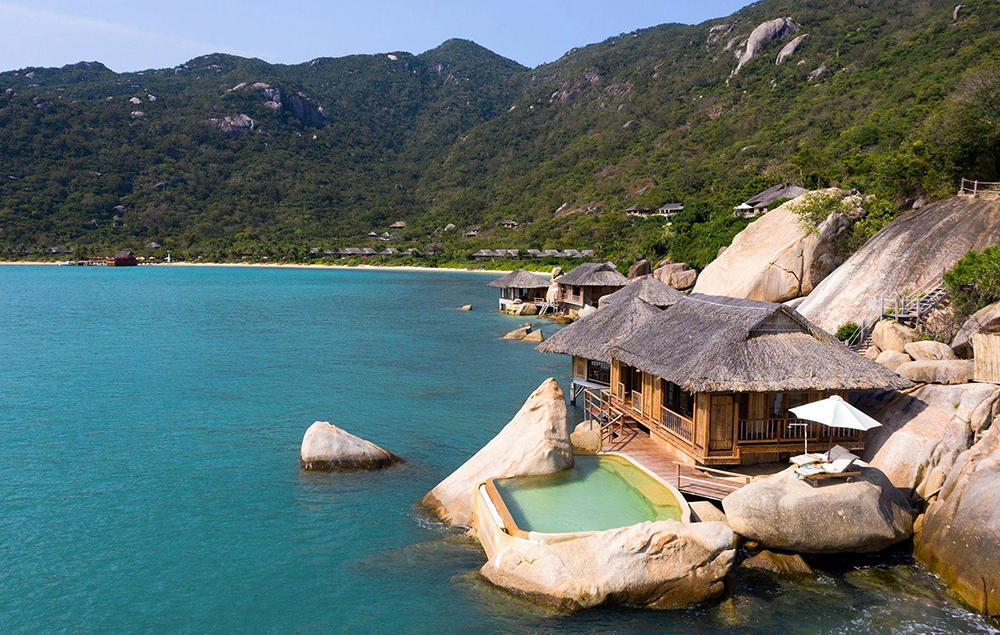 Is Vietnam a good place for honeymoon isolated on island? Six Senses Ninh Van Bay is the most romantic resort that all couples want to stay once in their life to admire the ravishing scenery and enjoy the super-luxury services here. Spend the honeymoon at Six Senses Ninh Van Bay, you will be immersed in nature in the most authentic and closest way because the space here is designed open and uses natural materials to bring a sense of lightness and relaxation. In particular, Six Senses Ninh Van Bay also has an outdoor cinema next to the extremely romantic and luxurious beach.
6. Six Senses Con Dao (Ba Ria – Vung Tau)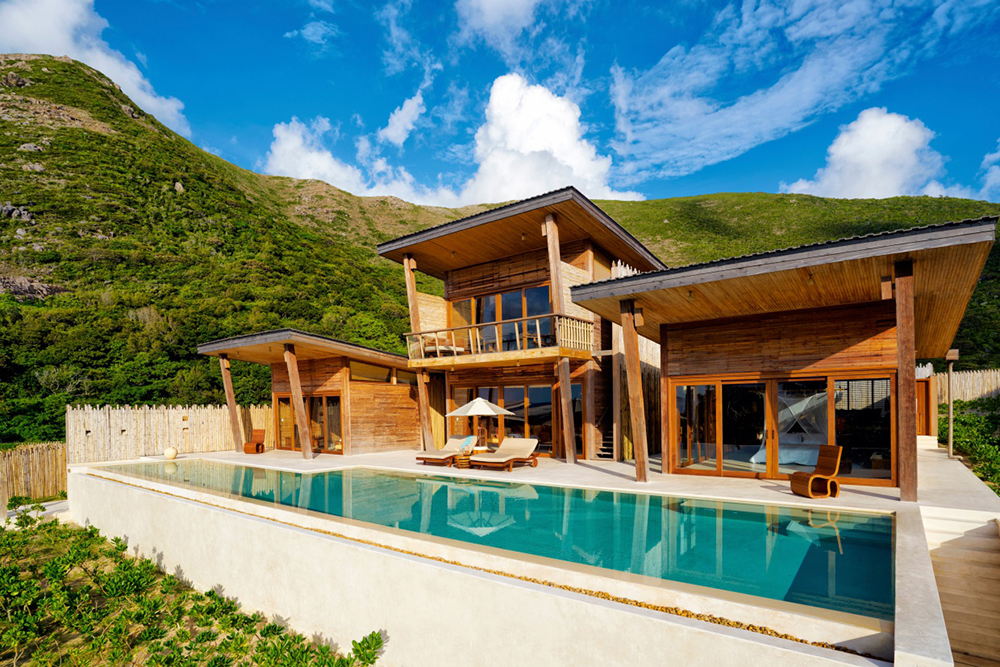 Located right on the pristine coast, Six Senses Con Dao owns a wonderfully beautiful sea landscape that is both romantic and peaceful. In particular, Six Senses Con Dao is designed with an environmentally friendly architecture with an absolute open space, making the most of the air and natural light to limit power consumption, helping to save fuel.  That is the reason why Six Senses Con Dao is highly ranked because it is not only the most beautiful resort in Vietnam but also the most environmentally friendly green resort.
7. Banyan Tree Lang Co Resort (Hue)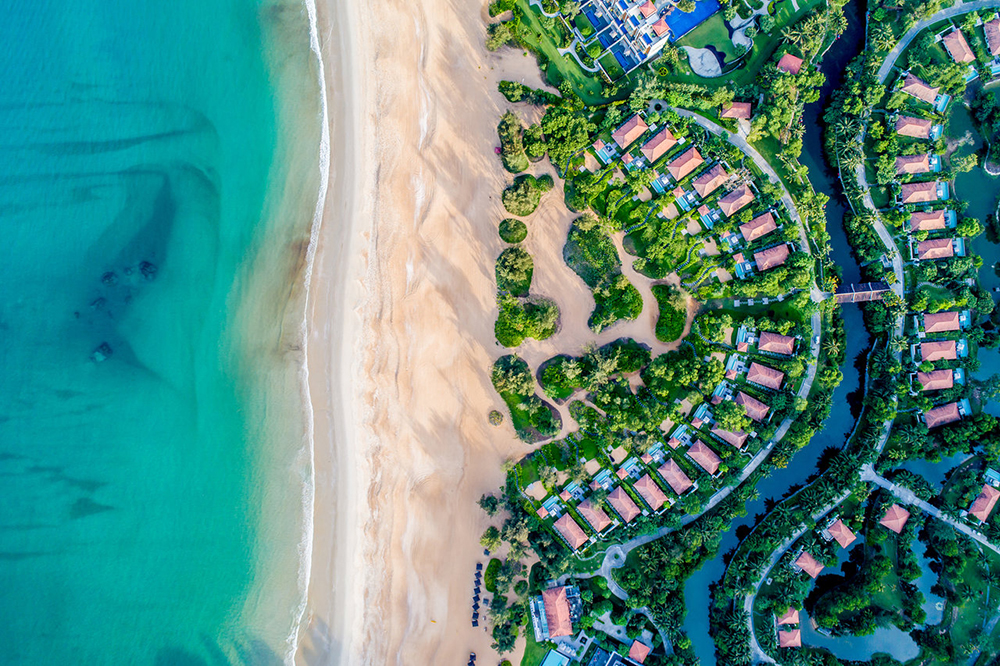 Is Vietnam a good place for honeymoon vacation away from the crowd? Banyan Tree Lang Co Resort is the perfect choice for an extremely quiet rest and comfortable relaxation, away from all the noise of life. Not only owning beaches with white sand, brilliant blue sea, Banyan Tree Lang Co Resort is also extremely attractive with green mountain space, fresh and cool air and ancient architecture with distinctive Hue features.
8. Fusion Maia Danang Resort (Da Nang)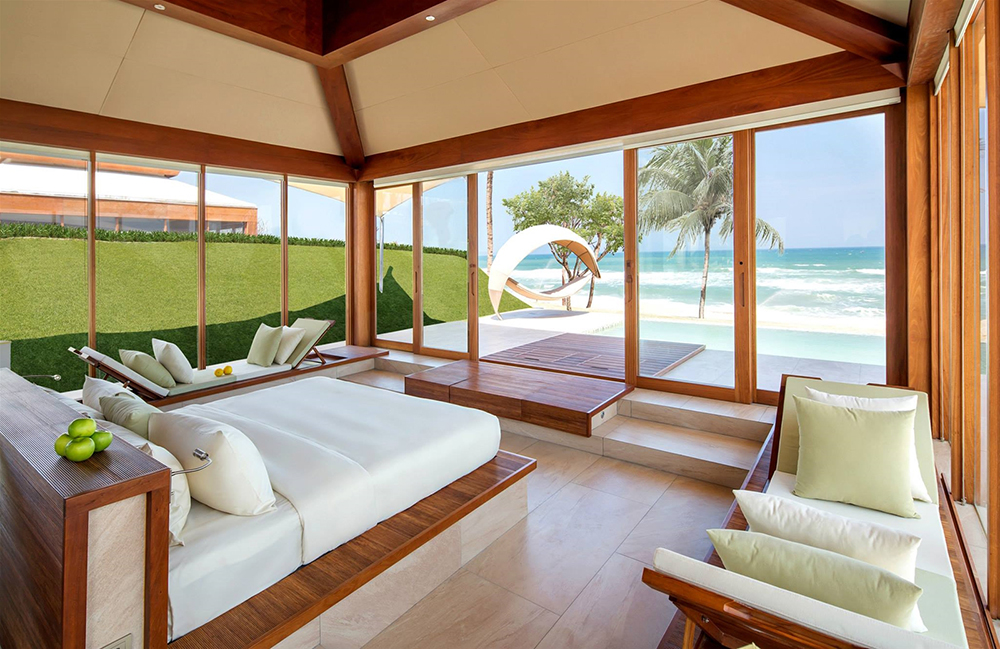 Fusion Maia Danang Resort is one of the most romantic resorts in Vietnam, a destination not to be missed in your Da Nang trip to enjoy the beautiful seascape in a very quiet private space. Compared to InterContinental Danang Sun Peninsula, Fusion Maia Danang Resort has a relatively softer service price of only about 9 million VND to about 26 million VND. The opportunity to enjoy luxurious services and relax in the luxury villas at this resort is somewhat affordable for many couples.
9. The Shell Resort & Spa (Phu Quoc)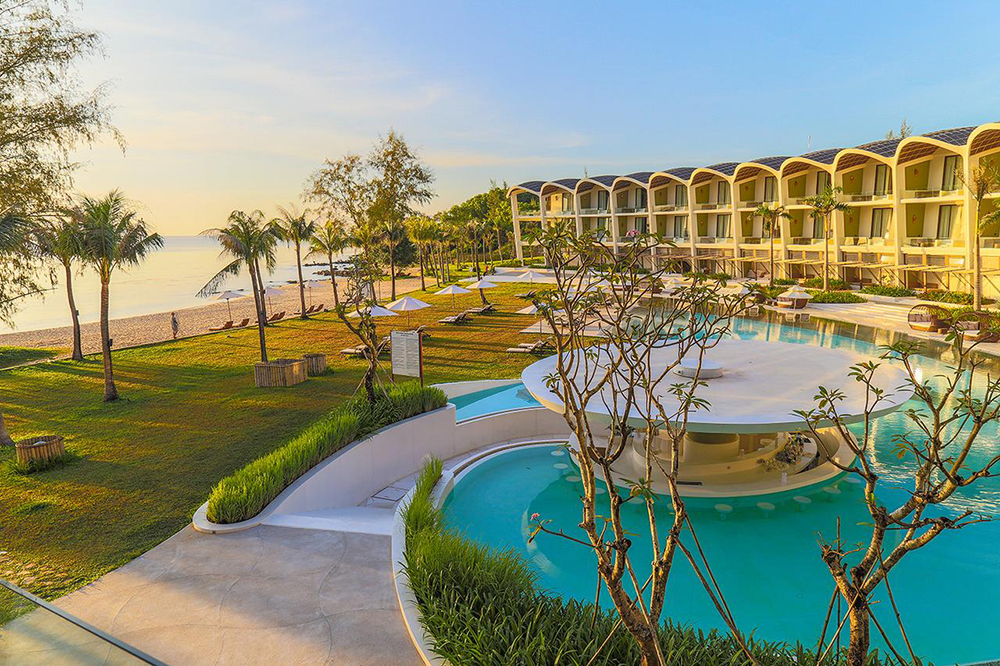 The Shell Resort & Spa is the first 5-star resort in Phu Quoc and is rated as one of the most beautiful resorts in Vietnam. The Shell Resort & Spa is designed with a unique style that simulates the image of giant sea scallops located in the middle of the immense sea forest, bringing a beautiful space. Coming to The Shell Resort & Spa, you will rest in luxuriously furnished rooms, relax with special spa treatments, have fun with many entertainment spots such as golf courses, karaoke rooms. … and experience many interesting challenges such as windsurfing, canoeing – jet skiing, mountain climbing, parachuting, etc.
10. Amiana Resort (Nha Trang)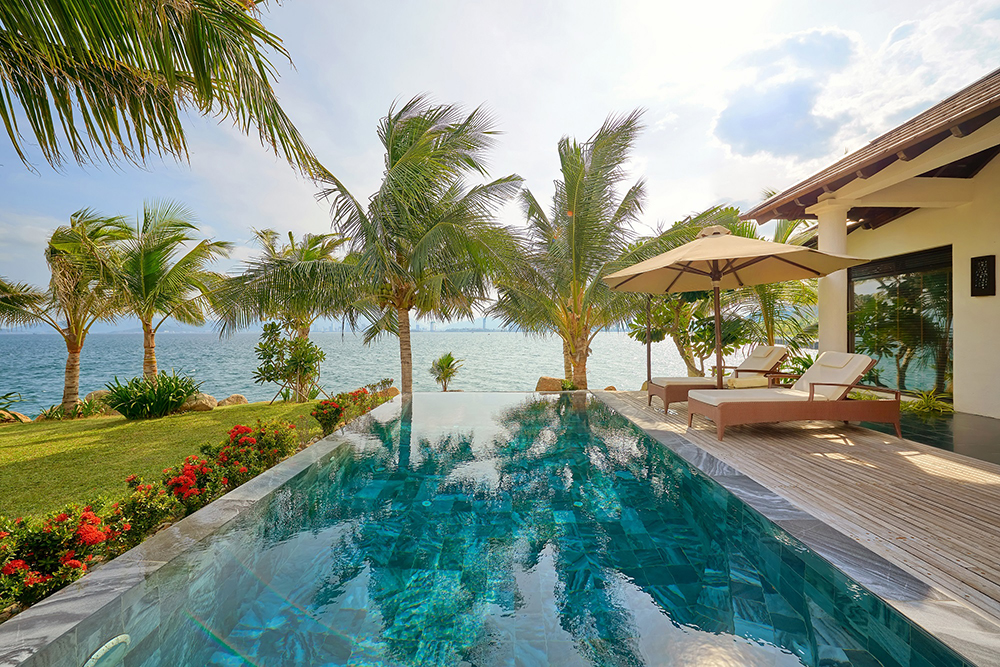 As one of the most beautiful resorts in Vietnam, Amiana Resort attracts a lot of tourists and is the ideal choice for rest and relaxation for many celebrities. Amiana Resort is nestled on a beautiful oasis with clear blue sea and fine white sand that will bring you to a wonderful resort paradise with absolute tranquility and countless convenient services such as restaurants. , bar, spa… Especially the cuisine at Amiana Resort always satisfies all diners including fastidious customers by the variety and sophistication of the dishes.
In addition to the names mentioned above, Vietnam has many other beautiful and equally luxurious resorts such as Hyatt Regency Danang, Victoria Hoi An Beach, Evason Ana Mandara, Salinda Premium Resort & Spa Phu Quoc, Mia Resort…
So is Vietnam a good place for honeymoon budget or luxury, romantic or adventurous? You will have all. With a rich terrain including the northern high mountains and more than 3,000 km of coastline stretching from the Red River Delta to the Mekong Delta, Vietnam is an ideal destination for honeymoon vacation in particular and for all freign tourists in general. This country possesses a series of world famous tourist attractions such as Ha Long Bay, Mu Cang Chai terraced fields, Phong Nha cave, Da Nang beach, Hoi An ancient town, Phu Quoc island. … along with many romantic and high-class resorts with competitive tour prices.
Sharing on honeymoon destination and activities in Vietnam