3 days trekking through jungle and bamboo forests to conquer the roof top of Indochina, Fanxipan Mount at 3143m is the spotlight of the 6-day Sapa Adventure Honeymoon Tour. Beside this, other highlights of this Vietnam Tour are local people meetings, Topas Ecolodge peaceful stay and Romantic dinner in candle light and roses for two. Consider your physical conditions and check with our travel advisor before booking this tour !
Highlights of 6-Day Sapa Adventure Honeymoon Tour
Together conquering Fansipan summit, the roof of Indochina. Enjoy the victory and your great effort right on your honeymoon.
Indulge yourself in the great harmony of nature; admire the beauty of the nature on your trek to Fansipan.
Comfortable stay in romantic and cozy hotel in Sapa decorated by roses, candle, chocolate and wine especially for your honeymoon.
Enjoy the new but great idea of staying in white stone built bungalow in Ecologde resort. Indulge yourself in spectacular scenery, peaceful atmosphere and pure environment of the resort.
Hand in hand discover the beautiful Sapa together, admiring the spectacular nature on the trip to Tram Ton Pass, mingle with hospitality hill tribe in their villages on the trek.
Enjoy the best meals in the candle light and roses in the most romantic and best restaurants in Sapa.
The special meaningful honeymoon present from Vietnam Honeymoon Tour Operator.
There is no hidden cost in 6-day Sapa adventure honeymoon package. We take care everything, even the tip for your guide and driver.
Destination: Hanoi – Sapa – Fansipan Mount – Topas Ecolodge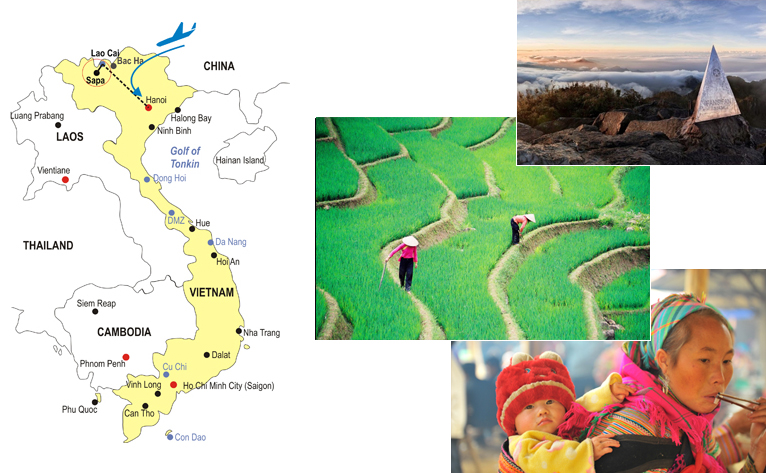 Sharing on honeymoon destination and activities in Vietnam