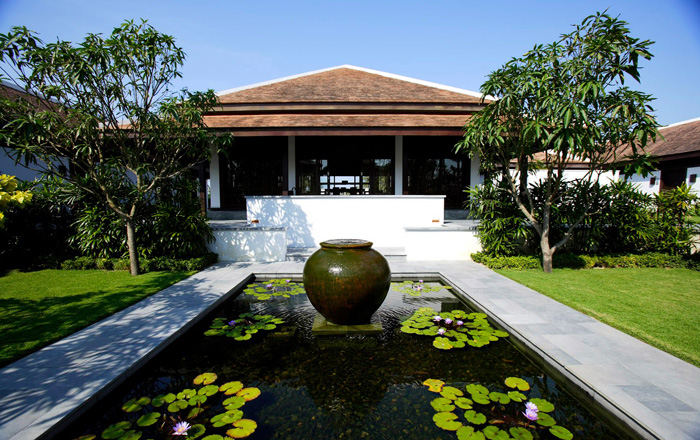 Why Is The Nam Hai Resort For Great Honeymoon At Hoi An?
If you are researching for a wonderful honeymoon ever for both of you or choose the best accommodation during your time in Hoi An and still have chance to discover the ancient beauty of this town, The Nam Hai Resort is proudly voted as a good ideal for honeymoon in Hoi An.
The leading hotel for vacation
In spite of its location far away about 11km from the old town, The Nam Hai Resort is still voted as one of the best hotels for couples in their honeymoon in Vietnam. The ornamentation of Nam Hai is smartly designed in harmony of oriental tradition and modern style which can provide tourists the most comfortable feelings. Situated in Ha My, a pristine beach with long white sand and a view to South Sea, the resort is set up a new standard of 5-star in Viet Nam with its attracted place as well as the convenience accommodation.
The sumptuous oceanfront Resort is featured with 100 rooms with all the comforts and facilities of home including 60 of villas with 1 bedroom) and 40 of pool villas from 1 – 5 bedrooms. All spacious rooms are specially built with outside and inside sitting lounges, luxurious bathroom overlooking a green garden which promises to bring the best-ever romantic honeymoon at Hoi An for lover travellers. In pool villas area, there is a lavish courtyard leading to the exquisite accommodation, luxurious outdoor swimming pool and elegant dinning area which is suitable for honeymooners in open and private space of relaxation.
Other allure point of Nam Hai Resort is an ideal destination for gourmet experience in the honeymoon at Hoi An. With luxurious line of three famous restaurants, the best hotel will make customers satisfied with a wide range of dishes both Viet Nam and international cuisine. They can have an opportunity to enjoy a unique breakfast in East and Western style, Mediterranean favors in mid days or learn essential skills of preparation with Nam Hai restaurant's Chefs… Lover couples can experience poetic atmosphere of beautiful places, the sound of waves, wonderful drinks in the world's best list, delicious local foods from a team of skilled chefs…All efforts of Nam Hai is to contribute tourists unforgettable memories in their honeymoon in Hoi An Ancient Town. Besides the specialized areas of children activities, library for international magazines, Nam Hai Resort also provides the modern system of spa treatments and fitness center to enhance its position of supplying high quality services for tourists in their honeymoon at Hoi An. Panoramic windows and stunning pavilions are designed to create the private space for tourist with lotus flowers surrounding which can give the best emotions for you and your partner to refresh your own mind and body in romantic trip in Hoi An.
Exciting activities for lover travelers
Come to the serene resort, tourists can not only visit some famous destinations of the old town, but also many charming excursions in Da Nang. With the fantastic services, enthusiastic staff, interesting itineraries… Nam Hai Resort Vietnam will certainly bring lovely time together in your stay. Tourists can experience the colonial influences of Asian and European culture in Hoi An, the destination of mixture in Central Coast. There's no better destination to admire the beauty of ancient Viet Nam than this old town, one of the World Heritage Site. In addition, lover travellers can enjoy the full moon festival with lantern light brightly the town if their honeymoon is on the period of 14th day in lunar month. Moreover, Nam Hai Resort will offer flexible trip to discover the culture significant and renowned regions of Viet Nam such as the nature of Marble Mountain, the elegance of former capital Hue, the magnificent Champa Kingdom of My Son Holy Land…Tourists will enjoy truly experiences together when sightseeing the bygone beauty of old town on foot or visiting the streets and lanes of small town by cyclo which will give exciting feelings in their honeymoon at Hoi An.
The best option for honeymooners
With the infinitely stretch of sand, wonderful beachfront view, luxurious villas lines amid the central of Viet Nam, Nam Hai Resort is remarkable its hallmark for tourists by the sumptuous architecture, elegant interior and exquisite decoration. The most gorgeous resort of Nam Hai will definitely bring tourists memorable experiences in their honeymoon holiday with all good things for their relaxation and convenience. The dramatic destination of wind, crystal water and green nature in Nam Hai resort will be a real paradise on earth for tourist to make dreams come true in your honeymoon to Hoi An.