3 Most Romatic Resorts For Couples In Vietnam
On the occasion of Valentine's Day. Vietnam honeymoon recommend you 3 most romatic resorts for couples. The following destinations are introduced based on three criteria: service, romantic scenery and privacy.
Veana Lagoon Resort & Spa – The Secret of Emotion Veana Lagoon Resort & Spa
Not too well-known but very subte with 27 villas and bungalows located on Tam Giang lagoon, Vedenã Lagoon Resort $ Spa seems to be designed specifically for those who are in love. Enjoy a sweet Valentine's Day here, to feel the spiritual intimacy between two souls, is the dream of all lovers.
According to Da Lam, the marketing director of the resort: "Vedena has a romantic scence with immense water in font and mountains behind. The couples can share unforgettable experiences on Valentine's Day here: together watching sunrise, sunset, enjoying the marvelous beauty of a starry night sky reflected on the water, or sailing along Tam Giang lagoon to discover the local life here.
Vedena Lagoon is the first resort in Vietnam to have the villas built on the water, the distance between the villas is about 200m creating absolute privacy and tranquility. However, convenient buggy cars always available whenever customers need to move to the pool, spa, restaurant, bar or wherever required. In Vedena Lagoon, you will not want to sleep, as none wants to sleep in paradise.


Six Senses Ninh Van Bay – The Most Beautiful "Hidden" Resort in Vietnam
Six Sences Ninh Van Bay stretching on Ninh Van Bay – Nha Trang, has long been choosen as a place marking the sweetest moments by the couples. With the architectural style that is nature-friendly, luxury, private and romantic, the resort will bring you and "your special someone relaxing moments in fresh, tranquil, herbal scented air.
Six Senses Ninh Van Bay is completely separated from the outside world. Visitors can only come to this paradise by boat, and this is also the absolute difference in compared with other resorts in Vietnam
With 58 villas in the slopes, on the rocks, white sand or luxury spa villas designed on the water rocks with separate pools, Six Senses Ninh Van Bay resort truly deserves the title of a oasis with beautiful nature, birds singing, frolicking, monkeys, stretchy white sandy shore, blue sea…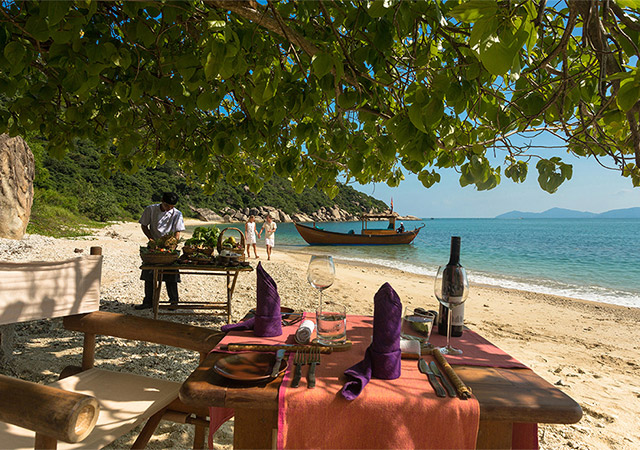 Ana Mandara Villlas Da Lat – A serene Place for Lovers
With its iconic cold weather, Dalat a city of love and flower, inspires couples to share warm moments. You will have a great time on flowery highland, walk along dreamy poetic Xuan Huong lake or just simply sit by shimmeringcandlelight in a teahouse…
Dalat Ana Mandara Resort, situated on the pine hill, is a complex of ancient, beautiful French architect villas. A paved road leads cars to the room. Opening the door, you will see spacious room, warm with wood color and romantic to smallest details,The mollow yellow curtain opens to a fresh green space. The fireplace, covered by soot – with stylish borders – is always ready to warm you.
Kitchens in each villa serve breakfast or dinner with exclusive service as required. In addition, guests can enjoy a barbecue by the outdoor swimming pool or book a table in the strawberry garden. Do not forget to walk arround the city in old convertible cars, to visit a unique bar or wine cellar Courtyard. And certainly do not miss La Cochinchin Spa- a highlight, a masterpiece of the town.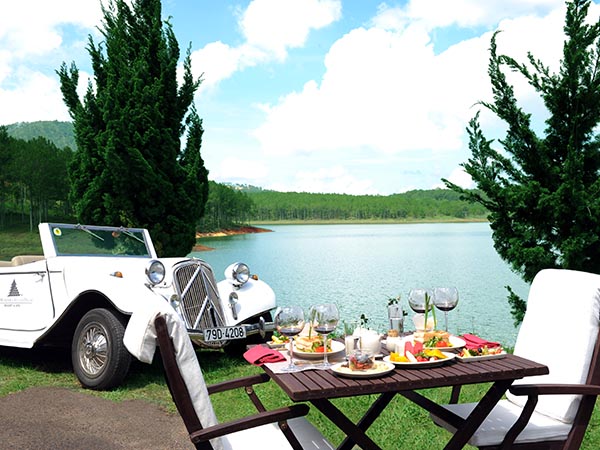 Every year, there are more and more romatic resorts for couples in Vietnam, please contact us at vietnamhoneymoontravel@gmail.com to get updated information!
Sharing on honeymoon destination and activities in Vietnam