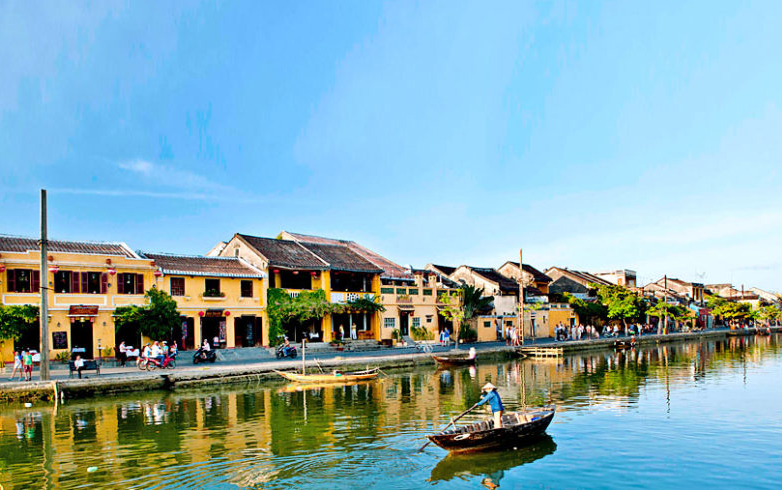 Hoi An, Foremost Option For Honeymoon Of Couples
Living and time rhythm seem to be at a standstill when touching small road by road in Hoi An. Each season, no matter how rainy or sunny it is, Old Town always displays its separate beauty, both similar and strange. This is the beauty that attracts couples to Hoi An to enjoy the honeymoon.
Situated at Cua Dai Beach, in which Thu Bon river flows to East Sea, Hoi An was a similar destination to Japanese, Chinese, Italian businessman during 16th, 17th centuries. Hoi An was used to be the largest purchasing center in the Southeast Asia region, so at present, it also keep ancient wooden houses to remark prosperity time of itself.
Tourists describe Hoi An as deep and secret when they first set their foot in this land. Old houses nestled close together, light only expose to verandah in front of, the walls of flower quiver in the wind and reflect through transparent rain drops. Small lanes between 2 rows of houses spread and across other roads.
In yard's corner of each house, leaves exposed under sunshine to wrap "it" cake, and "bo" cake was kept in the verandah. This is the sound of children learning to spell, sound of sewing-machines in "ao dai" stores.
Beauty of Hoi An is performed depending on season, but in any season, Hoi An is also filled both domestic and foreign tourists. Visitors often going to Hoi An said that, summer was the most wonderful time to experience interesting things in Hoi An. Especially, many couples spend summer holiday to offset time of honeymoon tour on Hoi An. Although it is sunny in the morning, each roof, corner become more subtle when covered with silvery sunshine. At night, Hoi An appears to dress a new cloth, everywhere in town, lanterns are hanged. Hoi An is not only a good option for romantic Vietnam honeymoon tour, but also ideal place for beautiful wedding shots.
Road of lantern lights
Temporarily ignore busies of urban, scrambling of modern life, every 14th of lunar month, people often go to Hoi An when electric lights absolutely turn off, there are only candles in each lantern. While Hanoi has Hanoi's night with pervasive ditabark fragrance and warm scarf in winter night, or Hue's night is romantic and gentle, Hoi An has nights of lantern in Old Town. In miraculous light of lanterns, tourists seem to hear tune of songs, "ho khoan", "ho gia gao", and so on contemplate lantern households maintain in a long time are displayed in a lantern night. The moments make people feel losing in legend world. Perhaps, lantern is one of values creating identity of Hoi An culture. They make lantern by deep passion and creation of perfect love for cultural products. Each lantern is a symbol of story of city, crowed commercial port, and exchange with Chinese, Japanese, even European in business path. Lantern night is a precious present which the land and people try to keep reserve and give to current human kind. Not only young generations but also the old would like to visit Hoi An despite of only one time. Honeymoon tour is becoming popular in modern lifestyle, and it is not surprising when couples choose Hoi An to enjoy the only honeymoon in their life.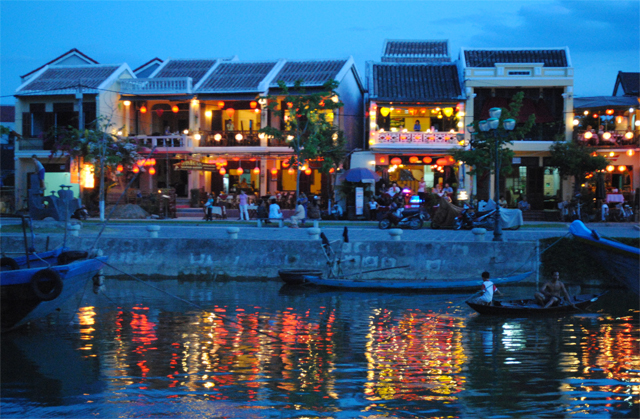 Japanese Bridge Pagoda
Tourists visiting Hoi An won't forget to go to Cau Pagoda (Japanese Covered Bridge), symbol of the ancient town. Cau pagoda called Lai Vien Kieu across through a rivulet flowing into Thu Bon River. The pagoda was constructed by Japanese businessman in 16th or 17th century.
The Bridge is one of the special architectures with about 18 meters of length and roof covering fully. There a big signboard carved 3 Chinese literatures "Lai Van Kieu" on the main door. Both pagoda and bridge are made from red-painted wood, pagoda door towards bank of the Thu Bon River. However, as Cau pagoda, the pagoda hasn't any Buddha statue, the pagoda only worships a wooden statue called "Bac De Tran Vo", a Guardian Angel of this land who always joy and happiness to people.
Thanks to its unique architecture, Japanese Bridge is one of destination for couples to take photograph during their honeymoon vacation in Hoi An.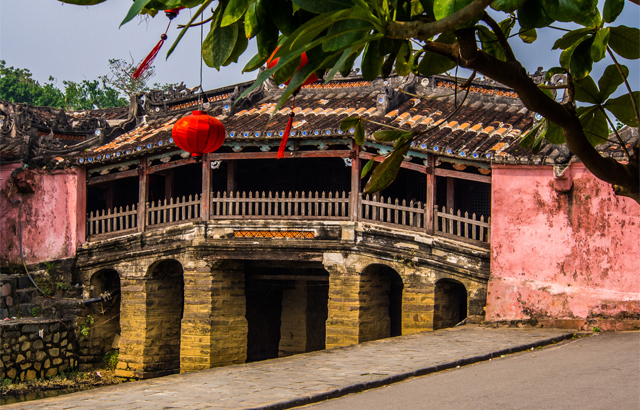 Cua Dai Beach
Far from center of Hoi An only 5 kilometers, Cua Dai Beach is peaceful and intimate as soul of Hoi An ancient town. Unlike white sands in My Khe (Da Nang), Bai Sao (Phu Quoc), or yellowish as Mui Ne Beach in Phan Thiet, silk and ivory sands in Hoi An seem to increase the endlessness of sand stretches. Winds from off-shore take rolling waves to seashore quickly. No matter where you stand at 7-kilometter beach, you will never complain about garbage or something like this because Cua Dai is very clean. Even sea tourism in Hoi An develops, hotels and resorts was built nearly seashore, Cua Dai Beach is still peaceful, quiet, and fresh. It is not difficult for tourists to find restaurants, sea food shop. This is reason a large number of tourists come here to rest after discovering other destinations in Hoi An. Perhaps, this is Hoi An with intimate beauty from natural sceneries to human, even beach is also such intimate.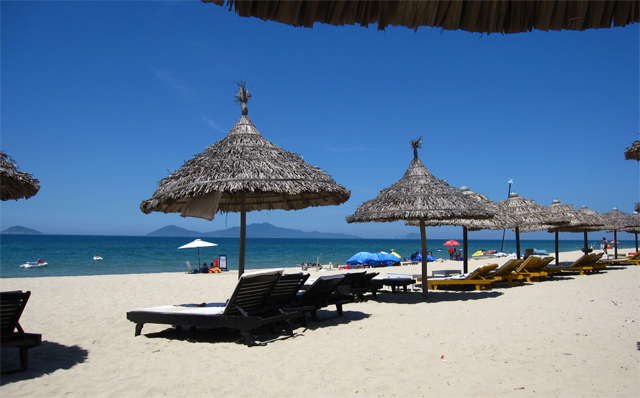 Hoi An with old houses, quiet roads, Quang dishes certainly is wonderful destination for sublimate love of couples. Anyone used to visit Hoi An expects to come this land back at least one more time, because in their opinion Hoi An isn't splendid lights or hurry life, it is gentle, comfortable and equanimity life.
Sharing on honeymoon destination and activities in Vietnam