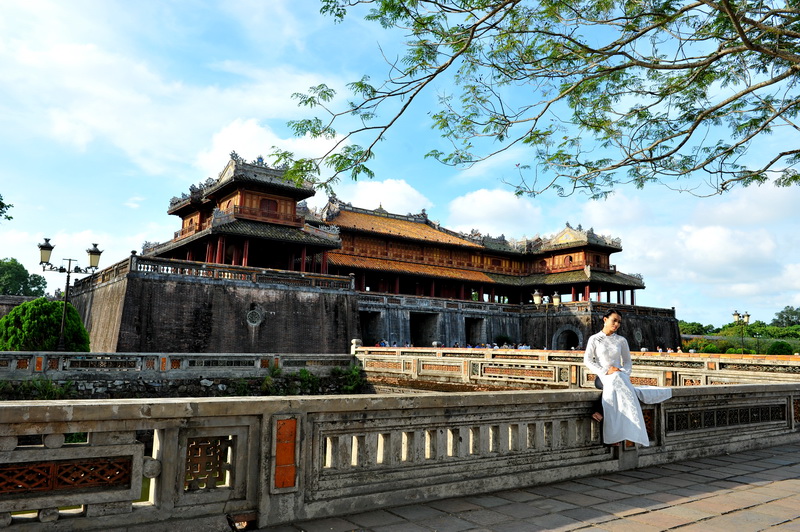 Where Do You Visit For Hue Honeymoon?
Many couples select Hue to start their honeymoon journey because Hue is harmonious combination of romantic peace but vivid and meditative, ancient beauty, but modern. Besides, Hue Vietnam is picture of sluggish flowing of Huong River, pensive space of temples, which bring strange feeling to tourists.
Mentioning to Hue is talking about a Citadel land with ramparts, magnificent palaces, splendid temples, solemn tombs, ancient landscapes, which create unique beauty of Hue city. Today, Hue has just preserved tangible and intangible cultural heritages containing symbolic values of Vietnam's wisdom and spirit. Situated at bank of Huong River with romantic landscapes, ancient architecture including ramparts, royal tombs, pagodas, Hue Citadel, one of the world cultural heritages- are always attractive and seductive to tourists coming to Hue.
Hue has separate beauty which nowhere in Vietnam owns from simple lifestyle of human to gentle girls with "non la". It is bashfulness of Hue's girls that makes scenery become more seductive.
Hue is used to be metropolis of 9 Nguyen dynasties in Dang Trong, capital of Tay Son dynasty and then capital of unified nation under 13 Nguyen's emperors. After many centuries, whole Vietnam's quintessence has gathered here to improve available picture of natural landscapes with rivers, mountains and honest people.
Hue Imperial Citadel
Hue Citadel with its imperial artistic architecture and unique gardens was constructed in dynasty of Nguyen Phuc Chan emperor and completed in dynasty of Emperor Minh Mang. All 13 emperors of Nguyen dynasty lived in the citadel.
Hue Citadel consist of Royal Citadel (Hoang Thanh) and Forbidden Citadel ( Tu Cam Thanh). Royal Citadel is system to defend, while Forbidden Citadel is living place of emperors and their family. Architectural space of Royal Citadel and Forbidden Citadel has close relation with distribution of works basing on use functions. Ancient works, mossy pavilion roofs become immortal symbol of Hue Citadel. Here, rampart system is a standard of harmonious combination of architectural quintessence between East and West. They are put in gorgeous nature with surprising available symbols which make many people think that these landscapes certainly belong to Hue Citadel such as Ngu Binh Mountain, Huong River, Gia Vien and Boc Thanh Hillock, and so on. Looking from the opposite side, works seem to mix into Nature to create magic rhythms making human forget that delicate hands created the wonderful world.
Huong River

Tourists visit Hue is to discover smooth beauty of sluggish Huong River thorough years as safe and sound life of people here. Tourists are completely infatuated with poetic beauty steeping into bobbing dew, appearing for a moment in bushes on two banks of river. Huong River is sometimes like a supple silk ribbon flowing slowly, slowly, sometimes like a local guideline taking us to Vy Da garden with multicolored flowers and lushly green vegetation, going up to Thien Mu pagoda in order to hear resounding sound of pagoda's bell, then suddenly turning Bach Yen Rive to Huyen Khong landing stage for floating with clouds and wind, with the world of flowers in ancient space. The first meeting of tourists with the citadel land is Huong River, obviously, they will see Trang Tien bridge, the understanding friend of Huong River over many years. In the morning, silvered fog dignifies the white bridge linking 2 banks of famous river. If Huong River is river of romantic love story, Trang Tien Bridge will be love junction of many couples in Hue. Every day, Huong River and Trang Tien Bridge witness a bunch of romantic stories, sulkiness of couples. They are both proofs and matchmakers for love of the young. It is not surprising when we recognize couples being hand in hand and taking a walk along the banks of Huong River.
Thien Mu Pagoda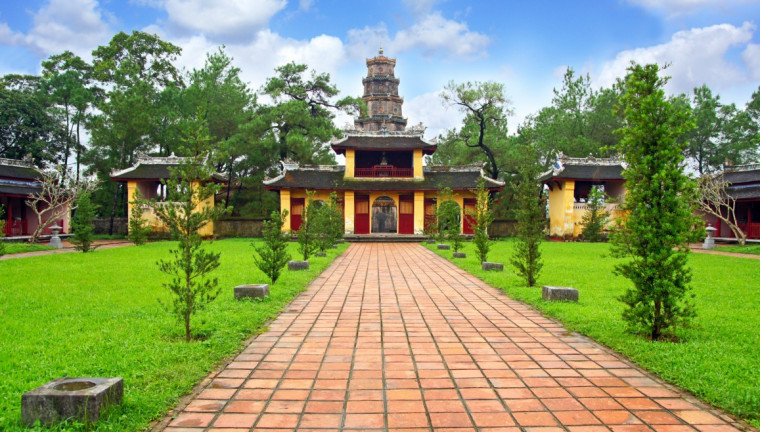 Hue is gathering place of famous pagodas in Vietnam, especially Thien Mu pagoda, which associate with initiating of the first Nguyen emperor. Thien Mu, also called Linh Mu was built by Nguyen Hoang in 1601. Lied on banks of romantic river, Thien Mu with its ancient architecture contributes to dignity natural picture in Hue more gentle and beautiful. Sound of the bell named Dai Hong Chung as soul of the citadel land resounds, remains in tourists' heart.
Night is the most beautiful time for couples in Hue honeymoon when they can take a walk together in a 2-person world. At night, Huong River becomes more fabulous, lights radiate to water surface making them like silvered, wind blows tightly, boats filled tourists bob. They can both contemplate natural landscapes and listen to typical folk song of Hue. These song take them come back to the past, love, joy and sorrow…
Hue is crystallization of a vague melancholy that makes poets go here and write masterpieces for the next generations and solemn architecture, but liberal. Across Vietnam, there are many destinations for honeymoon tour; however perhaps, regarding couples liking romance, sweet and peace, the best option is Hue Citadel.
Sharing on honeymoon destination and activities in Vietnam