My Khe Beach – Manna From Heaven For Honeymooners
Honeymoon time is a milestone when a newly wedded couple boosts their romance in sweetness. So long as you appreciate your sweet days and spend long hours thinking about the most suited destination, but still not entirely sure where to invest, let us direct you to an existing manna from heaven in Da Nang Province of Vietnam – My Khe Beach. Though Da Nang is gifted with a wide array of tourist sites like Han River, Son Tra Island, My Son Sanctuary, Ngu Hanh Son, etc., My Khe Beach really stands out of the crowd. Know that this beach ranks among the most exquisite beaches in the world.
Travel To Da Nang and Go See My Khe Beach Honeymoon Destination
Whether you start from Hanoi, Ho Chi Minh City, or any other province, it's very convenient to reach My Khe Beach by flight or coach. Going through Han River Bridge, go ahead to Phan Van Dong Street around 1.5km, and then the beautiful beach is before your eyes. This heavenly beach is best renowned for its white sandy banks, quiet waves, and comfortably warm seawater all year round. And if you two need a romantic scene, the presence of many coconut trees around fulfills such need well. Meanwhile, the long impressive coastline provides perfect seascape for the best photos ever.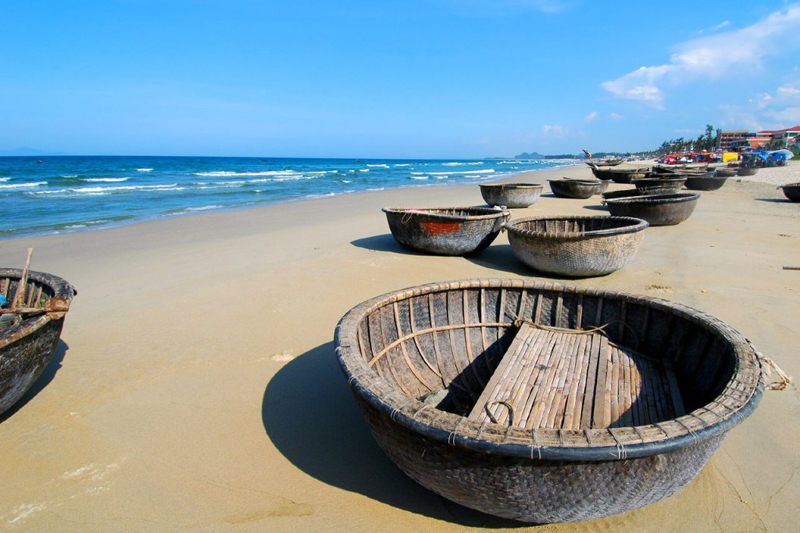 The honeymooners get both romance and safety when they're in My Khe Beach as this is one of safest beaches with the salinity of nearly 60%. This means you and your life mate can swim comfortably. Overall, there exist 3 main radiant beaches at My Khe to explore. The first one is Pham Van Dong Beach, where you find many good services and magnetic scenarios. Every day, there are thousands of visitors coming there to swim in the not-deep seawater and sunbathe, and of course, such figures include the honeymooners. The second one is T20-T18 Beach (about 500m on the right of Pham Van Dong Street), which has the short sand-banks, big waves, and deep sea. The third one is the beaches No. 1-2-3 (about 300m on the left of Pham Van Dong Street), which is protected by the city authority and well-equipped to give honeymooners the best services.
In My Khe Beach tourist destination, there are many world-class resorts like Furama Resort, The Ocean Villas, Olalani Resort, Fusion Maia, etc. These top options promise to please all couples' physical and spiritual needs. From the beach, it's easy to reach Hoi An Ancient Town and My Son Sanctuary to additionally value your honeymoon tours. Thus, invest your honeymoon in this luxurious beach for the perfect rest soon.
Note that the local seafood in My Khe Beach is very delicious and you have no reason to miss the grilled squid, crab, fish, shrimp, etc. Your night on sea is pleased with the decent sounds of waves. Together with your spouses, romantically enjoy sightseeing, playing water sports (such as fishing, diving, surfing, and yachting), and dinning the healthy fresh seafood as well. Da Nang will never fail to impress you with its natural charm and manmade creativity shown in its high-standard tourism services, so will a fairy land like My Khe Beach.
Sharing on honeymoon destination and activities in Vietnam