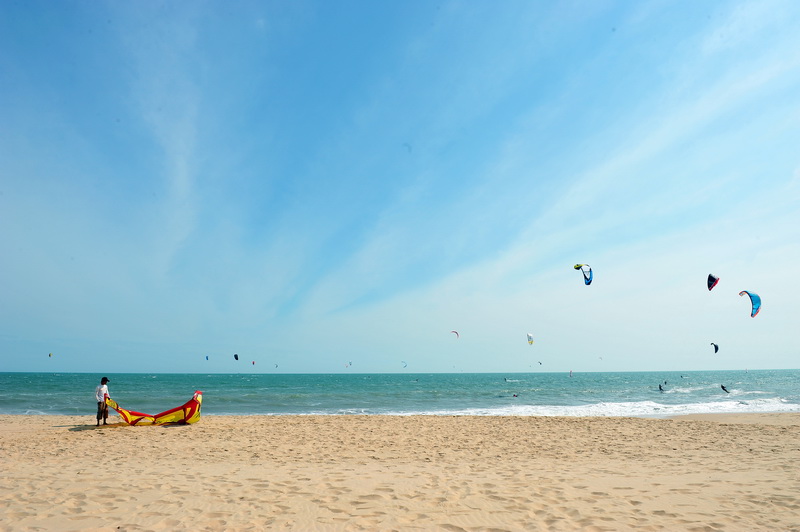 Mui Ne, Heaven Of Sand And Wind For Romantic Honeymoon
Mui Ne – Hon Rom (Rom Island) is an ideal destination for honeymoon tour of couples. Nature favors Phan Thiet – Mui Ne a romantic channel with endless sand hills along with rows of coconuts swaying on sound of waves. There, in rare moment, couples together keep romantic feeling of love.
Located far Phan Thiet city from 22 kilometers towards Northeast, Mui Ne is name of a fishing village and also is a famous tourism place of Binh Thuan province. Along highway 706, from Phan Thiet to Mui Ne, there is a gentle hill range with green tree, widely coastal sand, and wonderful coconut forests. Hollow beach, transparent water, sunny days thorough year are the most interesting feature of Mui Ne and make it attract tourists. This is reason why many couples would like to go to Mui Ne for honeymoon.
Perhaps the most impressive things when visiting Mui Ne is contemplating rows of green coconut along the arced- shape coast. Immeasurably high trees towards coast draw into space a beautiful image as if they are expressing their strong vitality over storms and time. Mui Ne has crowed fishing ports with abundant fish resources. Mui Ne also owns the most pristine beaches, spectacular landscapes, fresh natural environment as Bai Dia, Bai Truoc, Bai Sau, and so on. Especially, in Mui Ne, there is famous scenery called Doi Cat (sand dune). Over many years, Doi Cat has become a salient theme in artistic photograph competition. It is a symbol and typical image of Binh Thuan. White and yellow sand hills succeed each other and change their shape hourly. Under splendid sunshine along with cool winds bringing flavor of ocean, the sand hills create seductive, pure and pristine beauty. Tourist will have marvelous moments to gaze at and discover unique allure of sand.
In the Northern Mui Ne, Doi Duong beach is wide and spreads tens of kilometers with smooth white sand beaches towards sea and steeps into blue water. In the west of Doi Duong beach, the Creator gives Elysium Hill a particularly interesting natural beauty. Colors of land mixing with blue sea can create harmonious nuance as dream as reality. Beside, when going to Mui Ne, tourists have a chance to view other landscapes as Hon Rom, Suoi Tien, and so on. Along the coast, people built tourism villages, hotels, villas and entertainment centers. Tourists can swim in the sea, relax, go fishing, play golf, ski sands, contemplate dawn, burn campfire, etc. Going fishing is a joy which can't be ignore in Mui Ne. What is more wonderful than both enjoying fishes cached by their hands and seeing gorgeous Nature?
Don't be surprised when you stand in an immense sand hill, and suddenly you found that scenery around had changed. It is sand storms that make shape of the hill change. Mui Ne hill which is far from center of Phan Thiet city about 20 kilometers towards Northeast is become attractive destination to domestic and international tourists. It is not suddenly without reason the hill is called heaven of wind and sand. Sand is at everywhere from beaches to hillocks. Even clothes and faces of tourists stick a lot of sand. Sand hill also called flying sand hill because its shape continuously changes by winds.
The sand hill stretches from Binh Thuan to Ninh Thuan, but the most beautiful landscapes situate in Mui Ne. Shining sand carpet is like wild desert. Erosion phenomenon of sand creates no end of strange shape. Tourists think that it doesn't take a lot of time to come to sand hill in front of their eyes, but reality isn't like such. Hiding under shadow of casuarinas-trees, enjoying fresh taste of coconuts, walking by foots without shoes in hot sand is the first interesting things for tourists in this journey. If tourists don't like facing hot sand, the best time for them is morning or twilight. Doi Cat is also ideal destination for unique photograph shoots. In each moment and separate space, photographers figure out differences in shape, color and contrast.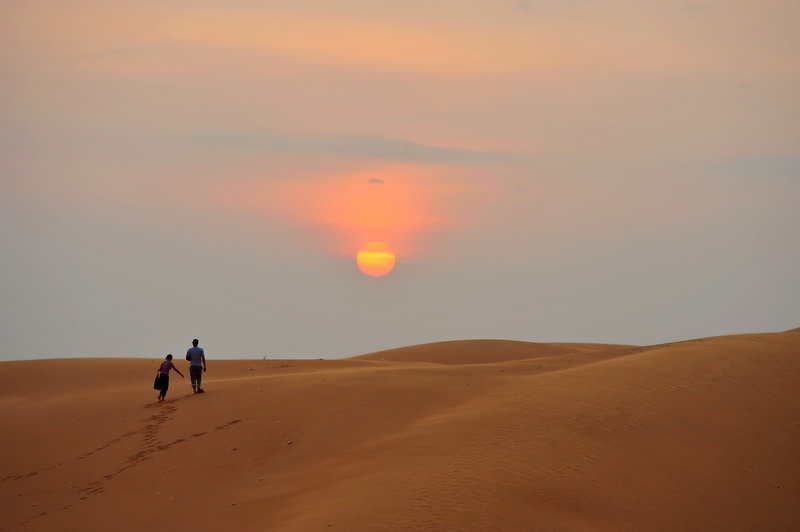 Check out best offers for honeymoon package Mui Ne here !
Doi Duong Beach
Doi Duong is place connecting closely with construction and development history of Phan Thiet city as well as local people's living. Despite of nearly animated city center, Doi Duong beach over many years is always peace and gentle. In morning or late afternoon, it is easy to recognize local people and tourists taking a walk on the beach, and enjoying comfortable moments along with waves of swimming in cool water. Doi Duong beach, now, owns a spacious sea park surrounded by rustling forests during the year and romantic songs of waves. On the other side of Doi Duong Sea Park, modern and convenient senior hotels, entertainment services built to create visiting places, tourism destinations for keeping tourists.
Hon Rom Beach
Mui Ne beach spreads more than 17 kilometers and is one the most crowed contributing to develop tourism in Phan Thiet over many years. Considered as favorite beach of many people in Phan Thiet, Hon Rom beach attracts tourists all over the world not only holidays but also weekend days. With typical color of sand in Phan Thiet, gentle beaches, light waves and winds make here become foremost options of tourists when they have a chance. Especially, families, student groups or organs like spacious atmosphere here so much, therefore, they often organize camping or outdoor activities in Hon Rom beach. Of course, we can't forget special guesses of Phan Thiet, they are couples and newlyweds going here to enjoy sweet honeymoon travel or taking romantic wedding photographs with sea waves, green coconuts and sand beaches. Along with swimming in the sea, tourists can challenge themselves by adventurous games skiing sand, driving canoe, and parachuting. After activities, tourists will have wonderful times to taste special seafood in Mui Ne and contemplate the sun setting.
Over many years, Mui Ne is an attractive destination to domestic and international tourists. Tourism potential of Mui Ne is good. Simple and gentle local people is like invitation sending to all people to come to here and discover natural beauty the Creator gives for this land. Mui Ne honeymoon is one of the most interesting honeymoon tours in Vietnam, so year after year, Mui Ne welcome to thousands of couples.
Sharing on honeymoon destination and activities in Vietnam